1976: The Last Visit
Las Vegas, December 2 - December 12, 1976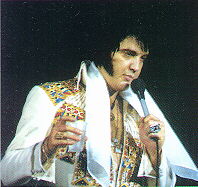 Recording Information
Soundboard recordings.
Unofficial
Only one concert was recorded and released during this engagement. RUN ON (December 7, 1976 10 pm show)

Audience recordings on CD:
LOVE LETTERS FROM NEVADA (December 4, 1976 DS)
PRESLEY AT THE HILTON (December 5, 1976 MS)
TORNADO FROM VEGAS (December 8, 1976 MS)
VEGAS REMEMBERING (December 10, 1976 DS)
BLACK DIAMOND (December 12, 1976 CS)

Audience recordings on CD-R:
Video Information
Amateur footage.
The videotape ELVIS IN LAS VEGAS #1 contains footage from December 3, 1976 DS (44'00") and December 3, 1976 MS (29'49")
The videotape ELVIS IN LAS VEGAS #2 contains footage from December 5, 1976 (16'10") and December 6, 1976 (6'10") and only 36 secs from December 3, 1976 DS
The videotape ELVIS IN LAS VEGAS #3 contains footage from December 4, 1976 DS (36'32") and from December 3, 1976 DS (43'35")
The videotape THE KING ROCKS #5 contains footage from December 12, 1976 (3'05")


---
---