Menu
Concerts
Reviews
Multimedia
Legal Information
Songs and Tours Reviewed
"A HILL IN LAKE TAHOE 1976" Part 3 by Geoffrey Mc Donnell,Australia.
4th May 1976 10pm show. THE LAUGHING TOY SHOW!
2001 Theme; C. C Rider; I Got A Woman/Amen; My Elusive Dreams-1 line only; Love Me; If You Love Me Let Me Know; You Gave Me A Mountain; All Shook Up; Teddy Bear / Don't Be Cruel; My Way; Burning Love; Introductions; E.M.Rain (instrumental); J.B.Goode& Solos; Love Letters; Hurt; Hurt-with reprise; An American Trilogy; Softly As I Leave You; Can't Help Falling In Love / Closing Vamp.
Running time: 66 minutes.
Yet another 'packed' and excited audience and that familiar 'Twangy' Tahoe sounding opening. Elvis sounds OK.He's wearing the 'V' neck puffy sleeves white suit but starts waffling before I GOT A WOMAN then disgracefully he actually forgets the words to this song. This is very bad. After the usual featuring of J.D.Sumner on the Amen ending twice the show improves again as Elvis gives us a rare 1 liner of "I follow you to Utah","Utah?"the2nd line of the song 'My Elusive Dreams' for which I'm familiar with the Tammy Wynette & David Houston - 1967 version.
Elvis sounds interested during LOVE ME & IF YOU LOVE ME. What happens next is the cause of an extremely casual show which even Elvis himself comments on! One of those very 70's laughing heads where you pull the string to hear some wheezy recorded lunatic laugh at you from the 'joke' head! One of these is presented to Elvis on stage! The result breaks up the show continuity as Elvis is distracted by this. By Don't be cruel Elvis says he can't hear it and doesn't even finish the ending to the song. E.M. RAIN is still instrumental only by this show. HURT is very interesting as after 2 full complete versions Elvis pauses then does a 3rd reprise final ending again-incredible!. However tonight's show is rather mediocre and at times the show really drags through its 66 minutes.
5th May 1976 10pm show ;- 'Douglas' joins Elvis for HOUND DOG and the Early Morning Rain.
2001 Theme; C, C Rider; I Got A Woman/Amen; Love Me; You Gave Me A Mountain; All Shook Up; Teddy Bear/Don't Be Cruel; Dialogue; Trying To Get To You; (beginning missing) Polk Salad Annie; Hound Dog; Dialogue & "Happy Birthday"; Introductions/Early Morning Rain/What'd I Say/Johnny B. Goode/Solos/ Love Letters/Hail, Hail Rock 'n' Roll; Hurt + reprise; Burning Love; Dialogue; The Hawaiian Wedding Song; How Great Thou Art; It's Now Or Never; Can't Help Falling In Love/Closing Vamp.
Running Time: 70 minutes.
Elvis sounds below par for C.C. RIDER and again gets the words mixed up for I GOT A WOMAN The most interesting part of this show is when Elvis impersonator Douglas Roy joins Elvis on stage for hound dog, Elvis sings whilst Douglas does the impersonation. Interestingly Elvis sings the part of the lyrics 'YOU SAID YOU WERE HIGH CLASS,WELL THAT WAS JUST A LIE' After the performance Elvis gave Douglas a tribute when he said 'it was a compliment!' As often this season the show features HAPPY BIRTHDAY ..The show is quite good after LOVE ME but Trying to get to you is short and in TEDDY BEAR Elvis sounds lost getting back to the beat with DON'T BE CRUEL this seems an average show at least after POLK SALAD ANNIE onwards his form-slow at first improves. Most interesting is after featuring instrumental versions only of EM.Rain from Guitarist John Wilkinson here for the first time on 5th May Elvis actually sings along with an abbreviated version! a great inclusion to the intros and one of my favorite songs from Elvis as he creates that listless waiting around the airport feeling so very well!. On the audio of this show are some of the opening acts performances which are reasonably OK. The stamps are good featuring Bill Baize with You'll Never Walk Alone/When The Saints Go Marching In (JD & The Stamps); Starry Night/Nothing But A Party (The Sweet Inspirations); Jackie Kahane is fair trying out some 'newer' material. I also find it interesting that the Sweets this season were also featuring Elton John's 'SHINE THE LIGHT ON ME' in their opening acts whilst towards the end of the season Elvis on stage would start requesting David Briggs to 'play Lady Madonna' by the Beatles!.
6th May 1976 10pm show Marty Pasetta watches Elvis sing Crying in the Chapel, Loving You and Young and Beautiful.
2001 Theme; C, C Rider; Dialogue; I Got A Woman / Amen; dialogue-jokes with Ron Tutt again!. Love Me; You Gave Me A Mountain; dialogue about Blue Hawaii; The Hawaiian Wedding Song; All Shook Up; Teddy Bear / Don't Be Cruel; Dialogue; Trying To Get To You; Announcement that he'll do some very rare songs tonight; Softly as I Leave You; Polk Salad Annie; Elvis takes Oxygen?; Introductions / Early Morning Rain / What'd I Say / Johnny B. Goode / Solos / Love Letters / Hail, Hail Rock 'n' Roll; Hurt; Hurt; Hound Dog; It's Midnight; I'll Remember You-f.start; How Great Thou Art; intro of Marty Pasetta; Bridge over Troubled Water-F.Start; It's Now Or Never; Dialogue; Crying in The Chapel, Loving You; Young and Beautiful-1 line only; Jailhouse Rock; Dialogue; Can't Help Falling In Love / Closing Vamp
Running Time: 85 minutes.
What particularly impresses me here in Lake Tahoe 1976 is the way that as the season is progressing Elvis is colouring the intros with these 'snatches' of songs featuring Piano,Rythum Guitar,Lead Guitar etc. I wonder why Elvis stopped adding songs to shows here ,maybe he recognized that instrumentals were already getting too long and drawn out?. Elvis much, much later added 'I REALLY DON'T WANT TO KNOW' to his intros featuring Tony Brown on Piano(but it could easily have been BLUEBERRY HILL) and Elvis had once sung a bit of 'The Battle of New Orleans' part of Chorus:- 'They ran so fast that the hounds couldn't catch 'em on down the Mississippi to the Gulf of Mexico' along with Jerry Scheff in Charleston during the 24.7.76 E/S.Elvis could have added a Karate workout to Ronnie Tutt's T.C.B.Band Theme and then the intros would have been complete. Shows often featured the Stamps Quartet with Elvis on WHY ME LORD -Elvis could have easily added a line of SHINE THE LIGHT or SWEET INSPIRATION along with the Sweets and it would have been interesting. However probably at this time Elvis was more than aware that some fans had started complaining about overly long intros and didn't want to push things to far. Lake Tahoe is an exciting season as for the first time in around 14 months we are getting a good repertoire overhaul and service and really apart from small changes of a song here and their after Tahoe 76' this group of songs arrived at here hardly changed in show format at all-this show format HERE was the Final FORMAT! which REALLY adds to the IMPORTANCE of this season!
7.5.76 Lake Tahoe 10pm Dinner Show. ;- A day for 'requests ' and poor form.
2001 Theme; C.C Rider; I Got A Woman / Amen; Riding on the Range-1 liner*; Fever; If You Love Me Let Me Know; You Gave Me A Mountain; All Shook Up; Teddy Bear / Don't Be Cruel; It's Midnight; Love Me Tender; Polk Salad Annie; Introduction To Band & Solos; Hurt; Softly As I Leave You; Heartbreak Hotel; Jailhouse Rock; It's Now Or Never; How Great Thou Art; Can't Help Falling In Love/Closing Vamp.
* Elvis here says 'Riding on the Range' the Title of a 1970 Charles Bronson Movie!.
Running Time: 75 minutes.
Every show this season was different in it's song line up and we are again 'surprised' tonight. With the 'rare' 2nd performance of 'IT'S MIDNIGHT'. I believe Elvis wore the 'white' Bi-centennial suit for the first show tonight and the 'blue' bi-centennial suit for the 2nd show booked for this date. Straight after C.C. RIDER Elvis says he had just woken up -and sounds like it. Elvis sounds very 'sluggish' during I GOT A WOMAN/AMEN there is a false start to MOUNTAIN as Elvis says the spotlights on him look like airport landing lights and he's breaking out in a cold sweat(what was this a reaction too?) As Elvis starts this show in poor form I feel that for all the 10pm shows this season (particularly from 3rd onwards) Elvis doesn't sound 'with it'. Here again the introductions seem to have reached full length as they have been 'expanding' every show so far! Elvis simply 'announces' the title of 'LADY MADONNA' before David Briggs rips into an instrumental version, but during the song you can just hear some lines from Elvis 'off mike'-what a pity!. Then again with David Briggs it's LOVE LETTERS. Elvis's Denver Policemen 'Buddies' Jerry Kennedy and Ron Pietrafeso were introduced in the audience during this show they were extremely concerned about Elvis's Demeanor in Denver 3 months ago and when they met Elvis back stage with John O' Grady and his son in Tahoe they were shocked by Elvis's appearance-sure ultimately the shows on the 7th were OK, but to give out a good show Elvis was fighting through a bloated body and in photos from the 7th Elvis's eyes are half closed-Elvis wasn't well and as a direct result of them seeing Elvis in Lake Tahoe they got Pricilla to try and talk Elvis into taking time off work for a lifestyle change in Hawaii. Of course the inevitable happened as Elvis rejected this idea-the LAST person Elvis would take any notice of was his ex wife!. In Bloomington, Indiana Elvis's eyes are open and clear during his 27th May performance! Interestingly in another Elton John interview I watched on the 21st September 1997 on the Australian 60 minutes show where Elton described Elvis as' The Greatest performer who ever lived', footage of Elvis both at the 68 'comeback special' was shown as well as Rapid City 21.6.77 footage . Elton describes Elvis's eyes as 'so far in the back of his head' when he met him in Washington state in 1976 and also that he thought singing songs kept Elvis going as long as he did-because he still wanted to perform. Back to the show- FEVER is a nice request 3rd song(although not well performed) and by SOFTLY the show improves as Elvis continues singing improving with each song and HOW GREAT THOU ART is particularly well performed. This has been an interesting show as most of the requests shouted out during the show have been performed by Elvis-quite an achievement! After 75 minutes Elvis says he has another show to do tonight and closes with C.H.F.I.L.
7th May 1976 Lake Tahoe 1am(8th May) show 'Where do I begin?-Requests
2001 Theme; C. C Rider; I Got A Woman / Amen; Love Me; If You Love Me Let Me Know; You Gave Me A Mountain; All Shook Up; Teddy Bear / Don't Be Cruel; The Wonder Of You; Happy Birthday; That's All Right; Are You Lonesome Tonight; I'll Remember You; Ku-i-p-o (Few Lines Only); Hawaiian Wedding Song; Polk Salad Annie; Introductions / Early Morning Rain / Solos / Hail Hail Rock'n'Roll; My Way; Jailhouse Rock; Love Me Tender; Hurt + Reprise; Heartbreak Hotel; How Great Thou Art; Hound Dog; Love Story-2 lines; One Night; It's Now Or Never; Dialogue; Can't Help Falling in Love / Closing Vamp.
Running Time: 93 minutes.
Thankfully the problems occurring in the previous Dinner Show seem to have been overcome as Elvis is opening the show here talks lucidly with the audience before ALL SHOOK UP and only gets the lines very slightly mixed up in the requests performed of THE WONDER OF YOU & ARE YOU LONESOME TONIGHT?. The dialogue so far is both funny and interesting. The worst part of the entire show is when once again he can't remember all the lines to I'LL REMEMBER YOU apart from this it's FUN all the way, Elvis is in great voice. We get Happy Birthday AGAIN and the songs intro from Elvis is especially sad as he mentions the songwriter dying of Cancer. Elvis's response to someone in the audience shouting if he could really play the Guitar was to grab his Gibson from Charlie Hodge and perform That's Allright!I enjoyed the 2 lines of KU-U-I-PO before he performs THE HAWAIIAN WEDDING SONG. The intros are EXTREMELY FUNNY as Elvis once again kids around with J.D.Sumner a little more than usual! joking that J.D entices girls into his room at the Hotel and sings 'THE GREEN,GREEN GRASS OF HOME' to them!!! ED Parker is introduced and Elvis does something REALLY NICE with EARLY MORNING RAIN here as he especially features the BLUE GRASS ending also WHAT D' SAY seems longer than usual. Whilst introducing Kathy Westmoreland he adds that he forgot to introduce her in the first show tonight because he was looking at her see through blouse!. After a longer than usual HAIL,HAIL ROCK N' ROLL Elvis is absolutely Bombarded by requests and performs a lot of them during the rest of the show. As a girl in the audience wants to get kissed by Elvis the band strike up the THEME music from 'LOVE STORY'-Elvis then La,La, La's a bit of it. One Night is a delight to hear from Elvis here as it's really strong. After IT'S NOW OR NEVER and C.H.F.I.L. another fantastic 90 minute show has ended-GREAT SHOW!
8th May 1976 Lake Tahoe 10pm Dinner Show ;- 'HAPPY DAYS'
2001 Theme; C, C Rider; Oh Happy Day; I Got A Woman / Amen; Dialogue; Love Me; If You Love Me Let Me Know; A Fan Gives Elvis A Gift; You Gave Me A Mountain; All Shook Up; Teddy Bear/Don't Be Cruel; Some Regular Fans Ask For "Sweet Caroline" Song Has A False Start; A Elvis Asks if it's anyone's birthday and he sings "Happy Birthday Everybody"; Dialogue; Trying To Get To You; My Way; Polk Salad Annie; Introductions; Early Morning Rain / What'd I Say / Solo's / Love Letters / Hail Hail Rock'n'Roll; Hurt; Hound Dog; Softly As I Leave You; Burning Love; My Heavenly Father(K. Westmoreland); Can't Help Falling In Love / Closing Vamp.
Running Time: 75 minutes.
Once again that familiar pulsating Electric Piano tells us that it's another Lake Tahoe 1976 show!. After C.C. RIDER the band start playing HAPPY DAYS and before it all falls apart Elvis obliges with a couple of lines which is a real treat. Elvis sounds in better form for this Dinner Show when compared to others mid-week and SWEET CAROLINE lighthearted a joke out of tune intro!. Again Elvis obliges the Fans by singing many requests and HAPPY BIRTDAY yet again!. MY WAY receives a fine reading but POLK SALAD ANNIE on this slightly muffled audio tape could be mistaken for a washing machine with a full load!!. HURT is unusually only sung once here. This seems a good show getting better as Elvis wakes up more and gets 'into it' and a lot of lighthearted fun for fans present here.
8th May 1976 M/S (1am 9th) Water Pistol Fight in Lake Tahoe
2001 Theme; C, C Rider; I Got A Woman/Amen; Love Me; Water Pistol fight / If You Love Me (Let Me Know); You Gave Me A Mountain; All Shook Up; Teddy Bear / Don't Be Cruel; Trying To Get To You; My Way; Introductions/Early Morning Rain/What'd I Say/Johnny B.Goode / Solos / Love Letters / Hail Hail Rock'n'Roll; Hurt ;Hurt; Fever; Softly As I Leave You; My Heavenly Father (K. Westmoreland); Danny Boy (S. Nielson); Hound Dog; The Wonder Of You + False Start; The Hawaiian Wedding Song; Mystery Train / Tiger Man; Can't Help Falling In Love / Closing Vamp.
Running Time: 84 minutes.
This is another very good Show from Elvis in which he sounds 'great'. Elvis jokes at the start of the show that because the Stamps have been on so long he can only do 15 minutes!. Thankfully he does 70 minutes longer than this. After Love Me some fans who were at every show start squirting Elvis with some water pistols and start a water pistol fight. Elvis responding to this starts the next song with 'You came when I was wet!'. Mountain receives different lyrics changed to 'blamed for the loss of an eye' The rest of the show is well performed but Elvis forgetting the lyrics to 'The Wonder of You' is disconcerting. A wild Tiger Man excites the audience before Elvis says what a great audience they have been and closes the show.
9th May 1976 Lake Tahoe 10pm closing show;- This show was released on CD 'AND THE LIGHTS WENT DOWN' in a beautiful package of a Lake Tahoe menu in early 1993. Unfortunately there were problems as although a 2 CD set..i.e. PLENTY of time to fit on the whole show parts of ONE NIGHT & POLK SALAD ANNIE were cut out and one of the real show highlights track listed on the cover 'YOUNG & BEUTIFULL' wasn't even on the CD which quite Honestly is nothing short of DISGRACEFULL and I would have thought that the MAC CD label having produced such a nice presentation could have pressed it's CONTENTS better. Of course after all the Die Hard collectors had bought this CD, Guess what it's re-released-this time with these missing songs added back in, so you have to buy it again! This is just about a similar story to the original CD release of the Pittsburgh 31.12.76 show first 'edited' on one CD release, then 6 years later properly released on 2 CD's(although STILL not as good a release package as the ORIGINAL Vinyl pressing! Or indeed incomplete FTD release!)However as with some of the best 'bootleg' vinyl releases from the 80's many would have bought ...'AND THEN THE LIGHTS WENT DOWN' because of the nice packaging. Certainly the title concept builds excitement for the last show Elvis would ever perform in Lake Tahoe.
As with most of the lake Tahoe shows there's plenty of talking and kidding around with J.D.Sumner and during Amen Elvis says 'Your just Tall-that's All' Interestingly before Love Me Elvis meets a couple who have been to all of his shows this season and he reminds them that they started a water pistol fight at last nights show. Elvis also jokes around reading out aloud a fans letter of appreciation -but kidding around just as he did reading his own queue script in the 68 Special sit down show. IF YOU LOVE ME(during which it sounds as if Elvis is doing his little dance steps on sticky mud!)and You Gave Me a Mountain receives different lines of 'Tired of working for Jewelry' during BLUE SUEDE SHOES Elvis quip's that they are playing the wrong song like Heartbreak Hotel. At the start of the intros Elvis kids that he's got toothpaste on the top of his shirt. During this show there are some incredible highlights such as;- a very strong lingering HEARTBREAK HOTEL The most interesting monologue of the whole show occurs before The Hawaiian Wedding Song, Elvis says the following:
"I've got to tell the audience what happened ,for the ones who saw the movie- do you remember the movie Blue Hawaii ?(audience screams) A funny thing happened because my Co-Star was Joan Blackman and she had on a silky purple dress with a white Leis and I was dressed in white and had a red ah...anyway we were on this boat and they were throwing flowers and all and people were singing The Hawaiian Wedding Song , but the first song we did You see they had guy's underneath the water pulling it by cable. The 1st song we did it hit the side of the bank too hard and we both fell in the water - BOOM! Took me 3 hours to get re-made up and do it again! So we got married twice on the same day!."
"Let me tell you it happened one other time Viva Las Vegas with Ann Margaret(applause) we got married again. It took a week in Las Vegas in a little wedding Chapel to film that Wedding Scene. It was so real until you think you are Married ....it took us 2 years to realize we weren't" (much applause)
Other highlights included ' HOW GREAT THOU ART" with its reprise ending. Surprises apart from the all to brief 1 or 2 liners are RETURN TO SENDER and YOUNG AND BEUTIFULL.The Mickey Mouse March has been heard before and Happy Birthday by now is almost compulsory at every show! Before Burning Love Elvis at first remarks that Fans have raised $10,000 for the American Heart Assotiation,then corrects himself to the Barton Memorial Hospital. Burning Love is especially exciting with James Burtons great Guitar work. This is a great show and even after C.C. RIDER Elvis remarks that the audience has a great spirit for closing night. We get to hear Sherrill's versions (abbreviated) of both DANNY BOY & FUNNY HOW TIME SLIPS WAY before his EGO took over in 1977 versions. The First Time Ever I Saw Your Face is sung like San Diego 2 weeks ago. In his closing show comments Elvis says how much he likes performing, now it's his life blood and that he can't stay out longer because the Hotel wants them to be out their Gambling again.
There are more photos in circulation from this closing show of Elvis wearing his 'AZTEC' suit than for the whole of the rest of this engagement put together. Indeed this was the last time he wore the suit and he looks well made out of Wax or Plastic,Yep more like melting Wax on the cover of the GROTI 3.5.76 show CD cover inside this CD he looks highly polished whilst introducing Kathy Westmoreland and just older in side profile inside the CD cover. It's the Wax like cover shot that has seen the most publication as Elvis's hair is very recently quiffed and he looks like he knows something we don't- maybe he was just having a good time?. Certainly he is immaculately dressed and the light makes his skin look darker, not so pale(although he looks very pale on 4th May)He's overweight, but not seriously so and he's sweating so much he looks in urgent need of a scarf!. Elvis singing here for 2 hours certainly wouldn't have impressed the Del Webb Management but by this time in Tahoe Elvis didn't care about that-after all the overwhelming message coming across here is Elvis's pleasing of the fans whether it be taking requests, singing for a long show or simply giving flowers to all the ladies who turned up to the closing season show.
9th May 1976 Lake Tahoe 10pm closing show. 'AND THE LIGHTS WENT DOWN'
2001 Theme; C, C Rider;Dialogue; I Got A Woman / Big Boss Man-1 line / Amen; Dialogue; Love Me; Dialogue; If You Love Me Let Me Know; You Gave Me A Mountain; All Shook Up; Teddy Bear / Don't Be Cruel; Blue Suede Shoes; Return To Sender; Heartbreak Hotel; Dialogue; The Hawaiian Wedding Song; America; Polk Salad Annie; Introductions / Early Morning Rain / What'd I Say / Johnny B.Goode / Lady Madonna-title only / Love Letters / School Days; G.I.Blues-title only; Wooden Heart (2 lines); Young And Beautiful; That's All Right; Blue Christmas; Blue Moon of Kentucky-2 lines; Hurt; Hurt; Hound Dog; M.I.C.K.E.Y Mouse March (2 lines); Happy Birthday Y' All; My Heavenly Father (K. Westmoreland); Sweet Caroline title only; For The Heart-3 words only; Love Me Tender; Danny Boy / Funny How Times Slip Away (S.Nielson); Announcement; Burning Love; Such a Night-title only; Help Me; The First Time Ever I Saw Your Face; Jailhouse Rock; One Night; How Great Thou Art; Dialogue; Can't Help Falling In Love/ Closing Vamp.
Running Time: 116 minutes.
Elvis did perform well in Lake Tahoe as reviews noticed in his opening night show 'He's built like a 40 year old Truck driver, not skinny-but he's not really Fat and he moves well' Yes in fact Elvis appeared to be in top form right through to 2nd May with well sung clear and strong shows lively paced. However from May 3rd onwards the pace slows down and MUCH MORE Talking starts-sometimes this is funny, sometimes sad as Elvis seems to loose track of what he's saying or at the 3rd May show become a bit morbid. All the shows where he was only required to sing once per night are starting to have very sleepy, sluggish and forgetting the words starts-which is a great dissapointment. The 7.5.76 Dinner show is a strong case in point as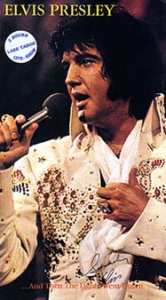 Elvis states that he's just out of Bed, However all the Midnight shows Elvis seems wide awake and in lively form (the 7.5.76 M/S) a case in point. Worst of all is the few photos I've seen from Lake Tahoe (mainly from Tuesday May 4th-white V neck suit,7.5.76 M/S -Blue Bi-centennial and the 9.5.76 closing show-Aztec suit.) ALL show Elvis with slits for eyes ,his eyelids VERY PUFFY almost closed- in fact I've NEVER seen around his eyes look worse they are so puffy! Photos from the closing show feature as cover for the 1994 GROTI labeled release of the 3.5.76 show and he looks almost made up to the point of Harum-Scarum with a very bloated face. Ironically he never sounded better than in Tahoe in 76 -he was having a ball, singing very well, entertaining, introducing re-vitalized old songs, taking requests (listen to the May 6th show!). Lake Tahoe offered him a Mountain to Climb, not just a Hill. Did he ever sing a more interesting or varied repertoire? Look at all those 'rare' 1 liners and rarely performed songs throughout this whole season. In the final analysis here lvis achieved it by completing the season with very entertaining long sows., but at the same time he looked bad around the eyes. Every time Elvis performed their he complained about the Altitude bothering him-yet when Police friends Jerry and Ron visited him backstage on 7th May he could hardly walk straight. Elvis must have been an AWFUL lot of work for Linda Thompson in Lake Tahoe as a week afterwards back home she got given a Lincoln Continental Mark 4 on May 19th.
Elvis introduced David Briggs at his Kansas City 21.4.76 show as 'Crazy' and 'one of the finest musicians I've ever seen in my life' at the Seattle 26.4.76 show. Therefore deserving very special mention in relation to Lake Tahoe 1976 is David Briggs.Davids distinctive Electronic Keyboard playing sound pre-dominates this whole Tahoe season, so much so that you can identify a show from this season straight away by the distinctive Electric piano sound. The most interesting feature song of the season was Love Letters which here Elvis re-vitalizes and sang at most shows from 30.4.76 M/S onwards right up until David left the band on 21.2.77.Love Letters held a special meaning for Elvis and David as Elvis had first recorded it 10 years ago on May 26th 1966.As Elvis would mention whilst introducing this song it was at David's first recording session with him. Extremely interesting is Elvis also requesting Lady Madonna from 7th May dinner show onwards from David. This was a song that David was already VERY familiar with. I have in my record collection #569 of a limited L.P. release by David Briggs called Keyboard Sculpture it's on the Monument record label released in 1969.On the label it says 'Disc Jockey/Not for sale' below is it's track listing with Elvis related material in Bold Type.:-
Moon Strut; Lady Madonna; Son-of-a-Preacher Man; Get Back; Soulful Strut; Itchy Fingers; I Say a Little Prayer; A Message to Michael's Heard it Through The Grapevine; Georgia on my Mind; Light my Fire.
Running Time: 27 minutes.
The Album isn't only David's keyboard as associates Jerry Carrigan, Billy Sanford, Harold Bradley, Jerry Stembridge and Norbert Putman also play on the record. These also recorded with Elvis as the extensive sleeve notes already mention David's association with Elvis's recordings and describe David's playing as 'versatile' from Plush intimate to Raucous, Dirty, Wailing Blues (the latter style evident on stage with Elvis!) David's association continues from 1966 to the present day through 1982's The Elvis Medley or the recent 1994's overdubs to The Twelfth of Never. If ever their was a hotel season to showcase David Briggs playing Tahoe 1976 was it!. By the time Elvis reached Las Vegas in December Tony Brown and Guitarists pre-dominate the sound along with Ron Tutt's great drumming.
Clearly Elvis found it a Mountain performing in Lake Tahoe-but for sure if Elvis was getting drunk there, (hey maybe Elvis got his water mixed up with David Briggs Vodka?!)then he was certainly buying drinks all round as every show seemed like a 'party' atmosphere - or as Groti put it 'A crazy show in Tahoe!'. Elvis in response to people concerned his health was poor said in Tahoe it really was just the different Altitude! Oh yeah is that why Linda Thompson got a brand new Car afterwards?.
Footnote: Elvis performed 1 show on 9th May 76' and can any 'show enthusiasts' change their show lists to reveal the true # of May 76' shows i.e. 14 NOT 15!- Thank-You.
Before writing this article(originally published in Elvis Monthly, then up-dated in June 2003) I have gone through extensive research particularly with Dutch Fan Merijn Van Der Meer.I have now come to the conclusion that I am 100% certain that Elvis only Performed 1 show on Sunday May 9th at 10pm, this I believe for 7 reasons:-
Elvis always performed only 1 show on Sundays during 1976 Hotel engagements.
Would Elvis really have been capable of performing 2 x 2 hour shows on closing date?.
Despite all 14 shows available to 'audio tape enthusiasts' no extra tape from 9th found.
In Lee Cottons book 'All Shook Up' Lee shows a ticket for Elvis's final Tahoe show 1976 and it clearly states 10pm!
There was a water pistol fight just before If You Love Me at the 8.5.76 M/S and this was started by fans that Elvis joked with during his Final shoe in Tahoe. Elvis greets them joking about the fight last night. If their had been another show in-between wouldn't Elvis had mentioned it too them earlier?, after all they were fans present at Every show this season, yet Elvis refers to the 'last show' as if it was last nights 8.5.76 M/S.
The 'bogus' Track listing given (from the author) for Elvis's show in 'DID ELVIS SING IN YOUR HOMETOWN TOO?' IS 100% Fiction and Wrong!.
A photo of the Marquee outside of the Sahara Tahoe Hotel May 1976 CLEARLY states ALL 14 shows from Elvis 'Sold Out'.