Menu
Concerts
Reviews
Multimedia
Legal Information
Songs and Tours Reviewed
"A HILL IN LAKE TAHOE 1976" Part 2 by Geoffrey Mc Donnell,Australia.
Here I'd like to look at the shows throughout the season as they developed and highlight any 'new' songs and rarities as Elvis sang and sang in Lake Tahoe in 1976. Elvis opened in Tahoe on a Friday night and closed with the show booked for Mothers Day Sunday May 9th. Elvis would perform 1 show only at 10pm during the week from 2nd-6th May and on 30.4.76 and 1.5.76 gave 2 shows, also 2 shows on the last 2 days 7th,8th May. The 2nd show on these days was BOOKED for the same day as the Dinner show, but was actually performed at 1am just after Midnight on the NEXT DAY. Somewhat confusing so I'll just refer to both shows on the same day as they were booked i.e. for 7th May Dinner & Midnight shows. Suits worn for this season weren't too many mostly the 2 Bi-Centennial Suits, the V neck puffy Sleeves and the 'Aztec' Suit.
Lake Tahoe Opening Night 30.4.76-"His voice is in Excellent shape"
2001 Theme; C.C.Rider; I Got a Woman/Amen; Dialogue; Love Me; Let Me Be There (false start only); If You Love Me; You Gave Me a Mountain; All Shook Up; Teddy Bear - Don't Be Cruel; Trying to Get To You; Polk Salad Annie; Intros; What D'Say; Hail,Hail Rock N'Roll; America; Hurt; Burning Love; How Great Thou Art; Funny How Time Slips Away; Hound Dog; Dialogue; Can't Help Falling in Love / Closing Vamp
Running Time: 60 minutes.
After the Al Tronti Orchestra break the strains of 2001 Theme we are immediately aware that were in Lake Tahoe-why? because of that characteristic 'Twangy' sound from David Briggs Electric Piano that has it's sound right up front, followed by the Guitars, Drums and the Orchestra last. Straight after 2001 the audience screams come through strong (as they would all season)Straight after C.C. RIDER Elvis says 'If you think I'm nervous Ladies & Gentlemen-you're right', mentioning that it's opening night. Elvis thrills the audience with his airplane moves during 'Amen' and R.Tutts drumming is excellent. Elvis says he's scared to death, a wreck and needs a towel(more screams) before LOVE ME. Let me be there starts before Elvis changes his mind to IF YOU LOVE ME for this season. YOU GAVE ME MOUNTAIN receives an inspired reading from Elvis as he changes the lines too- "It isn't just a Hill in Lake Tahoe"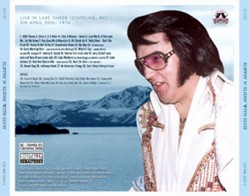 and "My Woman got tired of Las Vegas!" This great version receives wild audience applause. Next the 'oldies' are performed with care before a good TRYING TO GET TO YOU. POLK SALAD ANNIE is strange sounding Throbbing, Pulsating almost like my washing machine with a full load being washed!!!The intros at this stage are brief and well recieved.HURT is good and BURNING LOVE has a very nice Guitar line adding to the excitement all this season. HOW GREAT THOU ART is before Elvis explains that he learnt 2 hours ago that he has another show to do tonight, which is unusual and he has to do it. Elvis asks for some lights run by computer to be turned off and then performs FUNNY HOW TIME SLIPS AWAY ,HOUND DOG and then false starts C.H.F.I.L. before the proper closing version. There is an announcement about Barton Memorial Charity Proceeds and it's been a good show.
Opening Nights 30.4.76 Midnight Show;- False Starts and thinking of Priscilla?
2001 Theme: C.C.Rider(F.Start); I Got a Woman(F.Start) / Amen; Dialogue; Love Me; If You Love Me; You Gave Me A Mountain; All Shook Up(F.Start); 'we must be bananas' All Shook Up; Teddy Bear - Don't be Cruel; Trying to Get to You; Dialogue; Steamroller Blues; My Way (funny version) ;Intros; Early Morning Rain (funky instrumental version); What D'Say; J.B.Goode; J.Scheff-Blues; T.Brown-piano; D.Briggs-Lady Madonna (instrumental); Love Letters; Hail,Hail Rock N'Roll; Hurt; Hurt; Hound Dog; Jailhouse Rock; An American Trilogy; Dialogue; Can't Help Falling in Love / Closing Vamp.
Running Time: 62 minutes. Released recently(2003)on Czech CD.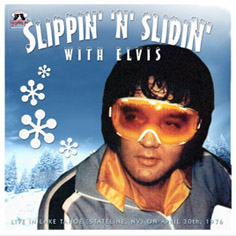 This is another excellent show, apart from Elvis complaining he can't hear the sound up on stage and stops the show part way through C.C. Rider and asks if sound engineer Bill Porter is ok?. Elvis adds that he was so nervous for the opening show that he blew the sound system out!.Mountain receives more asides to Pricilla as Elvis sings 'Almost climbed them all one by one ' and 'tired of smelling a lie'.During All Shook Up Elvis forgets the words saying his mind is gone. Elvis then drops the very unusual 1 liner of which sounds like 'We must be Bananas'. Trying to Get to You is very well sung,before the rest of the show consists of Elvis taking audience requests, starting with Steamroller Blues which is great-explosive!. Jailhouse Rock receives solid backing and An American Trilogy is the Disneyland version. After Elvis requests an unusual Early Morning Rain instrumental from John Wilkinson he says it's the first time in 6 years he's asked John to do that. My Way is very unusual as Elvis sings 'to think she did all that'. This has been a terrific show featuring many requests.
1st May 1976 Dinner Show ;- Funny Jokes and longer intros. CD 'Live at the Lakeside'
2001 Theme; C.C. Rider; Dialogue; I Got a Woman / Amen; Softly as I Leave You; Happy Birthday; If You Love Me; Good Luck Charm-title only; You Gave Me a Mountain; All Shook Up; Teddy Bear / Don't Be Cruel; My Way; Steamrollewr Blues; Intros; Early Morning Rain(Sung by J.Wilkinson); What D'Say; J.B.Goode; Drum/Bass/Piano/Electric Keyboard Solos; Hail,Hail Rock N'Roll; Hurt; Hound Dog; How Great Thou Art; Dialogue; Love Me Tender; Can't Help Falling in Love/Closing Vamp.
Running Time: 67 minutes.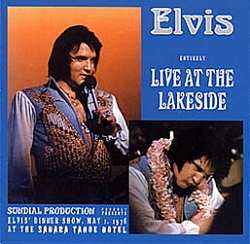 Although Elvis sounds tired in this show it's well sung, very humorous and interesting whilst quite long. as we shall see a great show and worthwhile CD purchase. This was released on the 'Sundial' label in mid 96' with shots that appear to come from Lake Tahoe showing Elvis as not his best but still enjoying himself in his bi-centennial suits that he favoured this season. Early in the show Elvis starts kidding around a lot with J.D.Sumner and says he sounds like a hot air balloon during' Amen'. Elvis then comments that he needs all the help he can get before an early request for 'Softly as I Leave you.'It'a very 'lively' audience as Elvis talks with them for quite a while before singing 'Happy Birthday'. Interestingly Elvis repeats the ending to 'If You Love Me' just like he did on the 16.8.74 rehearsals!. He then says he can't wear make up on stage because of the hot lights- the audience quickly respond by saying 'You don't need it!'. Elvis changes a line in 'Mountain' to 'Loss of an eye' and before this song we are treated to a title only of 'Good Luck Charm' Elvis re-starts the 'Don't be Cruel' Medley performed to a better version. Elvis's version of 'MY WAY' is extremely unusual complete with Elvis mock crying, loosing mind in a very strange version!. Steamroller Blues is good being nice and Bluesy before the introductions.
The intros are lengthy and funny as Elvis starts by asking J.D.Sumner if he's Julius Caesar as he's dressed differently. Elvis goes on to tell the story of him and J.D together in the early years and in great Humour says he'll introduce the Stamps individually as it takes up more time!!. After more kidding about Ed Hill, Elvis moves onto Bill Baize whom he said stole 'You'll never walk alone' from him and sings it to a high 'C' on stage. Elvis asks John to sing 'Early Morning Rain' next-but John changes the lines singing 'and I miss my daughter so' -which may have upset Elvis as afterwards Elvis quip's back 'that's your last time son'. All the other band members get individual intros and after 'Hound Dog' Elvis says he couldn't do it without such a good audience.' How Great Thou Art' is exceptionally good after which responding to an audience member shouting that he's the KING Elvis says that He's not a King, just a Human like person as his nose runs!. Elvis then unusually request an instrumental intro from James Burton to Love Me Tender-which is a nice touch before closing this funny show with the usual C.H.F.I.L.
1.5.76 M/S-Delilah-Ripping it up on Guitar with Saturday night Fever.
2001 Theme; C. C Rider; I Got A Woman / Amen; DELILAH (1 Line); Love Me; If You Love Me Let Me Know; You Gave Me A Mountain; All Shook Up; Teddy Bear/Don't Be Cruel; Fever; My Way; Burning Love; Introductions/Early Morning Rain/Solo; Hail, Hail Rock'n'Roll; Hurt + Reprise; How Great Thou Art; Mystery Train/Tiger Man; Can't Help Falling In Love/Closing Vamp.
Running Time: 65 minutes.
This show starts with a great 2001 build up and anticipation as Elvis hangs back before starting the opening number in which whilst he performs adequately he sounds 'hidden' by the band. After C.C.Rider straight away in great spirits he starts some dialogue with J.D.Sumner saying he'd been in the business for a while, then Elvis asks for the lights to be dimmed a little(during this the audience are really wild tonight) Elvis says it took him 2 hours to get into his suit and asks if Jackie Kahane is around backstage?.Well,Well,Wells are wildly interrupted by the crazy audience as Elvis says his Bass singer is trying to burp!. I Got A Woman is nice and 'loose' before Amen in which Elvis drops one liners of firstly Early Morning Rain, then Fever before Elvis complains about the sound guy's 'reaching' for him. During the leg moving part of Amen , whilst Elvis is doing his fancy knee jerking movements Elvis says 'I've never said this before' but I'm going to tonight. My Drummer is a heterosexual Guy when he's drumming, but he's been watching me from behind for so long he's gotten weird!. He does everything to be masculine' I Sweetie','J.D's the same way he has a deep voice but that's just a disguise! Elvis says that J.D. can do better than 'When the Saints go Marching in' and makes him do the low ending again., calling him 'Moses' as J.D tries again Elvis makes a joke about his voice going down his throat , then wisely decides NOT to go there and make no further comments before ending with the reprise of I Got a Woman. Elvis then asks for an 'A' Minor and does one line of 'Delilah' .With a 'G' Minor Elvis jokes again and says he's weird/insane!. Elvis then talks to Larry Strickland (who is 29) and has a deep voice like a bear. Next it's Love Me .For this show tonight it's obvious he now has the audience in his hand.
The audience seem to be loving this show and after performing Love Me Elvis stops all this kidding around going straight into a solid beat of If You Love Me; You Gave Me A Mountain. During Mountain James Burtons Guitar sounds very wistful back up. A powerful version of All Shook Up is actually exciting for once as Elvis doesn't muck around and keeps things at Fever pitch into Teddy Bear/Don't Be Cruel(again with great Guitar support) Elvis ignores a 'Welcome to my World' request and does Fever instead. After this Elvis wants to do My Way (which once again receives superb backing from the band) at the start however Elvis gives 1 spoken line of 'Rip it Up' My Way is an unusual version with mock crying and Elvis sings "I've had my fill, my share of carrots'. After this Burning Love is the most exciting version I have heard from Lake Tahoe (released before on the CD Elvis amongst friends) The best part about this exciting version is Elvis repeating the ending when he says he was getting the wrong signal on the end and just raises the temperature even higher!. Elvis then states to the audience before the intros that 'I can't make it without You-No Way'. What an honest artist Elvis is here. All the band solos are quite good -except J.Scheff;'s slow and dragging Bass. Elvis jokes with Tony Brown that he is new with him and you can tell when he plays piano!. Elvis also adds that his musicians are hand picked -and you can tell from the bottom of the barrel!. David Briggs plays instrumental 'Lady Madonna' as Elvis almost wails in the background. Elvis also mentions David's Studio in Nashville before a slow but measured 'Love Letters'. The Al Tronti Orchestra then go into a sedate version of Hail, Hail Rock N'Roll which Elvis wails along to. Very loose sounding conducting tonight as well!. Hurt is sung straight through - twice. Audience appreciate this even if the 2nd version isn't outstanding tonight. Next almost deciding on Sweet Caroline, Elvis eventually settles on How Great Thou Art which Elvis says you have to sing from your shoe soles!. After an unsure start Elvis excels himself in a superb version!. Then it's quickly into Mystery Train/Tiger Man which just creates more and more screams!. Elvis then says be careful driving home ladies & Gentleman, God Bless you Tonight, Can't Help Falling in Love/Closing Vamp
2nd May 1976 10pm show - A TOP SHOW IN LAKE TAHOE.
2001 Theme; C, C Rider; I Got A Woman/Amen; Dialogue; Love Me; If You Love Me Let Me Know; You Gave Me A Mountain; Dialogue - Ave Marie request; All Shook Up; Teddy Bear Elvis has a problem with the sound; Dialogue; Don't Be Cruel; Dialogue; Trying To Get To You(with reprise); My Way; Burning Love; Introductions; Early Morning Rain - instrumental only / What'd I Say / Johnny B.Goode / Solo's / Love Letters / Hail Hail Rock'n'Roll; I'll Remember You; Hurt;Hurt; Hound Dog ; The Hawaiian Wedding Song; How Great Thou Art; Sweet,Sweet Spirit(Stamps); It's now or Never; Can't Help Falling In Love / Closing Vamp.
Running Time: 60 minutes.
Unlike the 1st 2 days here Elvis only has to perform 1 show tonight and it's great. Straight away Elvis comes on during C.C. RIDER as wide awake and in strong voice. He introduces himself as Flip Wilson and say's he'll do something that you like if he has to stay here all night!. After an Ave Marie request Elvis repeats the title only before performing All Shook up. Elvis repeats the ending to 'Trying to get to You' which receives great audience applause.' My Way' is an excellent performance and following another great 'How Great Thou Art' like the Hampton Roads 9.4.72 E/S Elvis requests the Stamps sing 'Sweet, Sweet Spirit' which is nice. Elvis then says 'It's now or Never' was his favorite song before singing it, then closes this excellent show with C.H.F.I.L. This has been a no-nonsense well sung show and a delight to hear from Elvis.
3rd May 1976 10pm show ;- A Crazy Show At Lake Tahoe
2001 Theme; C.C. C Rider; I Got A Woman / Amen; Love Me; Happy Birthday + Reprise; If You Love Me Let Me Know; You Gave Me A Mountain; All Shook Up; Teddy Bear / Don't Be Cruel; I'll Remember You; American Trilogy; Steamroller Blues; Introductions/What'd I Say / Love Letters; Hurt + Reprise; Hound Dog; Softly As I Leave You; Why Me Lord; Sweet, Sweet Spirit; Can't Help Falling In Love / Closing Vamp.
Running Time: 70 minutes.
This show at first starts sounding as good as yesterdays show with tremendous audience atmosphere as the 2001 theme plays before the now familiar 'Twangy' electric piano sound typical of the sound balance of this 1976 season starts. The show gets more 'chatty' with Elvis singing Happy Birthday dear Katie-Twice!. Elvis then responds to the audience by stating sadly that his Daughter had recently turned 8 years old, then chat about his rings and band aids on his fingers and so on....As fans shout out to Elvis that he's 'THE KING' he responds by saying that Kings don't get sick and go to Hospital or rip their pants on stage. Before 'All Shook up' it's clear a 'loose' show structure is developing tonight. During If you love me ,however Elvis's voice is still commanding. Responding to the noisy audience Elvis finally decides on 'I'll Remember You' then tells the sad story behind the song saying how very sick the songwriter had been. Next is a sad part of the show as Elvis fluff's his lines and can't remember the lyrics to the song. Thankfully both 'AN AMERICAN TRILOGY & STEAMROLLER BLUES are OK.Just before the Band intros start we get a 1 liner of 'FARTHER ALONG'
During the Band intros Elvis features LOVE LETTERS for the first time this season and his performance is OK which begs the question as with some other performances later this season of say RETURN TO SENDER & JAILHOUSE ROCK where they rehearsed up before the season started?. After 2 full versions of HURT Elvis introduces stuntman Dig Zeiger and Actress Samantha Egar ,then for not the only time this season Elvis oddly introduces Jackie Kahane to this audience-maybe this was Jackie was actually trying out new material some of it actually funny!. Hound dog is unmemorable but after performing 'Softly as I Leave You' next Elvis's comments are memorable as he goes on about how he'd been in hospital recently, but it was nothing serious as he just shook to much. Elvis may have been making light of this but coming after he'd just performed 'SOFTLY' sounds just plain Morbid! Then Elvis introduces his Father. Despite several requests in this part of the show for 'Bridge over Troubled Waters' Elvis to my knowledge so far hasn't sung it yet in Tahoe in 76', also tonight Elvis doesn't perform 'HOW GREAT THOU ART' as he says he doesn't want to make his voice sore for tomorrow night..'WHY ME LORD & SWEET,SWEET SPIRIT' follow from the Stamps before Elvis seems to run out of steam in this 82 minute show and closes with C.H.F.I.L.
This show was released in late 94' as a special CD as at the time a tape of this show was unavailable on the audio tape collectors network. Photos from the closing 9.5.76 show grace the cover and inside and it's contents certainly live up to the CD title 'A crazy show at Lake Tahoe as the audience seem nuts and although mostly in good voice Elvis at times during the show comes across as tired, sad and confused. Gone is the faultless show form from the 2nd May!. Nevertheless he takes many audience requests and is on stage for a long show.