Menu
Concerts
Reviews
Multimedia
Legal Information
Concerts Reviewed - 1976
Las Vegas - December 4, 1976 (9pm dinner show)
by Evan
It seems to me that many fans write off the last two years of Elvis Presley's life with a presumption that other than a few moments (and they mean that literally. Perhaps I should use the word 'minutes') Elvis was nothing but a lost cause. Well, I suppose in the western world most of us are democratic enough to allow our neighbors to have their own opinion, however I am one fan that prefers to take each recording as it is, and do my best with being constructive about it. I recently read a review about the October 15, 1976 Chicago concert that was released on soundboard. It's not far off the mark to say that the review trashed the show, highlighted one or two good moments, urrr, minutes, thus rendering the entire show pure shite. Well, each to his own, but I quite like that concert, and I especially like the one I am about to review.
My source is from the underrated label Sundial Productions who released (among others) a well-packaged album containing Elvis' December 4, 1976 dinner show from the Las Vegas Hilton (his very last season there). The CD has a running time of 66 minutes, 30 seconds & Elvis wore his Inca Gold Leaf suit (which was first worn in 1974). The sound quality, compared with (for example) the Double Dynamite CD (being a 10/10 for an audience recording), this would rank 8/10. This recording was apparently made from ringside, and the package includes beautiful close ups of The King during this season in his Inca suit. This concert is also available from a single angle visual medium despite some slight edits here and there. So, ladies and gentlemen, sit back, and leave the driving to me!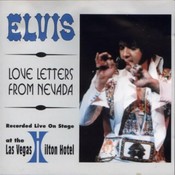 The anticipation of the audience leaks out as the theme from 2001 emerges into the atmosphere of the Hilton showroom. The opening riff to SEE SEE RIDER thunders through the room, however the excitement of the audience is not heard again until Elvis hits the stage. Fifty-four seconds into the opening riff Elvis starts the song with a fairly laid back feel. Elvis improvises several lines making this version just a little different to the previous night's. The quiet section where Elvis sings and counts the drum beats, "see, see see rider, one, two, too many" brings screams and cheers as he turns his profile to the audience to face the Stamps & Inspirations. "Thank you very much." Elvis greets the enthusiastic Vegas audience. He takes a pause, then sings a bassy, "Wellllllllll". You can hear Elvis laugh to himself as he exhales through his nostrils. "Welll" he sings soprano off mike. "Well, well well, welllllllll. You can fake it baby, I don't know it" he plays with the girls in the audience. "Well well welllll. Well well well wellll. It comes from the floor!" Elvis laughs referring to his deep voice. JD Sumner concludes the "wells" as he did at so many concerts. The crowd laughs, and Elvis says, "Well, that's it. Thank you very much". He sounds happy, and so does the crowd.
Not unusually, I GOT A WOMAN/AMEN is up next which is well received by the audience. Elvis is right into this version, with plenty of "chu chu chus" imitating the beat. Amen includes the "sing it with us everybody, sing it with us" & "take it up half a step higher" lines from Elvis.
The strip routine brings a lot screams from the audience and laughs from Elvis. "I gotta tell you something, really. When you were in line, I was still asleep!" The sounds of Ronnie's drums thunder again indicating Elvis is shaking his legs and rolling on the balls of his feet. "You can do it, baby" a female admirer yells as she sits near the tape recorder. "If I can get it all going at once" Elvis replies. And gets it going he does!,
"Something broke! Hahaha. 'Mennnnnnnn. Go get it JD!"
At the conclusion of JD's dive bomb impression, Elvis is pretty satisfied with his effort so concludes I Got a Woman with it's usual finale.
"Thank you very much, ladies & gentlemen. I'd like to say, urr, urr. No honey, whatchoo want?"
"I want you" a girl screams"
"Ha ha ha. Honey don't say that. There's kids in the audience, including mine". The audience spontaneously launches into applause (this reminds me when Elvis asked back in August 1970, "Is that your name, Boheger?", and he pulls a face when the audience claps). "Isn't she cute" a woman is heard probably referring to Lisa Marie who was sitting with her Grandpa, Vernon. "This is beautiful honey, what do you want in return?" Elvis asks a lady who has passed him a gift. "A scarf? And a kiss? That's it? Make it good!" Soon, Elvis' infectious laugh is heard. He mimics an audience member, "This guy said 'I'll kiss you for your ring" which makes the rest of the audience laugh. "I bet you would" Elvis says. "You'd chase me all over the building.." "Arrrgh, just enjoy the show. We're gonna do a lot of songs. Old ones. News ones. We hope we do twoop tooop. Blah blah (Elvis stutters). We hope we do something that you like. So you just, we're here to entertain you, so just enjoy yourself!"
James cues Elvis, who pauses a moment, then begins LOVE ME with a very pronounced, "TreaT". The crowd are into this song straight away. "Breaaaaaaaak my faithful heart, Lord" Elvis strings it out. Elvis includes a little of his "oh so, arrh so, arh so!" joke off mike. The finale is extended with a very bluesy ending by Elvis.
"Thank you very much. Thank you ladies & gentlemen. This next song is one that was recorded by Olivia Newton-John, called IF YOU LOVE ME LET ME KNOW, if you don't, go back to the kitchen". What a beautiful version this is. Many say Elvis had an addictive personality, and when it came to songs he liked he sang them to death. However this version certainly had plenty of life left in it. "It's this, and so much more, that makes me love you" cruises along nicely.
"Thank you. Thank you ladies & gentlemen. Mountain!". Elvis commands YOU GAVE ME A MOUNTAIN. It is obvious Elvis had been awake several hours despite his earlier comments. His voice is rich and his demeanor is sharp. He is into this song with conviction and soul. ".soooo tired of workin' for nothing, just tired." o-oh, just when you think he's gonna get sentimental again, he picks himself up and sings the song straight. But there is no doubt what Elvis was thinking of as his baby girl sat before him, and perhaps his greatest regret flashed through his mind. "She took my pride and my joy".
The ending of this song is stretched out, "Lord, you know you did, this timemmmmmme" What a marvelous version, and the audience responds with appreciation.
"Thank you. Urr, I'd like to go back a few years. My third movie was JAILHOUSE ROCK. So it's been quite a couple of years. So the words to this song are so fast I sound like Donald Duck! Anyway, we shall do the Jailhouse!" Although I like the 1976/77 versions, I must admit they were way too fast and too high a key most of the time for Elvis. He only knows why he didn't slow it down. This is an ok version, nothing to write home about. "Urr, in 1960 I did a song that was taken from O Sole Mio called It's Now or Never. I'll sing it for you now". The audience groan with delight, and James Burton offers a lovely (though not as good as the studio version) mandarin introduction (that's right, no Sherril Neilson). This is a committed version by Elvis. One can only imagine what this song would have been like had he re-cut it at the October 1976 Graceland sessions! If you like the June 21, 1977 version, you've gotta hear this one!
"Thank you. You're fantastic. Thank you very much. This is a song I did a long time ago. Its called Trying, Trying to get to you (is he nervous because fellow Sun artist Roy Orbison is "judging" his performance?). Whewwwww. I'll to you what. I eat too late. Everything is right here. It does affect your breathing, especially when you reach down to your shoe soles to get notes!"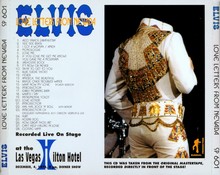 TRYING TO GET TO YOU proceeds some dialogue by both Elvis and a member of the audience who are both inaudible, however Elvis is noticeably confused by the other man's comments. This version is characterized by a heavy rhythm section. This songs rocks.
"Thank you. You are a fantastic audience. No, urr we just played Jacksonville (September 1, 1976), and they're a very good audience down there, so umm." Elvis responds to an audience member.
"Are you coming back to Jacksonville" she asks in a Southern accent ?"
"I don't know honey. Nnn- next year, next year, honey (May 30, 1977)".
The audience continue trying to make some personal conversations with Elvis but he clearly can't comprehend what they're saying, so he orders the band to launch into BLUE SUEDE SHOES. This version is nothing but an uninspired mess. More of a time waster, really.
"Ummm, ok, you wanna hear FEVER? Fever it is!"
Fever receives an extended introduction with much applause and inaudible dialogue from Elvis. "Never know how much I loved you" hits the spot with the audience. Elvis has turned the ignition to very person's sexuality with just a few words. There are wolf calls, cheers and whistles from all around "Thank you very much. You're a fantastic audience. Heartbreak Hotel?" Elvis asks after a man requests this song.
"First of all" Elvis continues ignoring the fan's requests. "I know you've heard so much about our bicentennial year, but I'd like to do our version of AMERICA THE BEAUTIFUL".
"This child just came out of nowhere" Elvis is interrupted.
"Ohhhhhhhhh" the audience sighs. Elvis jokes a little with the audience about the little boy who was shoved onto the stage with him. "It's a strange thing to do just before doing America The Beautiful." Despite the flavour of this song, Elvis does perform a very nice version. No fluffed lines and plenty of high notes!
"Thank you. I'll tell you what. We'll go from there to BRIDGE OVER TROUBLED WATER. The audience are very keen to hear Elvis sing this despite some woman screaming out, "Loving You". During the piano introduction Elvis says shyly, "Don't know the words to it". This claim is backed up by a photograph of Elvis holding the music sheet in the CD cover.
Twenty two seconds into the introduction Elvis begins. Everyone's attention is drawn to Elvis' soft voice. This version is truly different within the first verse to the usual. "When you're down & out." hears Elvis pick up the standard pace. What follows is brilliance. There is some excellent work by both Elvis, James Burton, Jerry Scheff, Ronnie Tutt & Glenn Hardin, and all completely in their own right. At four minutes, seventeen seconds this definitely needs to be included on the forthcoming Vegas box set, but alas, it is not L
Just when you think it's time for the ban introductions, Elvis, who is completely into this show starts to sing (for the final time in his career), "What now my love, now that you've left me.". Half sung, half spoken, this ultra rare and brilliant version of WHAT NOW MY LOVE is soon picked up by the band ."Turn in to ashes. And my hopes into bits of clay. What now my love? Now that you've gone, I'd be a fool to go on and on. No one would care, no one would cry, if I should live or die" The final verse is sung, with excellence revealed on the final lyrics, "only my last goodbye, goodbye, goodbye". I can't explain this to you. It's the type of Presley excerpt you keep playing over and over again! And I bet that impressed the pants of Englebert & Roy!
"I'd like to introduce you to the members in my group before we go any further. You know they say that a man is judged by the people who are around him - look at these freaks! No! The girls you met earlier in the show. We've been together about seven years, and I think they're fantastic. The Sweet Inspirations. The gentlemen in the back. They're one of the top quartets in the nation, JD Sumner and The Stamps Quartet". Elvis continues to introduce the Stamps individually. He makes a little small talk but nothing significant is said, however the audience does laugh when Elvis introduces "Buck Buckles". There is an obvious edit at this point in the recording.
EARLY MORING RAIN runs a typical 0.56 seconds, and JOHNNY B. GOODE hardly meets 0.41 seconds despite being a solo from the great James Burton. Ronnie Tutt provides a solo much like you'd expect from "Animal" from the Muppets, and Jerry Scheff gives a new but short blues riff. Tony Brown is on piano playing the same old thing (which I guess was new at this point in time). David Briggs provides his usual funky Clavinet solo despite being twenty seconds shorter than usual.
"The first time David and I worked together should have been our last. No! We did as song called LOVE LETTERS, I'd like to do for you". As Elvis prepares himself for this song I can't help but wonder if he knew what was going on between Linda Thompson and David Briggs. I know a guy who attended Elvis' show at the Cow Palace, November 28, 1976 in San Francisco. He states that after speaking with the Colonel who pulled him up inquiring about his "Elvis Presley Fan Club of Victoria, Australia" T-shirt, he returned to his seat and to his surprise sat and spoke with the lovely Linda Thompson. This was the last concert she attended. Anyhow, Duke, back to the Vegas show!
Love Letters proves another good version very much like the 1970 studio version. Lovely indeed.
School Days (Hail Hail Rock & Roll) is the instrumental from the orchestra, which receives a blusey ending by Elvis screaming "yeah yeah yeah".
"I'll tell you what I'd like to do. The fella that features as the guitar player (I gather it's not James Burton), just listen to him. He just, he just, he's weird!" A reprise of School Days proceeds running only 20 seconds but has some wicked guitar playing at the end. Man, this must have been like a "shot in the arm" that Hugh Jarrett talks about in his recent "The Man & His Music (issue # 52)" interview. The guitarist goes off like, "Elvis has just sponsored me!"
"There's a couple people in the audience I'd like you to meet .They're some of the finest singers in the world, so that's why. That's one of the reasons. I have to be good. I'm being judged not only by you and everybody on stage, but also by them".
"You're still great" a woman screams", the audience applauds her.
"Thank you sweet heart. There's a song, 'Please release me, let me go'. No one ever sung it like Englebert Humperdinck! (audience applauds). And next to him ladies and gentlemen is one of the finest singers of all time, Roy Orbison! "It's Overrrrrr' Elvis sings an excerpt of Roy's song.
"There's certain members of my family. My father's in the audience. And my little daughter, Lisa".
Once the applause dies down, Elvis continues, "Our latest record, as far as I know is called HURT".
A soulful rendition by Elvis. He easily reaches the notes with much control. The orchestration seems somewhat different, perhaps it's the Vegas atmosphere. But a great rendition to be reckoned with. Love to hear Roy or Englebert achieve this!
HOUND DOG is next up. I am surprised that after Elvis' comments about his peers that he performs a shit house version that is worse than the June 19, 1977 version. Just woeful. I believe he was truly embarrassed by this song, especially when he made so much effort to sing meaningful songs like Hurt, And I Love You So, and the following song in this concert HOW GREAT THOU ART. "Ladies and gentlemen. This show would be complete if I didn't do a song we did in '67, which features the Stamps Quartet on How Great Thou Art". This version is more demanding of a Grammy Award! It is a mixture of the December 13, 1975 & June 19, 1977 versions - just magnificence!
"Whoa. Thank you ladies and gentlemen. You're just fantastic". An obviously exhausted but still enthused Elvis launches into CAN'T HELP FALLING IN LOVE He sings it well, and hits every note. He leaves the stage with an enthused audience chanting for more. After this show Elvis met Roy Orbison backstage. Amongst the many bootleg CDs available there are a number of which whose source is derived from audience recorded tapes. Many of these lose a lot of their listening pleasure to their poor sound. The abundance of these CDs contain shows from throughout the '70s and they illustrate Elvis' changes in his song lists throughout the years, however they also can become monotonous because of the repetition in songs during certain periods of time. For example, you are unlikely to find a '76 show without If You Love Me (Let Me Know) or You Gave Me a Mountain. 'Love Letters From Nevada' contains a very standard repertoire for 1976 but it also contains strong, committed performances by Elvis. There are many highlights during this show, but for me What Now My Love is worth the price of this CD alone. The most disappointing performance is Blue Suede Shoes and Hound Dog. If you have the opportunity to buy this CD, grab it, but whatever you do make sure you get a copy of this show in your collection.
Evan