Menu
Concerts
Reviews
Multimedia
Legal Information
Concerts Reviewed - 1975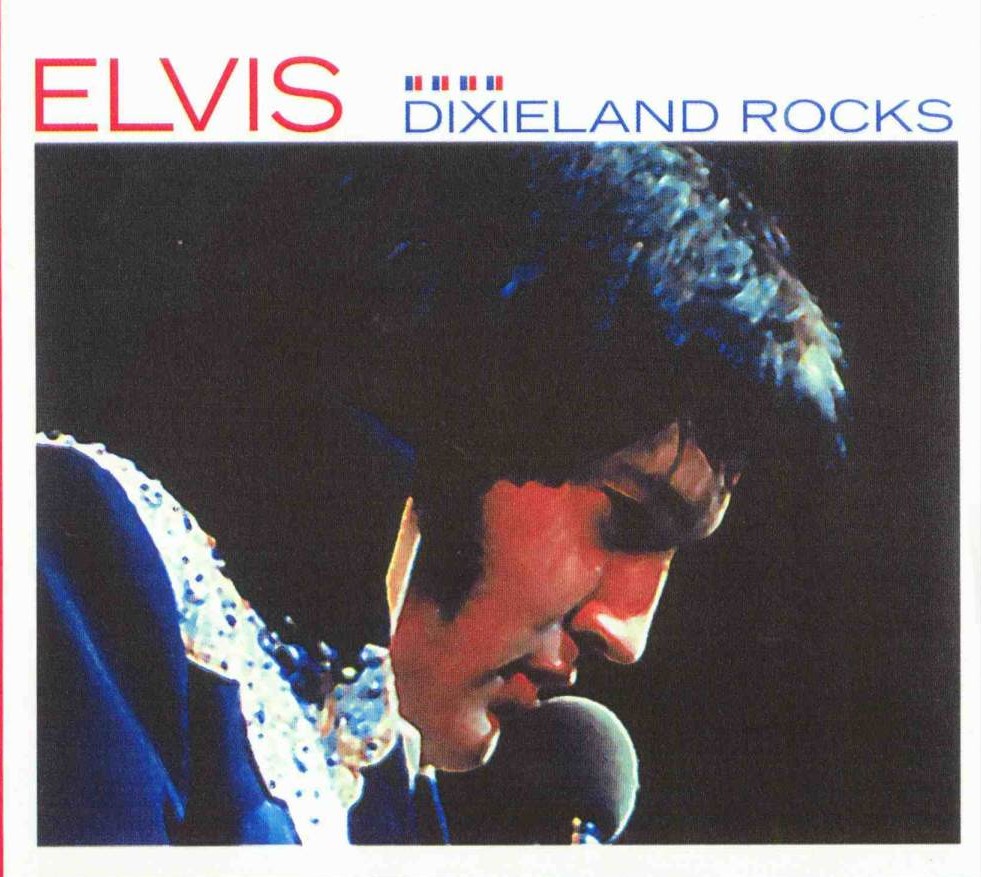 Dixieland Rocks - MTSU
Murfreesboro, TN, May 6th and 7th, 1975
by Isaac Laughhunn
No comments on Also Sprach Zarathustra, except that it includes the instrumental introduction to "See See Rider", instead of switching to the next track immediately after the theme is over, as is usually the case. This means "See See Rider" starts with Elvis saying the opening line, and no music before it. "See See Rider" is very good, no surprises.
"I Got a Woman/Amen" is very good and not too drawn out, as it could be in later years. "Love Me" is one of the many "kiss-giving" and "scarf-giving" songs on this CD; Elvis does alot of fooling around, but after the song, he complains that the band cut the song short and that there was more to the song that they didn't play.
"If You Love Me" is done in the first year Elvis started doing this song, and is the strongest you will ever hear of this song. "You Don't Have to Say You Love Me", a rare song for this year, is pretty well performed, but Elvis can't resist kissing or doing something with someone during the song, and says "come here!" to someone when doing that. "All Shook Up", there's more fooling around, even to the point of asking someone if she was pregnant during the song. "Teddy Bear/Don't Be Cruel" is slower than usual, but still alot of fooling around.
"The Wonder of You", obviously not as good as 1970 versions, but still well performed, except when Elvis has a hard time saying "consolation". "Polk Salad Annie" is very good, Elvis even growls at the beginning.
The intro segment is pretty enjoyable, but "Johnny B. Goode" is basically just James Burton playing it and Elvis saying the opening lines but then giving up, saying "oh, yeah" and letting James do the rest by himself. "Long Live Rock 'n Roll" has been labeled "Hail Hail Rock and Roll" and "School Days" on different CDs. It's amazing the same song can be labeled three different things, but the real title is "School Days," and anyone who has heard the Chuck Berry original can agree this song is what Elvis is singing, short as it may be. No surprises on this song. Jerry Scheff plays a 2 or 3 minute bass solo during this intro segment. "My Boy" is very good and is as focused a performance as you can ask for.
"T-R-O-U-B-L-E" has a funny intro by Elvis about the song having a lot of words and being real fast, and him not knowing the words, but the song turns out to be just fine, and the only slip-up is when Elvis says "walking like glory and walking like a dream" instead of "looking like glory and walking like a dream". "I'll Remember You" is pretty good, but there are one or two spots where he laughs or slips up. "Why Me Lord" is what you should expect from 1975, but it is not so much the laugh fest that it could sometimes be. The 3 or 4 times Elvis makes comments during J.D.'s singing detracts from the song, but what's different is this time J.D. actually has some fun with the words himself, and says "how I can ever sing this way" instead "I could ever repay" and it doesn't seem like the usual "let's see how much we can butcher this song" but instead seems like good natured joking between two friends.
"Let Me Be There" is sung louder than in 1974, but still has a few slip ups from Elvis. "American Trilogy" is as good as ever, except in the opening lines where Elvis says "what?" as a joke, and then when the Stamps sing "Oh, I wish I was in Dixie", he says, "well, you are, you fool!" but the rest of the song is just fine. "Fairytale" is slower than usual, but is sung perfectly. "Little Darlin" is similar to all the other versions, but during the monologue part, he says all of a sudden "One of the tenors is higher than the others" and later says right after the "I'll know too soon" line, "that the sound is going to hell!" "Funny How Time Slips Away" is pretty good, not too much fooling around. "Can't Help Falling in Love" has no surprises.
"Bridge Over Troubled Water" is good with no fooling around, but instead of "I'll take your part" he says "I'll take your side." "Love Me Tender" is another kissing and/or scarf giving song, but we all know that.
The sound is very good, and if you've read any of the other reviews of this CD on some Elvis sites, you'll know Jerry Scheff and his bass guitar are farther up in the mix than usual, but that doesn't really seem to affect anything, except for the finale in "Polk Salad Annie", you can almost only hear him. I personally like the way the CD is laid out, but some don't, so you decide if you ever get a copy. Even though there are some slip ups, the performance is still pretty good, and the set list is above average and the sound is good.
Isaac