Menu
Concerts
Reviews
Multimedia
Legal Information
Concerts Reviewed - 1975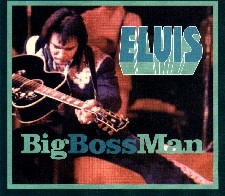 Elvis: Big Boss Man - March 30, 1975
by Jim
This release from FTD is IMHO, a GREAT release. This time we are treated to a performance from March 1975. Elvis did not perform from mid-October 1974 until March 1975. He had a variety of health issues which had surfaced and even had a time where he was hospitalized. From listening to this show, it appears to be an excellent performance by Elvis. He seems focused, his voice is clear, and the set list is surprisingly good. He does some of his signature rockers with vigor and enthusiasm. His interactions with the audience are really nice and even funny at times. At several times throughout the show he goes from one songs directly into the next, much like he did while on tour in 1971 and 1972. There is a nice flow and pace to the show. Like "Southern Nights," this is one I have been and will be playing frequently. As stated previously, I like Elvis of 1975. FTD, please keep 1975 shows coming!
Let me say a word about the packaging. Personally I like the way FTD packages their product. I am more concerned with the music. However, this cover is one of the more exciting covers I have ever seen on any Elvis release. It really shows Elvis getting into the performance! The different variations of green are effective and extremely friendly to the eyes. The suits Elvis wore during this Las Vegas engagement were really nice. I think he looks great in the pictures included and much of that has to do with the quality of suits. It's too bad he didn't dust off some of these suits for the TV special in 1977. Below is a brief analysis of the show.
2001: A Space Odyssey = What can be said about this. Short of Elvis himself being on stage, this is always a highlight. Every time I hear the theme I flashback to one of the concerts I attended. The chills you feel when you sit in a concert hall with the lights off, the stage is darkened, and you know Elvis is about to appear. It is a surreal feeling which blankets you as you listen to this introduction!
See See Rider = While this song had become routine by 1975, Elvis delivers a solid version. You can tell your in for something good as he begins with, "Yeah... See... See See Rider..." The show is off to a good start.
I Got a Woman / Amen = After a few "Well, well wells.." Elvis delivers a really good "I Got a Woman." A brief "Amen" follows and then Elvis does a few shakes as Ronnie Tutt follows him on the drums. J.D. Sumner's dive-bomber follows and then the conclusion. Elvis introduces himself as "Ann Margaret" on this night. The dialogue between Elvis and a female fan is funny.
Love Me = This 50's classic is given a nice treatment. To be sure, nothing can ever top the original, but this version is good for 1975. Some of the interaction between Elvis and the fans is pretty funny. It is obvious that Elvis is in a really good mood for this show.
If You Love Me (Let Me Know) = Elvis really delivers on this one. I read somewhere that Elvis said one time that he liked to "sing this song because it made him feel good." He sounds really good on this one.
And I Love You So = Elvis immediately goes into this Perry Como classic. Of all of the performers who have sung this song, no one (IMHO) sings it with the passion and conviction as Elvis. What a song! He had just recorded this a few weeks earlier in the studio so it was fresh. Elvis, the band, backup singers, Kathy Westmoreland, all create a very believable rendition of this song. This mixing is really done well, especially as the violins come in behind Elvis on the second verse. This one is worth the price of the CD alone, IMHO.
Big Boss Man = Immediately it's right into this 60's rocker. I always liked the way Elvis performed this in concert throughout the later 70's. Elvis and the band are really cooking here. There's no slowing down Elvis on this one. It would have been fun to see him singing this one.
It's Midnight = Elvis then announces that he is about to do "one of our latest records," and goes into the beautiful, if not haunting, "It's Midnight." No fooling around here, just a very solid performance of one of Elvis' most beautiful songs. I especially like hearing Kathy Westmoreland singing behind Elvis at various parts in this song. His voice is absolutely awesome on this reading of the song. Listen as he says, "Oh I miss you, good God I miss you..." It gave me chills listening to him and the band and backup singers coming in. WOW!
Promised Land = Elvis then announces to the band to do "Promised Land," which at least here in the United States, was the flip side of the original 45 which featured "It's Midnight." Great version with Elvis encouraging the band to "get on it... son." While BMG/FTD have given us other live versions of this Church Berry rocker, I like this one the best. James Burton is his usual awesome self, and I love the Guercio horns in the background as Elvis is singing the verses. Elvis doesn't hold back on this one. It was probably great to have been in the audience that night and witness him delivering this one.
Burning Love = "This next song we're going to do is ruff," Elvis begins and then he pauses to hear suggestions being offered by the audience. "Burning Love," "Fever," and Trying to Get to You" are some of the suggestions echoed by Elvis. He then says, "OK, we'll do Burning Love." Then begins nearly three minutes of listening pleasure. Even after having delivered on "Promised Land" he charges into this rocking classic. What is interesting to note is that he remembers most of the words unlike other performances. To me anyway, he doesn't sound winded as some have suggested. His enunciation is clear on the words and it appears that he is delivering some physically movements as he is doing this one. Great performance.
Introductions / Solos = Next comes the introductions of the awesome support team who surrounded Elvis at this show. Not a whole lot of fooling around here. James Burton delivers a brief "What'd I Say" which is followed by an outstanding Ronnie Tutt solo. After Tutt's solo Elvis chuckles and says, "OK Duke, how do you follow that," to bass player Duke Bardwell. Glen D. Hardin delivers as always on his solo on the piano. Then a relative new comer to the band, David Briggs, is featured in a short solo spot. After a few more introductions this part of the show ends with a spirited version of "Hail, Hail Rock 'n' Roll."
Celebrity Introductions = Elvis then introduces a few celebrities, including Barbara Streisand. Elvis thanks her for coming to the show and says, "I'll see you after the show." I understand that it was following this show that Elvis and Streisand. met and discussed the possibility of Elvis starring opposite her in a remake of "A Star is Born."
My Boy = Elvis delivers a solid version on this one. The 1975 versions of this song are very powerful. The second line where Elvis hold the "Yeaaaaaa.......because..............." and the back up singers sing over him is magnificent.
I'll Remember You = Elvis says "A beautiful song that's out of Hawaii" leads into this beautiful song. Unfortunately Elvis gets distracted by something or someone in the audience during this song. A funny moment is when he asks a female fan, "How old are you?" She responds, "I'll be 13 Sunday." To which Elvis jokingly says, "Come back Sunday!" Apart from the distractions he does a nice job.
Let Me Be There = Next up is really good version of this Olivia Newton John song. I always liked the way Elvis performed this both in 1974 and 1975. He always seems like he and the band are having fun. This version is no exception. As he was doing in 1975, Elvis gives this more of a vocal work out as opposed to those just a year before. Following the end of this, Elvis delivers a nice encore. A pleasant song to listen to.
Hound Dog = Following some water and taking a break to "kiss some people," Elvis offers this 50's classic. The exchange between Elvis and the audience is funny. It really shows the amazing relationship between Elvis and his fans. As for the song itself, this is a good 1975 version with Elvis doing some playing with the band at the end.
An American Trilogy = The audience which can be heard seems truly appreciative of this performance. While some have criticized Elvis' performance of this song in 1975, this is a nice version. As with many of the songs in this show it is Elvis' voice which steals the moment. He is in good voice and his vocal range is good as well.
Can't Help Falling in Love = This staring of the piano of this classic from "Blue Hawaii" serves as a reminder that the show is about to come to an end. It is apparent that Elvis is greeting fans as he sings this, thus his whole attention is not on performing the song. Not his best performance of this that I have heard, but then again, not necessary taken in light of the entire performance which preceded it. There is no closing vamp which makes the song appear to have an abrupt ending.
BONUS SONGS
You Don't Have to Say You Love Me = One of my all time favorites. Elvis treats the audience to a very good performance.
The Wonder of You = While nothing can ever top the 1970 performances of this song, Elvis gives this a good treatment. He begins with the second verse which, unfortunately, makes this a very short version
Bridge Over Troubled Water = What needs to be said about this classic. While Elvis did not originally have this out, yet he really takes ownership of the song. Paul Simon, who wrote and first recorded this, was at the Friday night June 9th performance at Madison Square Garden where Elvis featured this song. Simon said it was a "dramatic" rendition, and after hearing Elvis perform it how can you top that? This performance is equally as dramatic.
Little Darlin' = This song begins with two false starts with Elvis telling the band "Let's get it right" in somewhat colorful language. I'm not sure Elvis ever sang this one seriously, or quite frankly, why he even sang it to begin with. But that's just my opinion. It's nice and I listen to it because it's Elvis, but, it could possibly have been delivered with more sincerity.
Hawaiian Wedding Song = Elvis introduces this and begins a nice version of this fan favorite. He seems to be interacting with members of the audience at different parts as he sings this one. Once again the singing of Elvis and Kathy Westmoreland is magnificent.
Green, Green Grass of Home = A terrific performance by Elvis. My version of the CD is choppy in spots. I don't know if it just my copy of it or if there was a problem with the tapes which could not be fixed. It is obvious that Elvis loved this song and his performance is dripping with emotion and sincerity. Just listen to his voice as he does the talking parts and when he sings, "I realize I was only dreaming." It is beautiful and yet chilling at the same time.
Fairytale = Elvis introduces this as a song The Pointer Sisters have recorded. He delivers a really solid performance. Elvis seemed to enjoy performing this song and the Sweet Inspirations can be heard and sound terrific with him. Pay no attention to the few times you hear feedback on the microphone. This is a really nice version and good to have.
You're the Reason I'm Living = Although we have this on the "Las Vegas" box set, it's an appropriate inclusion here. The song appears to be a spontaneous selection by Elvis as on two occasions during the song he is instructing the band on how to play. Elvis begins by singing one line of "I'll Be There" and then says, "give me a C chord." Then immediately charges into this song. A really nice "spontaneous" performance, and great to have it included in this collection. Following the performance we are treated to Elvis introducing his father and thanking the audience for sending him and his fathers cards when they were in the hospital.
As the CD fades, a female in the audience can be heard shouting, "We love you," to which Elvis responds, "I love you too." That sums up this CD for me. More than just great performances by Elvis, this serves as a beautiful commentary of the amazing relationship Elvis had with his fans. This is a fabulous CD release from FTD. I strongly recommend it and encourage Elvis fans to purchase this one. Again, a big Thank You to Mr. Jorgenson and the staff at FTD for this release. Please keep them coming!
Jim