Menu
Concerts
Reviews
Multimedia
Legal Information
Concerts Reviewed - 1974
Killer Night In Kansas City
by Stefan Kock
On June 15th 1974 Elvis starts his 11th tour to play 25 sold out concerts for 314.323 people. So far 1974 has been an great year for Elvis. In March he had given one of the best tours ever, with 5 sold out concerts in his hometown Memphis. The last Memphis show was recorded live and, though heavenly edited, released and was doing not bad at all. His latest single, Help Me did well also and Help Me was sung live at every concert.
In May he had performed a short tour and an engagement at Lake Tahoe, where he gave some excellent shows.
His 11th tour consisted of the following concerts:
June 15th - 16th : 4 shows at Fort Worth, Texas / attendance: 56.000
June 17th - 18th : 2 shows at Baton Rouge, Louisiana / attendance: 30.000
June 19th : 1 show at Amarillo, Texas / attendence: 14.000
June 20th : 1 show at Des Moines, Iowa / attendance: 11.000
June 21st : 1 show at Cleveland Ohio / attendance: 10.000
June 22nd : 2 shows at Providence, Rhode Island / attendance: 26.226
June 23rd : 2 shows at Philadelphia, Pennsylvania / attendance: 38.000
June 24th : 2 shows at Niagara Falls, New York / attendance: 23.000
attendance : 1 show at Columbus, Ohio / attendance: 13.500
June 26th : 1 show at Louisville, Kentucky / attendance: 20.000
June 27th : 1 show at Bloomington, Indiana / attendance: 16.000
June 28th : 1 show at Milwaukee, Wisconsin / attendance: 11.800
June 29th : 2 shows at Kansas City, Missouri / attendance: 20.800
June 30th - July 1st : 3 shows at Omaha, Nebraska / attendance: 30.997
July 2nd : 1 show at Salt Lake City, Utah / attendance: 13.000
For this review we will focus on the evening show given in Kansas City on June 29th.
After the lights have dimmed the Joe Guercio Orchestra begins the 2001 Theme. When after this gracious piece of music Ronnie Tutt begins hitting the drums hell brakes loose. When Elvis appears on stage, he is greeted by thousands of flashbulbs and the sound of 10.400 screaming fans. He wears his beautiful American Eagle suit and with a smile on his face greets the audience. On bass isn't Jerry Scheff or Emory Gordy but a young man that made his debut with Elvis on opening night January 26th in Las Vegas: Duke Bardwell.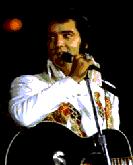 After a while the opening vamp goes into See See Rider, the first song of tonight. Elvis's voice sounds strong and he seems to be in a great mood. There's a lot of fire in this version and he ends it quite energetically. Next Elvis starts his Well, Well routine and shows his great sense of humor as he is making jokes and laughing quite a bit: " I love you too honey, but...you know.." " Just let me do one more song honey that's all I ask" The audience reaction is great and warm. At one point Elvis keeps laughing "20 years, right down the drain....Thank you, it's nice laughing with ya"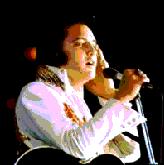 Elvis struggles a little bit with the Well's and comments "I've done so many songs that start with Well, Well...I just don't know which one i'm gonna do" and then jumps into just one line of When My Blue Moon Turns To Gold Again but ends it rightaway. Instead, he begins to sing Blue Christmas ("You'll be doing allright with you Christmas in JULY). After that he returns to his normal setlist with a solid rendition of I Got A Woman - Amen. Love Me follows and is good nor bad.
Trying To Get To You Is the first real highlight of the evening. A very vocally strong version. A version of All Shook Up is next and is not as rushed as usual. When at the end of the song a big pluche gorilla is put on stage by some fans, Elvis once again shows his great sense of humor.." Don't you move, you big son a b*tch....I told the Colonel to stay of the stage...stay back here and sing".
"My first movie was gorilla goes...", Love Me Tender is next. The band is doing an fantastic job. A very nice version. Hound Dog is short and nothing special. Fever is next and after the line " I light up when you call my name" Elvis shouts in a very high falsetto voice his own name, much to the delight of the audience. Fever is as good as ever, even the bass playing of Duke Bardwell isn't that bad. " You're a good audience, really, to put over this kind of stuff you gotta be good".
Polk Salad Annie sound very strong. Personally i prefer the '70 - '72 versions more. But this version rocks anyway. Great Bass, guitar and drumming from the TCB band. " I'd like to ask JD Sumner and the stamps to leave the stage..." Why Me Lord is breathtaking. A great song that was introduced during the Jan / Feb 1974 Las Vegas engagement. The song is sung very straight and without the joking from Elvis that would start at the August engagement. Sometimes Elvis performed a reprise of this song.
Suspicious Minds is the last song before the band introductions. It's typical '74 version and sounds quite energetic tonight. The band introductions are short but not without some jokes from Elvis...Elvis introduces JD Sumner and the Stamps as JD Sumner and the Ames Brothers, Glen Hardin as Glen Campbell and Kathy Westmoreland as Bill Baize (from the Stamps) and comments to her " Why don't you wear you see trough blouse tonight dear? ".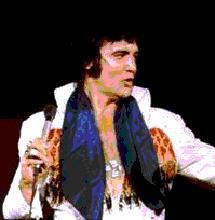 A good version of I Can't Stop Loving You follows the band introductions. After he has ended this song with a great, powerfully, ending it's time for his latest single; Help Me. This song is just beautifully sung with a lot of emotion and is simply brilliant.
Bridge Over Troubled Water is done next and is received by the audience with so much enthusiasm that he reprises the song. This is why Glen Hardin is one of the best pianists in the world. The last song of this concert that exists on tape is a great rendition of Let Me Be There. A song which got all of Elvis's attention and he never gave bad renditions of this song that was a hit by Olivia Newton John.
This tour showed Elvis in great mood, vocally very strong and really enjoying to be on stage. What has happened between the closing show of this tour and Opening night on August 19th we'll never know. Elvis drastically changed the line up for his shows, for the last time in his career. The audience reaction wasn't what he had hoped for so this change was short-lived.
During his 11th tour Elvis gave some brilliant killer shows and this one is a big confirmation for that. Given during a point in his career when everything seemed to be allright. Never during this tour there were signs of things to come later that year. It was The King on his best.
Stefan Kock - June 2002