Menu
Concerts
Reviews
Multimedia
Legal Information
Concerts Reviewed - 1973
Nashville - July 1, 1973 Afternoon Show
by Evan
Elvis opened his Nashville concert with his standard opener SEE SEE RIDER. From the very first words you can tell Elvis up. He delivers a very energetic performance that sweeps the audience up with the atmosphere of the concert. During the last quarter of this song when Elvis sings quietly, "I said See, see see rider" he really works the crowd with plenty of foot slides complemented by Ronnie's drumbeats.
"Thank you. Welll, well well well welllll. Well Well" is all Elvis says causing this Nashville audience to scream and chant his name.
I GOT A WOMAN/AMEN has a very involved Elvis playing with words like"Never grumbles or fussss - ez"! This version is very similar to the early 1972 performances. Amen is till performed at this stage with just one verse.
"Take it down, JD" Elvis commands JD Sumner for the dive bomb. "No good" and another verse of Amen is sung giving JD another opportunity to do his act. Elvis sings a bluesy "Yeaaaaaaahhhhhhh" at the end of it. "Thank you. Thank you very much. It's a pleasure to be here in Nashville, Ladies & Gentlemen. I've never played this town. I've worked here but never played here. We hope you have a good time!"
Elvis launches into an appropriate HELP ME MAKE IT THROUGH THE NIGHT. He plays with the words, "Come and lay down by my side". The Nashville fans are lapping up this country classic, and for that Elvis sings a longer version than usual which equates to the length of the studio version. A very good performance indeed.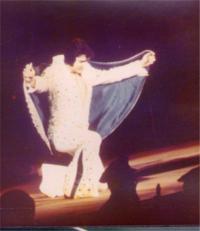 Out of the screams and applause sneaks STEAMROLLER BLUES. I am not sure what Elvis was doing during the introduction, but the throngs of women are screaming their brains out! The trumpets sound terrific, and Elvis screams, "Yeaaaaaaaaahhhhhhh, play the blues" to James Burton. The second half of this song is a screaming work of showmanship as Elvis shows off his vocal abilities.
"Thank you very much". Elvis lets the applause fall to a minimum before starting YOU GAVE ME A MOUNTAIN. The flute during "..it's been one hill after another, but I've climbed them all one by one" is very up front and sounds really nice. Again, it is very evident during "..she took my reason for living" This version easily outclasses the January 14, 1973 version, and the audience lets Elvis know.
"Thank you. I'd like to do a medley of my records for you. You know, I'll just make the rounds". Elvis plays with the word "treat" in a deep bass voice before singing a pretty good version of LOVE ME. Again, the screams from the women compete with Elvis' singing.
BLUE SUEDE SHOES gets the crowd up and rockin'. For a change Elvis seems to really enjoy this song. The end part where he and Charlie sing, "Blue blue, blue suede shoes" excites the crowd.
Next is a very early version of The Rock Medley which includes LONG TALL SALLY/WHOLE LOTTA SHAKING GOING ON/MAMA DON'T DON'T/SHAKE RATTLE & ROLL/JAILHOUSE ROCK/WHOLE LOTTA SHAKING GOING ON.
"Thank you. I'd like to do a song which we did a couple of years ago called I'M LEAVING". One of my favorite Presley songs, it amazes me that despite Elvis' great live versions of this song that it rarely made it to his song list. Perhaps this explains the continuity in its fine deliveries at each of its performances.
"Thank you very much. I'd like to do a gospel song that features the Stamps Quartet". And of course it is HOW GREAT THOU ART. By this stage of the concert Elvis is completely enrapt in the music. Ronnie provides some great sound effects with rolls of thunder.
"Thank you".The next song is HOUND DOG. This is sung in a low key but at a rather fast pace for two verses before Elvis changes speed and direction which rocks the house. Nashville scream in appreciation.
FEVER causes another change in the direction and speed of the concert. The auditorium is filled with single screams and whistles as Lamar showers Elvis in red light. There are plenty of bumps and grinds from Elvis which brings about more screams and yells.Elvis does not mess with the lurics of Fever this time!
"Something" Elvis says to his band before starting this George Harrison classic. A song I always felt suited Elvis in the same way that And I Love You So did, he puts on a lovely performance. This song made a few more outings after this, including another lovely performance in Asheville in July 1975.
"Thank you. Faded Lovvvvve!" Elvis says enthusiastically as Glen D Hardin gives FADED LOVE the same introduction as heard on the August 16, 1974 rehearsal, but here Elvis does not get mixed up with Lawdy Miss Clawdy! "Lay it on me, James" Elvis says before the instrumental. The orchestral arrangement is somewhat different to the overdubs used on the master of this song. It's a shame Elvis didn't sing this song more in concert. Perhaps he should have played Nashville more often!
WHAT NOW MY LOVE has some extraordinary screams from the girls down front of the stage, however Elvis maintains his concentration and delivers a very powerful performance. "Only my last goodbye" is the best sung ending I've heard Elvis sing on this song.
"Thank you. You're a very good audience". SUSPICIOUS MINDS gives this already over energetic audience another adrenaline shot. "Oh, dry the tears from your eyes" gives the girls another opportunity to scream as Elvis serenades them whilst kneeling on his left knee. Elvis teases the audience on four different occasions during Suspicious Minds by slowing the band, speeding them up, slowing them down, and again speeding them up.
"Thank you. I'd like to introduce you to the members of my group. On my left is Mr JD Sumner and the Stamps Quartet. They're from Nashville. Big deal! Hahaha." The only other difference to these introductions is the mention of Emory Gordy on bass guitar.
"I'd like to introduce my sound engineer Mr Bill Porter. He's from Nashville. Bill. Good job. Arrh, there's a couple of people I'd like to say hello to. Felton Jarvis my other sound man". Unfortunately at this point Elvis becomes somewhat inaudible. He tends to slur his words but he clearly mentions the surname Atkins, then mentions Scotty Moore and The Jordinaires.
"Elvis!" a girl screams.
"Yeah? We did a TV show from Hawaii called "Elvis A -a-aha-ha-haw, whatever. There was a song we did I'd like to do." I'LL REMEMBER YOU is sung with much feeling. The arrangement is a little different to usual. "I'll return to stay until thennnnn - I aint getting' enough" Elvis says causing the crowd to chuckle. What a fine performance this is. "Thank you very much. You know what I can't do?"
I CAN'T STOP LOVING YOU whips up the enthusiasm of this country audience. Elvis really rocks in this song, much like the 1970 versions, and has fun with the lyrics. "In dreams of yester, yesterrrrr, yesterdayyyyyyyy". Up next is AMERICAN TRILOGY - another befitting song for this audience that brings screams and applause of nostalgia and patriotism. Elvis sings the line ".and take my stand" with the Stamps. Elvis is now riding the crest of this wave of emotion. His vocals sound brilliant as he runs them up and down the musical scale. "So husssshhhhhhh, little baby" has little effect on the girls' screams, and more is heard during the flute instrumental as Elvis bows his head in the fading spotlight. If ever there was a song presented in a show for the purposes of warming to an audience, it's this one. It was an audience favorite.
Suddenly Glen D pumps out the introduction to a very fast BIG HUNK OF LOVE. This is an ultra fast version, and really rocks. In fact, I don't think I've ever heard such a fast version! And it sounds good.
"Thank you very much. I'd like to turn the house lights up and take a look at you. Hey, nice to see ya. What do you want to hear?"
LOVE ME TENDER is requested, and Elvis responds with a version that is drowned out by the screams of his fans. It sounds very similar to those versions of Hound Dog from 1956 when all you can hear is a little bit of Elvis and a whole lot of his fans! One gets the feeling the audience sense the closing of this concert.
"Thank you. A song from Blue Hawaii I'd like to sing for you". CAN'T HELP FALLING IN LOVE, Elvis standard closing song, is, in most parts, drowned out by the screams of the audience like the previous song. I thought Elvis should have given a little goodbye speech at the conclusion of this concert considering the great rapport he held with this afternoon's audience, but with or without it, makes very little difference on yet another great Elvis Presley concert.
This concert is well sung throughout. Elvis choice of songs for this country orientated audience like Help Me Make It Through the Night, I'm Leaving, I Can't Stop Loving You, Faded Love, and the Rock Medley is spot on. The atmosphere and electricity that is created spills into the listeners ears on this audience recording which I will give a seven out of ten for sound quality. The addition of Shake Rattle & Roll and the deletion of Hound Dog from the Rock Medley proves to be a good choice.
It amazes me to think that just less than three weeks later Elvis would be in Stax Studios cutting tracks with so little enthusiasm from himself, or from his publishing houses. At least in public he could be happy and sing the songs that he liked.
Evan