Menu
Concerts
Reviews
Multimedia
Legal Information
Concerts Reviewed - 1972
June 12, 1972 Fort Wayne, IN
by Evan
The first concert after Elvis' Madison Square Garden shows was performed this day at the Memorial Coliseum in front of 7, 690 fans. Elvis wore the beautiful Blue Swirl suit with a rare blue metallic belt (for you old BMXers, remember the Redline & Mongoose bikes with "chrome molly" frames? Same material!).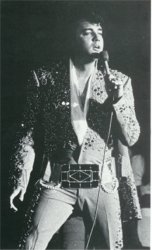 © Dean T. Musser Jr.
My audience recording starts half way through 2001. The sound quality is acceptable, rated at about six or seven out of ten. I also have footage of this concert shot from the Stamps end of the stage. Elvis bounds on stage with a burst of energy complemented by a storm of flash bulbs. This proves to be the earliest time I have ever seen him open a concert with out using his guitar. Another piece of trivia I noticed was the small microphone head being used on his microphone. As far as I know Elvis used a cylindrical shaped microphone head on this tour, however his name is clearly inscribed on the hand piece.
Elvis launches into THAT'S ALL RIGHT after a wild opening riff. The fans tonight are ready to rock! Jerry Scheff's bass is quite prominent throughout. As James plays the instrumental, Elvis takes his acoustic guitar from Charlie Hodge, strums it a little, smirks, then gives his guitar back to Charlie. Elvis misses his queue and drops a few words but otherwise provides us with a ball busting opener.
"Thank you. Good evening. Whoooooo"! Elvis becomes inaudible but the guy recording the show giggles.
PROUD MARY's opening riff echoes through the coliseum. This song was soon to be dropped from Elvis' set, but proved to be one of the few songs that despite being sung a lot between August 1971 and August 1972, Elvis managed to maintain a respectable performance of it. This version is very tight, and quite similar to the Madison versions. The girls seem to enjoy Elvis' movements to the round house drum roll.
A slight edit leads us to NEVER BEEN TO SPAIN. A personal favorite of mine, and I am not disappointed. The trumpets blare beautifully in the second half of this Three Dog Night composition, and the band extend the ending longer than usual.
"Thank you. Whooooo! It's really very hot up here. Good evening ladies and gentlemen. I'd like to tell you that it is a pleasure to be here. It's extremely hot up here on stage, but we're gonna do our best show for you. Ok, Until It's Time For You To Go".
Elvis slows the pace down and sings his latest single UNTIL IT'S TIME FOR YOU TO GO. The usual screams indicate Elvis is kissing the girls and handing the occasional scarf. This audience recording has surprisingly picked up Kathy Westmoreland's vocal very clearly. A rapturous applause builds even higher as Elvis starts YOU DON'T HAVE TO SAY YOU LOVE ME. This version is sung at a speed like the August 1970 versions. Elvis drops a few words in the second verse, but this detracts very little from the performance. "Thank you" Elvis says as Jerry starts POLK SALAD ANNIE. This is a very fast version, and Elvis says something about "..it being back here man". Elvis has a mean attitude in this performance, and rightfully so. This is just a wicked version. Jerry hesitates his instrumental as Elvis encourages him, "Play the bass Jerry". This version can be likened to the April 14, 1972 version, but faster. The fans roar with every dance step and heel turn Elvis does. Elvis throws in a "Suck a lot" in the finale.
"Thank you very much. We'd like to do some of our oldies, our oldies but goodies for you". Elvis sings, "Carry me back." and even has Jerry Scheff add some bass parts to CARRY ME BACK TO OLD VIRGINNY". Without a pause Elvis starts LOVE ME. As usual the audience love this song. There are plenty of screams in the appropriate places. Elvis emphasizes the words, "BEATING close to MINE".
"Thank you. Wella blessa maa soul" starts a fifty one second performance of ALL SHOOK UP. The only noticeable difference in this version is Elvis pronunciation of "Please don't ask me what's on my mind".
HEATBREAK HOTEL is mumbled in true Presley style. The TEDDY BEAR-DON'T BE CRUEL medley starts immediately after Heartbreak Hotel. So far in this performance Elvis has fired one song after the other in the same fashion as he did at the Madison Square Garden concerts.
"Thank you very much. My first movie was Love Me Tender, and I'd like to sing it for you". The instrumental to LOVE ME TENDER begins and Elvis exclaims, "Yeahhhh, it's hot". Elvis sings, "You have made the suit turn blue", then says to a girl, "Come here baby". This version is sung in a similar way to the version(s) we hear in Elvis On Tour.
BLUE SUEDE SHOES has Elvis right into it bringing screams and cheers.
"Thank you very much. We'd like to do our version of Bridge Over Troubled Water". Elvis and band deliver a masterful version of BRIDGE OVER TROUBLED WATER with which the power and intensity of the performance receives an equally strong applause.
The tape edits during the applause, but resumes with Elvis saying, "Then I was on the Ed Sullivan show in 1956 and they filmed me from the waist up. And I did this song. You gotta, you gotta stand like this or you can't sing this song because my voice was much higher back then, and I'll strip my gears". By now Elvis has the audience screaming with anticipation. "Youuuu ain't nothin' butt ayyyyy" Elvis teases. "You ain't nothin' butt ayyy" Elvis repeats. "You don't know what I'm gonna do, see". Elvis jokes a little more but is inaudible. "There's a lot of mothers up here, boy!"
HOUND DOG finally starts in slow motion, and after the second verse Elvis injects a heap speed causing the crowd to go crazy. On the last line Elvis screams, "Welllll, you ain't never caught a rabbit" the crowd erupts in screams, and then Elvis finishes the song after a three second pause, "You ain't no friend of mine".
RECONSIDER BABY is the next song. This version seems a little more polished than the June 10, 1972 performance. Both Elvis and band are a little more sure of themselves, with both Glenn Hardin and James Burton adding some bluesy licks. Elvis tells James to "Play the blues" three times as the instrumental begins.
IT'S NOW OR NEVER brings another sweet surprise to the fans. Elvis sings "La da da daaaa da" in place of "I've spent a life time". Elvis has complete vocal control on this rare 1972 performance, but does not quite achieve the level of performance he does in Chicago on June 17, 1972 at the afternoon show.
SUSPICIOUS MINDS continues the high energy level of the concert. You can always tell when Elvis was in to a performance when he began emphasizing certain words and phrases in his songs, and this is one of those times. Elvis sings the almost customary line, "I hope this suit don't tear up baby", and by the sounds of the audience it seems his performance would certainly justify this.
"Before we go any further I'd like to introduce you to members of my group". The band introductions are no different to the Madison Square Garden intros except Charlie Hodge is introduced as "general flunky".
FOR THE GOOD TIMES completely slows the pace of the concert. A beautiful version filled with screams and whistles, however Elvis throws in the line, "Hold your warm and sweaty body close to mine".
"Thank you, you're a beautiful audience. I'd like to tell you that even though it is very, very hot up here, as long as you've enjoyed it, because." Elvis is drowned out by screams and applause.
AN AMERICAN TRILOGY is plagued a little by the continuing screams, but Elvis manages to maintain his interest and commitment to this song. By the song's end, Elvis receives the longest applause thus far for any song sung at tonight's concert.
FUNNY HOW TIME SLIPS AWAY is a typical version for the time. The line "I gotta go now" causes the girls to scream, "Noooooooo!"
I CAN'T STOP LOVING YOU has Elvis scream the opening line, and Ronnie adds more drum rolls than usual, and Elvis shows off by reaching the high notes and extending the ending.
Without any closing words to say, Elvis instructs Glenn Hardin to start CAN'T HELP FALLING IN LOVE. Throughout the closing number Elvis sings word for word. As the closing riff fills the coliseum's interior the fans scream loudly their appreciation of Elvis' professional efforts and talents as an all round entertainer.
After listening to this concert it is apparent Elvis is still on a high after his very successful Madison Square Garden gigs. His professionalism is continued in Fort Wayne, and his interest in all songs is easily heard. There is little dialogue which is good in one respect, but being a fan I've always enjoyed Elvis' on stage banter. There are times in this concert that Elvis is playful, but only to the point that leaves you wanting him to continue. It is not like on other nights when the casual fan might have wondered what he or she had paid to see.
In reviewing a concert in this manner, it is always difficult to describe Elvis' performance. Often referring a performance to other well known ones is the best way for the reader to appreciate what Elvis was doing, or how he was performing. It proves almost impossible to describe the way Elvis sings some of the words. To best describe this concert is for me to encourage you to be familiar with the June 10, 1972 concerts that are available on CD as these show that mixture of fun and professionalism that this Fort Wayne concert consists of.
The running time is approximately sixty minutes, however Elvis talks very little after the band introductions. Perhaps he was eager to finish the concert because of the heat he was experiencing on stage.
The sound quality throughout is good. I rate it at about 6.5 out of 10. There are some photographs from this concert in Joe Tunzi's book Encore Performance, and you can clearly see the rare blue metallic belt Elvis wore. Judging by the picture on page 46 Elvis may have removed this belt during the show.
The highlights of the concert are Bridge Over Troubled Water, An American Trilogy, I Can't Stop Loving You, Reconsider Baby and It's Now or Never.
Evan