Menu
Concerts
Reviews
Multimedia
Legal Information
Concerts Reviewed - 1972
No Added MSG. June 11, 1972 New York, NY
by Evan
Elvis' second concert tour in 1972 began with a press conference in the Hilton's Mercury Ballroom and four sold out concerts at Madison Square Garden in New York City. Both the press conference and the first night's performance were professionally filmed. Elvis wore the Adonis suit at both the June 9 and 11 concerts (for those unfamiliar with this suit, check out the replica suit Kurt Russell wore in the 1979 tele movie "Elvis", or the suit that was on display at Sydney's Hard Rock Cafe).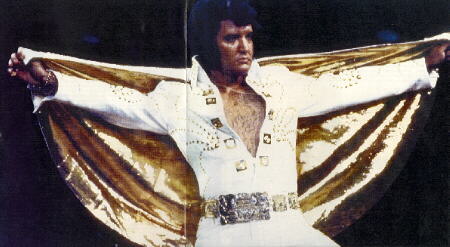 With in ten days of the Saturday evening performance from June 10, RCA had rush released a recording, using the artwork that was originally intended for the never released album Standing Room Only. The photograph used was from April 16, 1972 in Jacksonville (exterior shots from this day were filmed and released in Elvis On Tour). When the evening show was released, it was not the complete performance. The songs Until It's Time For You to Go, and Blue Suede Shoes were edited from the set, and Suspicious Minds was placed after the band introductions. To this day these particular performances remain unreleased, but were, however performed at all MSG concerts.
After Elvis' concerts in New York, he continued his tour through to June 20 in Tulsa. Elvis wore suits including the Grass &Porthole (with Red Lion belt) suits on June 10; the Blue Swirl suit with rare blue metal belt on June 12 (Elvis performed That's All Right at this concert without his guitar, only to play it during the instrumental, then removed it to continue the song). He also wore the two piece Dude Suit in Chicago which appeared on the back cover of the Moody Blue album, and the light blue shirt with white zigzag lines in Wichita on June 19th which appeared in many Elvis On Tour promotional posters. Some of the songs Elvis managed during this tour included versions of Little Sister-Get Back, Reconsider Baby, and even In The Ghetto!
This audience recording starts midway through the opening riff. The twenty thousand strong crowd are screaming, and Elvis launches into another ultra fast version of THAT'S ALL RIGHT, they scream their approval again. This version is much the same as last night's performance.
"Thank you. Take it on" Elvis says. PROUD MARY has it's familiar introduction echo around the huge building. Elvis bumps and grinds during the drum roll , which raises the hysteria. Elvis puts much emphasis on the words "ROLLING on the RIVER".
"Thank you. Whoooo" is all it takes for Elvis to again win approval from his New York fans. NEVER BEEN TO SPAIN is sung with a down and dirty feel. "Welllllllll I've never been to Heaven" must have split the audience's hair! To hear this live must have been awesome! This would prove to be one of the very last versions of Never Been to Spain that Elvis would perform other than the one off outing at the opening show in Vegas on August 19, 1974.
"Thank you. Thank you. Until It's Time.." Elvis commands the start of UNTIL IT'S TIME FOR YOU TO GO. There is a lot of audience interaction during this version as Elvis serenades his fans. It is a very straight version without hick ups. "Now I'm an oak" has Elvis chuckle a little. This song was enthusiastically received, but the introduction of YOU DON'T HAVE TO SAY YOU LOVE ME has the fans screaming the loudest so far this performance. As Elvis sings ".you said you would always stay" he stops the band, "Hold it! Whoa whoa. When I said."Elvis begins the song again from the start. The fans don't seem at all upset, and simply keep their cheering up. "Don't you know that NOWWWWWWW you're gone" is sung very differently to usual, and seems to work well. Elvis is very involved in this song hitting some good notes.
"Thank you. You are a beautiful audience" YOU'VE LOST THAT LOVING FEELING is filled with many audience whistles during the first lyrics. Elvis thanks someone in the audience just before singing "Girl, you're starting to criticize.." ."Baby baby, I'd get down on my knees for you" does not get the "this suit's on too tight" treatment. This version is well received, but is not as strong as the previous night's performance.
POLK SALAD ANNIE has the girls screaming,. The introduction is about twenty seconds long. The girls seem to love Elvis' "moon walk" dance steps during the lines, "Polk salad Annie, gator's got your granny". The finale really winds the audience up. Elvis sounds a little puffed at the end of it! "That woke me up anyway!"
LOVE ME follows with some hysterical screaming from the fans. It is evident Elvis is making physical contact with his fans judging by their screams. ALL SHOOK UP is the typical '50 second race, but he fans love it. "My heart beats so, and it scares me to death" is sung in a slow bass voice which is different.
HEARTBREAK HOTEL is used to great effect to again work the crowd into a frenzy. This is the best version sung on this tour yet! Very bluesy. The New Yorkers are having a great time.
Glenn D Hardin belts out the familiar sounds of TEDDY BEAR and Elvis reciprocates with much enthusiasm "Put a chain 'round maaa neck" is sung enthusiastically. DON'T BE CUEL gets a similar treatment in this medley. One after the other this New York crowd is presented with some of rock's greatest songs.
The elevating roller coaster suddenly slides down the other side with LOVE ME TENDER which clocks in at just one minute thirty seconds. The crowd are going ballistic!
There is silence before Elvis lets' rip with BLUE SUEDE SHOES. But all too quickly it ends. Elvis then teases the crowd with "You aint nuthin' but ayyyyyy. You don't know what I'm gonna do". The crowd is screaming in ecstasy. HOUND DOG is performed in the same manner as the previous night's performance. This version suffers a little feed back from the sound system, and Elvis ends it with a "hutt, two three four" in a deep bass voice. "This is one of my favorite songs" is how Elvis introduces I'LL REMEMBER YOU. Elvis comes in too early on the line "Ooooooh, I'll remember you" in the first verse, however unless you know the song, you'd never have known he fluffed it.
The crowd get a quick "Thank you" then it's into SUSPICIOUS MINDS. Unfortunately James' introduction to this classic from 1969 is marred by more feed back. "Let's don't let a good thing die, because honey, you know I'd never lie to you! No, not much"! There is an ocean of screams during this, and Jerry Scheff adds an unfamiliar fuzz sound to his bass playing. It sounds wicked! Here's Elvis' answer to why he doesn't record any "hard rock songs" as it was put to him at the press conference on Friday night. It's because he performs them live! The finale drives the audience nuts with plenty of drum rolls and karate moves.
"Thank you. You're a beautiful audience. I'd like to introduce you to the members of my group". The band introductions are stock standard.
FOR THE GOOD TIMES brings screams of disappointment when Elvis sings, "I know it's over". A girl screams Elvis' name when he sings "There's no need to watch the bridges that we're burning". Elvis replies to her, "Wait a minute, baby". This is a very heart-felt version. The atmosphere Elvis has created is very seductive. "Thank you. You're a beautiful audience".
AMERICAN TRILOGY is swamped with screams that echo through the vast arena. It must have been difficult for Elvis to concentrate at times like this. But at the same time, the screams must have spurred him on all the more. This is a powerhouse version. Much like the Greensboro, April 14, 1972 version seen in Elvis On Tour. The flute solo is difficult to hear over the screams, clapping, and stomping of the audience. I'd love for this version to appear on the forthcoming "tours" box set. What a deafening applause Elvis receives at its conclusion!
Elvis begins saying he'd like to turn the house lights up, but is cut off by the crowd. "I'll tell you what. You're the best audience and we've really enjoyed it. We're not gone yet!
FUNNY HOW TIME SLIPS AWAY settles the audience for several moments despite the continuous screams from the girls. Right now I think Burning Love would have sat well in this part of the show, but it was not to be until the November tour this year.
"You're a beautiful audience ladies and gentlemen. And this song is from Blue Hawaii and it's just for you". CAN'T HELP FALLING IN LOVE is sung quite well, and is a befitting song to conclude this rock concert by Elvis Presley. Man I wish they filmed this!
Unlike the three previous performances at Madison Square Garden on June 9 & 10, 1972, this final concert is generally considered to be the poorest of the four. Mind you, the standard is higher than the Lisa Marie on a trip to Denver for peanut butter sandwiches! Every thing about this concert, and all the MSG concerts is positive. It is a real "rock concert". Not a typical Elvis concert. Hit after hit is pounded out and thrown at the New York audience, who are often described as the toughest to win anywhere in the world. And win Elvis did. In my opinion the weakest part of the show is during You've Lost That Loving Feeling. It's a good enough version to release on record, but there just seems to be something a-miss. Otherwise, this is a brilliant concert by The King, and it certainly stands on firm ground when comparing it to such performances as the previous shows at MSG, and even the August 12, 1970 midnight show recently released on the special edition of That's The Way It Is.
Evan