Menu
Concerts
Reviews
Multimedia
Legal Information
Home > Concerts Reviewed > 1972 > Hampton Roads, VA - April 9, 1972 Aft. show
Concerts Reviewed - 1972
Hampton Roads, VA - April 9, 1972 Afternoon show
by Evan
As most of you know, Elvis last feature film, Elvis On Tour, was based on his April 1972 tour. Much of the film that appeared in the movie originated from the evening show in Hampton Roads, April 9, 1972 showing Elvis wearing his Blue Nail suit (aka Hampton Roads suit). Additional footage from this concert also appeared in the documentary The Lost Performances.
After his recent separation six weeks earlier from his wife and child, Elvis appeared somewhat pale, and a lot different to the way fans had ever seen him before. Even throughout the January/February Vegas season Elvis had not yet taken on this metamorphosis. Despite his facial appearance, Elvis was still lean and trim. Interestingly, the footage of Elvis from San Antonio, April 18, 1972 shows a heavier Elvis than that seen from April 14, 1972. However, if one refers to pictures from the April 18 show, particularly from Ger Rijff's 'Steamrollin Over Texas', you will easily see a much better looking Elvis Presley. One can only attribute the lights and filming techniques to his apparent weight gain.
A continuing debate for twenty eight years now, fans argue what was filmed, and how much of it. We can say for sure that at least part of the afternoon show from April 9, 1972 was filmed as these pictures show.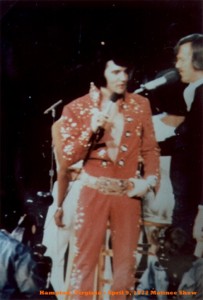 (c) Photographer unknown
Photographs from April 9, 1972 are very easily determined because of the length of Elvis' hair and it's style. Despite appearing as though he had a 'bob' haircut, his hair exceeded past, and behind his high collar thus causing this effect.
This concert, plus every other concert that Elvis performed between 1955 & 1976 in the Tidewater region made a special appearance in a magazine dedicated to the concerts call Elvis in Tidewater. On hand at these concerts was the Return To Sender fan club. I would not be surprised that it was from this club that the audience recording I am about to review originated.
The sound quality of this recording is listenable, however most dialogue is inaudible. I would rank it as 5/10. It runs approximately seventy minutes. The moment the familiar strains of 2001 start, the audience show their enthusiasm with screams of excitement. The atmosphere tells you the chemistry between fan and entertainer is just right.
The thump of Jerry's bass follows Ronnie's drum introduction, the crowd is going nuts. When Elvis hits the stage in his red Burning Love suit there is a huge eruption of manic screams.
SEE SEE RIDER is performed with a lot of intensity. Just as James starts his instrumental Elvis lets out a "Whoa!". It has always been my opinion that Elvis had such a distinct sound in his voice at both shows on this date, and the following show in Richmond on April 10. This version is very much the same as the evening show's performance.
PROUD MARY rings out its familiar introduction. Again, another enthusiastic performance. Elvis has so far given a 100% effort for the cameras this afternoon. Elvis lets the audience applause to die down before starting NEVER BEEN TO SPAIN. At the point that Elvis screams, "Well I've never been to Heaven" he some how pronounces the words just a little differently to usual. That was one of the amazing talents about Elvis - he could inject new life into a performance that could otherwise have been performed the same way as the night before. Another committed performance, and one that deserves official release!
"Thank you. I'd like to say..." Elvis becomes inaudible, but he cracks the audience up and causes a bit of a commotion.
YOU GAVE ME A MOUNTAIN is performed with much conviction. Thankfully the sound engineers had by now rid the show of the microphone feed back they'd experienced in severe quantities four days earlier in Buffalo during this song. "She took my reassssson for living" is sung with emphasis on the word "reason".
"Thank you, you're a good audience. Until it's time", Elvis shortens the title to UNTIL IT'S TIME FOR YOU TO GO which brings immediate screams as the girls in the audience realize one of Elvis' latest songs is being performed right before them. Other than some audience teasing and a little "don't" by Elvis in his familiar falsetto voice, he really seems to get into this version. It is difficult to explain in typing, but as many of you would know in the live versions of this song when Elvis and the Stamps would end the performance by mimicking the music, singing, "Whoa oh oh, whoa oh oh, do do doooooo". From all the audience recordings thus far available of this tour, this is the first time Elvis sings this part, whereas in the version from April 5, only the Stamps sing this. Stay tuned for a review of the Buffalo, Detroit, & Dayton concerts !
"Thank you very much" Jerry's bass introduces POLK SALAD ANNIE with a thumping, almost dark and down right dirty feeling. The crowd roars, and James Burton produces sounds guitars weren't designed for. Elvis and the TCB band are obviously thrilled with the new arrangement of PSA that began January 26, 1972 in Vegas. This kick arse version has Elvis doing his pre Michael Jackson moonwalk, all the while Ronnie's drum is keeping a constant, and very loud beat. A magnificent performance.
James cues Elvis, and Elvis begins LOVE ME. This is nothing short of a sexy version! A strange adjective for a song no longer performed with the same feeling as in 1970, but Elvis rings the sweat out it. A little feed back occurs, but does not marr the performance. "But please, please love me. Ohhhhhhhh yeahhhhhhhhh". ALL SHOOK UP is rocking at one hundred miles an hour. The crowd can't believe they're hearing these '50s hits.
"Take it on" TEDDY BEAR is next. "Coz tigers aint the kind" brings more screams. The medley continues with DON'T BE CRUEL. Elvis is really pulling out the stops this arvo! Until he misses his cue and tries to end the song too early. Instead of singing casually, "I don't want no other love" before singing the last chorus, Elvis builds the finale and sings, "Yeahhhhh I don't want no other love, baby it's just you I'm thinking offffffff". But the band keep playing that part where Elvis usually goes, "Chu, chu chu" along with the drum beat!
"Hold it man. Hold it. I don't want no other love, baby it's just you...' Elvis corrects the ending with a little embarrassment.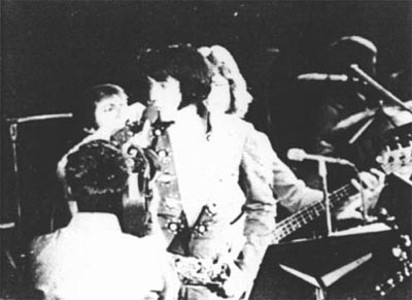 (c) Photographer unknown
Elvis' dialogue is unfortunately inaudible but the girls are screaming. He starts messing with Hound Dog. "Youuuu ainnnnntttttt". Then Elvis screams, "The warden threw a party in the county jail" The band pick up JAILHOUSE ROCK real quick. Performed like it's 1969, Elvis belts out this rarity. The arrangement is just like the 1976/77 versions but with the attitude this song deserves. Elvis goes into the chorus after just one verse, but his enthusiasm shows in his stuttering of "dancin' to the jailhouse rock, hep hep hep". In fact, this reminds me of the movie version with the overdubbed background voices. The Hampton audience is really being treated to hit after hit.
"One night" Elvis says. James starts his familiar introduction, and ONE NIGHT rocks better than the TTWII version. "Just caaaaaaalllll my name" is supported by the crowd yelling "ELVIS". Elvis chuckles a little. He sings, "I aint never, NEVER DID NOOOOO WRONG", and "Life has been, has been, has been to lonely tooo long". Fantastic!
"You aint. You aint. You don't know what I'm gonna do. Oh, I gotta face the camera. You aint. Turn that spot light. I getta get my voice right. It's been fifteen years..."
Elvis finally starts HOUND DOG in slow motion. The second line of the song has Elvis sing, "You aint nothing but a hound dog - an old hound dog!" As usual for this period the song builds in speed, and Elvis performs quite a good version.
HELP ME MAKE IT THROUGH THE NIGHT brings screams and applause. Glenn Hardin adds some nice sounds from his piano. This version is very similar to the recent June 1, 1976 Tucson version, however Elvis' voice sounds much higher. Another well performed song deserving official release.
"Thank you. Bridge". BRIDGE OVER TROUBLED WATER brings the crowd to a hush. Unlike many other versions on this tour, this afternoon's treatment is sung with as much commitment and seriousness as the Greensboro, April 14, 1972 version. No mucking around, and no comments telling himself to "get serious". Actually, Elvis hits some high notes greater than the April 14th version. Jerry's bass swirls around the arena at that point before, "Sail along silver girl". A brilliant version!
"Whoa! Thank you" James starts Suspicious Minds, but Elvis stops him and says, "My first movie was Love Me Tender" As usual he stops the band after the first riff, but then continues it. A typical version with screaming and laughing from the crowd. So far this afternoon this would have to be the weakest song , but it is not bad. Elvis ends the song with, "For my darling I love you, coz you take the pill".
"Thank you very much. Suspicious Minds". Elvis commands James to start SUSPICOUS MINDS, and a hyperactive Elvis really sings his arse off. "Oh let our love survive" is strangely not filled with screams, and Elvis sings, "Lord help me". During the second quiet part of the song when Elvis sings, 'well don't you know, I'm caught in a trap" the band is slow to build up speed as Elvis does. This version receives the "my suit might tear up baby" line, and the ending is filled with many drum beats indicating a ferocious karate demonstration.
"I'd like to introduce you to the members of my group ladies and gentlemen" A typical introduction with nothing unusual. The listener can hear some microphone bumps coming not from Elvis, but the "masterer" of this recording who seems to be recording this tape from the original source via a microphone, thus indicating a much better source being available somewhere in the world!
AN AMERICAN TRILOGY attracts applause from the audience during the Stamps short solo. Like all the other songs during this concert, Elvis is completely involved. A much appreciative crowd hears Elvis say to his band, "Good job. Well. Wellll." HEARTBREAK HOTEL takes everyone back to 1956 in their minds, but nowadays this song sounded way to modern to compare to the original. But it's still performed with much flare and respect.
"Thank you". FOR THE GOOD TMES quiets the audience a little, until Elvis sings, "Hold your warm, and tender body close to mine" when there is yet another eruption of hysteria. Quite a lovely performance, as most were of this song. It is a shame this was not included in On Tour. Considering it took 23 years to hear the studio master, one wonders if Elvis asked for this song not to be included in the film.
"Thank you very much. You're a good audience. Umm.". HOW GREAT THOU ART proves to be the only gospel song for the afternoon. "Then sings my soulllllll" is sung in the traditional manner, not in the typical Elvis Presley manner, which makes for an interesting change.
"Thank you. You're beautiful", Elvis tells his fans before Glenn Hardin starts LAWDY MISS CLAWDY. I've always loved the '70s version of this song, and it seems Elvis always liked singing it. It is a shame it disappeared from his set only to make few and scarce appearances.
Elvis is again inaudible in his dialogue, but he purposely disappoints the crowd. He replies, "We just work here", but then lifts their spirits with a hard core version of A BIG HUNK OF LOVE. Elvis goes off like he did later on that day in the evening performance.
Without a request to turn the house lights on, Elvis sings FUNNY HOW TIME SLIPS AWAY. I get the impression he is making up for the previous comment he made. I think he announced that the show was over and that he had another show to do that night.
"Urr, I'd like to urr..." Elvis is yet again inaudible, but the audience laughs and cheer on cue". Elvis brings the concert to a close with CAN'T HELP FALLING LOVE. A typical version with all lyrics sung, Elvis hits the high notes at the end before JD moans his dive bomb impression, then Ronnie launches into the closing riff.
What a brilliant concert. An thankfully part of it was filmed. With several changes in the set compared to the evening show, the fans that attended this show must have gone home (or hung around for the 8.30pm performance) feeling extremely elated.
Despite it's poor sound, if you can get your hands on a copy of this show do so. Elvis rocks and the girls roll!
As Ernst Jorgensen searches the vaults for material for the upcoming Concert Years box set, perhaps he can accept my advise and search for this show. There are some wonderful performances that need to see the light of day!
Evan