Menu
Concerts
Reviews
Multimedia
Legal Information
Home > Concerts Reviewed > 1971 > Elvis at the Spectrum, Nov. 8, 1971 - Philadelphia, PA.
Concerts Reviewed - 1971
Elvis at the Spectrum, November 8, 1971 - Philadelphia, Pa.
by Jim
I was a freshman in high school when my mother took me to my first Elvis Presley concert. It was a Monday evening and it was very chilly and rainy in Philadelphia. I had been an Elvis my whole life. Even during the mid-sixties I was listening to Elvis soundtracks, my Dad's record collection from the fifties, and enjoying every minute of it. So when my Mom surprised me and said, "We are going to see Elvis," I began counting down the days.
The Sweet Inspirations opened the show and I enjoyed them a great deal! They were followed by Jackie Kahan who was a comedian who toured with the Elvis shows. I must admit, I thought he was pretty funny! But, everyone was there to see Elvis. A few chants of "We want Elvis" kept coming and going. After Jackie's part it was time for the intermission. Finally, after an announcement to return to your seats because the second half of the show, the lights went down and the Spectrum was dark.
Slowly the sounds of 2001 A Space Odyssey sounded throughout the Spectrum. I know that this is maybe at the most one minute in length, but sitting there knowing that Elvis was about to appear made the time seem like 30 minutes! With each blast of the trumpet, with each sound of the drum, with each "AAHH" from the backup singers, the anticipation grew. I remember sitting in seat, knees bouncing up and down, breathing heavier and heavier. Many alongside of me were saying that they too were getting "goose-bumps." Other people around me were filling with tears and literally shaking! Then at long last we heard from the backup singer, "AAHH, AAHH, AAAHHHH!" Then suddenly the band kicked in, spot lights circled the Spectrum and then Elvis seemed to just appear out of the darkness. When he appeared there was a roar from the sold out audience that was as loud as I have ever heard an audience, even to this day. Elvis walked on to the stage walking very quickly moving from side to side greeting the audience with a big smile. Flashbulbs were "popping" everywhere it seemed creating an almost strobe light effect.
Elvis had on what has become known as the "Spectrum" jumpsuit. Each time a spotlight hit a sequin the light bounced off the suit. The suit was magnificent to look at and he appeared to be in excellent physical shape. As the ovation continued he walked back and got his guitar from Charlie Hodge and as he did I saw him smile and seemed to shake his head and go "Whew." I always thought Elvis was doing that because of the reception he received. Then it was right into "That's All Right, Mama." While my seat was along side of the stage it was difficult at times to hear the song because of the roar of the crowd. But I remember that as Elvis sang this great song, his leg was shaking wildly! Elvis then went into "I Got a Woman" and ended it by jerking the microphone back and forth, sliding his hand down the stand, and then slamming the guitar into the air (much like you see in the movie "On Tour").
Elvis thanked and welcomed us and introduced himself as Johnny Cash! We all laughed and Elvis went into his first movie song, "Love Me Tender," which received yet another roar of approval from the crowd. He interacted with some members of the audience on the other side of the stage as he sang this one. Elvis throughout this entire show moved very quickly from song to song. The next song was (and still is) one of my personal favorites, "You Don't Have To Say You Love Me." I can remember as soon as I heard him say, "When I said..." I was just jumping up and down because I was so excited. >From there he did a marvelous "You've Lost That Loving Feeling, and quickly moved into "Polk Salad Annie." This version he really seemed to have fun with. At this point, Elvis was still doing the talking part at the beginning of the song...., "Some of you have never been down south too much..." etc. He became very animated during some of the speaking parts shouting out words and even making up some! Everyone was enjoying it, but nothing compared to what Elvis gave us at the close of the song. With trumpets blasting, the Sweet Inspirations shouting, "Go..., Go!" Elvis just thrusting and shaking his arms, legs, was working the crowd into a frenzy. Again, flashbulbs were popping everywhere which added to the drama on the stage. I've never seen anything like it before. Elvis walked around for a bit following "Polk."
He greeted some fans and drew loud roars again. Then it was a neat version of Johnny B. Goode which featured some great guitar work by James Burton. Then Elvis stopped center stage and said, "Treat..., Me.... Like a fool" and began a great version of "Love Me." It wasn't as fast as the later seventies shows would feature. This version was much slower and sung so well! Quickly following were "Heartbreak Hotel" and "Blue Suede Shoes." Then Elvis did one of my favorite 1950's songs, "One Night." I remember when he sang, "Just call my name," that the Sweet Inspirations all shouted his name, which brought screams for the audience. We really enjoyed that one. Elvis' interactions with the band and back up singers was marvelous that night. After a playful opening, Elvis then did a really good version of "Hound Dog. The crowd was really into it! Then Elvis announced that he was going to do a gospel song and performed a beautiful "How Great Thou Art." It sounded close to the 1966 original and Elvis' voice was simply amazing! He received a loud ovation after this one! Next came the band introductions and then went right into a great rocking version of another favorite, "Lawdy Miss Clawdy!" I have always loved that song and to see him perform it live was a treat. Things slowed down with a beautiful "Are You Lonesome Tonight?" This was done serious and without the joking that would be featured during this song in later years. I remember specifically during this song that Elvis came to the side of the stage where we were sitting and held on to a pole which ran from the stage to the ceiling and swung one leg in the air over the audience seated there. Screams were ringing out as he did this and I remember being bumped into by several women at that point. But it was a very beautiful version of the song.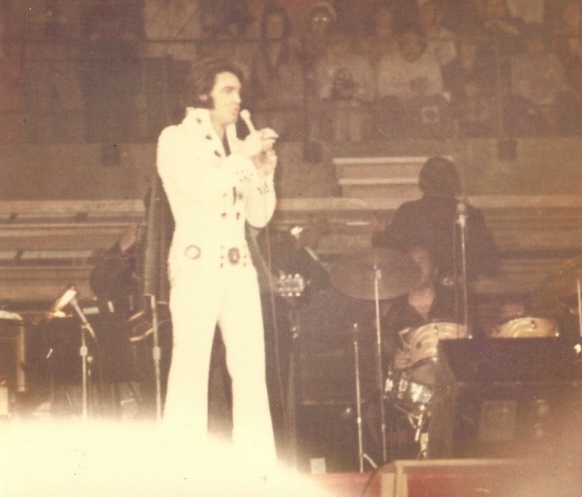 Elvis then performed "Bridge Over Troubled Water." All I can say is, "Wow!" This was an amazing performance and like "How Great Thou Art," was a real show stopper. The ovation was really loud and even before it could slow down Elvis began the song again at the "Sail on silver girl.." part. He then dropped to one knee as he finished the encore performance of Bridge. A surprise for me was the next song which was "The Impossible Dream." In recalling the concert I must say, it was an unbelievable treat to have Bridge and Dream back-to-back! I think Elvis shook the rafters of the Spectrum when finishing the song with, "The unreachable star!" Elvis was singing high, and JD Sumner bottomed-out, add in the back-up singers the band and the orchestra, and its clear to see why nearly everyone was on their feet after this song! I like it better than any of the recorded live versions I've heard. As the ovation was still at a high level, he jumped into "Suspicious Minds." I've got to say, like "Polk Salad Annie," I was beginning to perspire watching Elvis work on this song! It featured plenty of movements by Elvis, the band had the tempo going from fast to slow and back to fast again. It was an amazing performance of this song. As the music began to fade, Elvis tossed his microphone aside, took a karate stance, and began an awesome karate display. The drummer hitting a loud beat with every movement Elvis made. Again, all I can say is awesome!
After this song Elvis actually sat down for a second as he talked to the audience. He then asked to have the house lights turned on and of course, we are screamed loudly. Elvis thanked everyone for coming to see the show and he told us it was good to be back in Philly. He reminded us that it was the first time he performed in the city since the 1950's. Everyone cheered. He then announced, "There's a song from Blue Hawaii I'd like to dedicate to you." And with that he began "Can't Help Falling in Love" which was well received. I didn't know that this was Elvis' closing number. He sang walking back and forth on the stage with his cape on and handed out one scarf during that song. I remember as Elvis hit a beautiful high note ending that the Spectrum just roared as he dropped to one knee with his cape fully opened. WOW! You had to see it to believe it! Again, like many times throughout the show, it was difficult at times to clearly hear the band because of the audience ovation. Elvis walked to all sides of the stage acknowledging everyone and as he reached the steps he stopped, turned around and smiled at the loud standing ovation he was receiving. He smiled, waved, and then two men whisked Elvis off the stage. Then the sound that no Elvis fan wants to hear at an Elvis concert, "Elvis has left the building. Thank you and good night."
It was 10:20 in the evening and the concert was over, Elvis was now in a limousine headed back to the hotel. The lights were turned on and people were still cheering, a few women around me were crying, and I felt exhausted. I remember turning to Mom and saying, "Wow, can you believe that?" Her response was simply, "Oh, he is so great!" We sat for a while realizing that we had just witnessed something extraordinary. Elvis had a real neat way of mixing the song line up so that you would be rocking one minute on the edge of your seat, and sitting back with a tear in your eye on the next. One of my greatest memories of that night was his voice. If you have ever been to an early 70's Elvis concert, you know what I mean about how magnificent his voice truly was. Although I did have the chance to see a few other Elvis concerts through the 70's, November 8, 1971 in Philadelphia, Pennsylvania, remains the greatest concert I have ever attended!
Jim