Menu
Concerts
Reviews
Multimedia
Legal Information
Songs and Tours Reviewed
Elvis - A Lazy Legend in Las Vegas in 1976?
by Geoffrey Mc Donnell, Australia.
Elvis was coming under increasing criticism from cab-drivers to 'Celebrities' who saw him in Las Vegas in 1976 who felt he was a parady of his former triumph's their and performing lazily and as Bill E. Burk asked after watching his final 12.12.76 show possibly for the last time?.
Firstly to set the picture before Elvis arrived in Las Vegas in December 1976 it's important to remember the changes that had taken place. Firstly he was missing the support of 3 of his former 'Bodygards' - Red West, Sonny West and newcomer Dave Hebler. Also after a 4 and a half year relationship with Linda Thompson a 'Newcomer' was in her place - Ginger Alden. Therefore the people around Elvis were largely different (Ed Parker back helping) and also for the first time ever he was going with only one days break from being 'on tour' on the road DIRECTLY into performing a Las Vegas 15 Performance season. This was only one performance less than last years successful pre-Xmas season but although only in Vegas from 2nd - 12th December with 2 shows a night on weekends for BOTH Saturday AND the Friday nights this was arguably a heavier performing shedule than last year. This season has been very briefly mention by Geoffrey Mc Donnell in his OBSEVATIONS ON 76' article and Connie Kirchberg talking about bootlegs, also Bret Grieve's 'GOODBYE TO VEGAS' article to name the few major articles. Perhaps the most original EYE WITNESS reports are to be found from Todd Slaughter in E.M.#206 (which is REALLY INTERESTING) or Anne Nixons report on the 2.12.76 Opening Show in E.M. #323. Latest has been (E.M.#'s 436,441) Lee J.Hanney's look at the last Vegas engagement and Dee Mahers continuing U.S.A. experiences of Elvis in Las Vegas part 3 published in 1997, however here I'd like to examine what was going on here with Elvis's feelings in his shows and what was going on behind the stage.
As things turned out Vegas 76' wasn't a Disaster at all-indeed it was another success as he was asked back for a December 77' season. Some reporters RAVED about how good he was such as Charles E. Supins review in Las Vegas spring valley times. Fans present at shows reported that he looked good and was in great voice. However I'd like to look at the attitude of Elvis in his fifteen shows and try and look at why some shows were not very good.The fifteen different shows seem to fall into 3 groups the first 5 shows 2.12.76 O/S - 4.12.76 M/S which were the BEST SHOWS. The middle 5 shows which required only ONE performance from Elvis each night which were from 5.12.76 - 9.12.76 and were the WORST performed ranging from Fair/Average to rather Poor shows,where Elvis curtailed performances and /or relied heavily on his back up singers/musicians to fill in show time for him. The last grouping are the last 5 shows from 10.12.76 D/S - 12.12.76 M/CL/S. These performances ranged from fair to good and were better than the middle of the week 5 shows but not as good/Exciting as the first 5 shows performed this season. Why did the performances vary so much? What was going on behind the scenes which caused his most inconsistent season ever?
Elvis had 'trimmed' down considerably before his October 1976 Tour and although it is noted that his weight had increased before the November Tour leading up to the Vegas Season and for the record Elvis was his heaviest ever in Las Vegas in no way was he as heavy as in August 1976, where he seemed at his heaviest for the entire year. It's also worth noting that only 2 weeks AFTER the 76' Vegas Season Elvis's weight was back down to his October 76 Touring weight Triumph. Therefore following his Excellent show in Anaheim on 30.11.76- which delighted John Wayne in the audience. Elvis flew to Las Vegas with nothing else on his mind except 'New' love Ginger Alden. On the first of December Elvis wasn't doing any rehearsing with the band as he was too busy entertaining Ginger. So busy was Elvis that he delayed having his hair done prior to the Opening Nights show until the last possible moment. Elvis's spirits were high before the first night and he then was about to perform not only the best show of the season-but one of the best opening shows ever since maybe 18.3.75?.
Opening show 10pm 2.12.76 (KING OF SPADES SUIT)
THIS TIME THE GIRL IS GOING TO STAY.
Notable for this show is that every song sung wasn't rushed- even the 'oldies'. Elvis was in great spirits and even sang a good 'off the cuff' version of the 1970's 'I JUST CAN'T HELP BELIEVING'. Elvis must have been thinking of Ginger on opening night!. The show was just about as long as you could expect without sacrificing any quality (1'40") and the 'stars' including Glen Campbell were witnessing a great show from Elvis - what a relief the Rumors' weren't true as after the Opening Night it was clear that Elvis still had his Magic and Charms and best of all appeared to be in full control-sharp and very witty!. There were many old friends to meet after the show and so finally Elvis got to bed late. Shots from this show aren't common possibly on page 87 of 'King in Vegas' book. Even through TRUE FANS had to TIP heavily the Maitre D to get up front it must have been worth it for those lucky ones their.
10pm Dinner Show 3.12.76 (INDIAN FEATHER SUIT)
SOUNDING LIKE DONALD DUCK!
Apart from a shot in T.M. & H.M. #18 page 34 the best visual representation comes from the nearly complete VIDEO available of this show. R/T 62 minutes. For this show Elvis is again in great spirits and voice, but a couple of things seem of concern. Elvis looks quite 'Fat' in his indian Feather jumpsuit and restricts his stage movements during POLK SALAD ANNIE (not doing the low squats he did so well as seen on video from the Anaheim 30.11.76 show), he does nevertheless pose with a fine Karate STANCE and arm movements at the end of the song. As he bends down to pick up things thrown onto the stage by the audience he seems to be having difficulty bending over as if in stomach pain. Directly after C.C. RIDER Elvis says; "Before I do anything at all I want to apologize for being a little late" (Elvis was 10 minutes late and blamed this on someone leaving dry cleaning fluid on his suit!). According to Todd Slaughters opening editorial in E.M.#206 this was also the first show that some of Todd's 'group' with him in Las Vegas viewed, althrough Super Fan Anne Nixon I believe was there for the whole season and her many memories are especially appreciated from this season as all her accounts are FIRST HAND - yet I have to rely on this seasons AUDIO tapes and many, many thanks again to whoever taped those shows!. Elvis STILL makes the stage his own the WAY he puts the mike back on the stand during I GOT A WOMAN and motions with his hand for it to stay their, almost as if he were touching the audience through water with bow waves he seemed to have all the stage and the air around him at his disposal here-the stage truly was his own. However this aside Elvis plays his guitar whilst wearing a brown scarf on BLUE CHRISTMAS (after a fans request for WELCOME TO MY WORLD!) and gets into his 'oldies' such as ONE NIGHT with style. At the end he good naturedly reminds the audience that he has another show to do tonight before leaving the stage. Just as Elvis stands letting the sweat fall on the stage after the show a FAT LADY rushes to him for a kiss and then afterwoods tries to go back for another (and the lax security for this season is evident here)!. Only a couple of hours later Elvis was back on stage for the 1am 4.12.76 show- this makes identifying show dates difficult this year as the 1am shows were booked for the previous day in a similar manner as the previous years seasons had all been 8pm and Midnight shows on one day. Running time 62 minutes.
1am 4.12.76 show (BLUE RAINBOW SUIT). R/T 70 MINUTES.
FRYING TONIGHT!
Another good show with Elvis in great voice,a superb version of 'HOW GREAT THOU ART' being the highlight and for the first time this season in Las Vegas AMERICA is performed this season. Again as the audience shout out many requests for songs this season tonight is no exception with 'SUCH A NIGHT' requested before LOVE ME and 'IF I CAN DREAM' before JAILHOUSE ROCK. There is an unusual instrumental break before IT'S NOW OR NEVER but for sure this is a well sung show from Elvis and very long 70 minutes. The most weird thing about this show is that just before Elvis starts singing LOVE LETTERS with David Briggs he stops as he says he hears a frying sound like someone frying eggs! After asking his sound man Bill Porter if he can do anything about it Elvis continues whilst during quieter moments for the rest of the show this 'FRYING' sound can be heard. Lisa and Pricilla are visiting for the first 5 shows of the engagement and Lisa attended the 4.12.76 D/S and the disturbing 5.12.76 show.
Elvis was left alone often between the 5th and 7th December, then trouble accoured as his father became ill after the 8 12.76 show. Elvis had Ginger Aldens parents around for the last weekend and Pricilla's parents also, so it was with relief that he closed on the Sunday 12.12.76 show -no doubt exhausted at having taken on so much work wise and behind the scenes emotionally.
10pm Dinner show 4.12.76 (INCA GOLD LEAF SUIT). R/T 65 minutes.
WHAT NOW MY LOVE?
(released on 'Boot' CD "Love Letters from Nevada")-
Visually great footage of this show comes almost complete from this show and Elvis looks very good and slim in his Inca suit. -Great footage!.
This is the show that had Roy Orbinson present in the audience and Elvis sang a one liner of Roy's 'hit' 'IT'S OVER' after his intro. Engelbert Humperdink was also present and Elvis mentions that no one sang 'RELEASE ME' like Engelbert. Physically Elvis looks a bit tired at the start of this show not moving as much during the opening numbers but he really fires up later on in the show with a part spoken version of 'WHAT NOW MY LOVE.' This one performance is a 'classic example' of one song from this season that SHOULD have been included on Disc #4 of the 4 CD Vegas Box Set!- what happened to this or indeed 'THE FIRST TIME EVER I SAW YOUR FACE ' from August 1974??.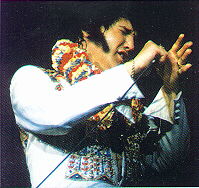 After receiving the words from Charlie Hodge, Elvis performs a tremendous 'BRIDGE OVER TROUBLED WATER'(improving on the 3.12.76 version.) This show has been shot on video from the stage right. Preceeding Elvis's arrival on stage we see the Sweets performing with SWEET INSPIRATION before he comes on. As Elvis throws his guitar, Charlie Hodge (dressed in a black suit) catches it perfectly. For this show Elvis looks trimmer than at the previous days Dinner Show, also whilst conducting the band in profile he also looks trim. A young girl receives a scarf before AMERICA (during which Elvis marches at the end of the song) Elvis tries on 'funny hats' during LOVE ME and is having a great time on stage, really singing well during TRYING TO GET TO YOU. At the start of FEVER, Elvis receives another funny hat and does a quick TOM JONES impression!. Also again 'HOW GREAT THOU ART' is very well performed by Elvis as he drops down on one knee during the last part of the performance to dramatic effect at the conclusion of the song-this really is stunning viewing and Elvis looks and sounds as good as ever during this. Elvis's version of 'HURT' is less good than previously but still OK and as a whole this has been a superb and riveting show from Elvis as he has surprised and delighted fans throughout.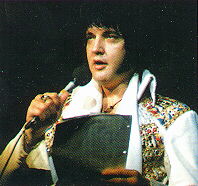 Interestingly after this show ED PARKER describes in his book 'INSIDE ELVIS' how Elvis would still greet fans in Las Vegas in December as some girls (from Denver) presented Elvis with a three Kings gift of the WISEMEN which he graciously accepted in his dressing room as he talked with them. Elvis was very impresses and so were J.D.Sumner & Stamps that Elvis called in. Interestingly these three girls (Georgia,Jeanie & Debbie ) confirm that Elvis looked pale but otherwise alright. Certainly these girls observations seem true as Elvis was in Control for these first shows this season and with just Ginger around he was doing OK, however Pricilla and Lisa had flown in for the weekend and this obviously put a strain on Elvis and later on Ginger Aldens Parents would arrive (on the 9th December) followed by Pricillas parents for the 11th December shows. By the end of the engagement all these reminders of the past and people flying in who were 'new' to him made Elvis extremely nervous. With all these 'visitors' and performing in Vegas Elvis emotionally may have been taking on too much-when his father had a suspected mild heart attack after the 8.12.76 show the personal strain was increased further.
1am 5.12.76 show (RED EAGLE SUIT) R/T 68 minutes.
O SOLE MIO?
Nothing really 'special' about this show except its well sung and Elvis is very interesting in what he says during introducing the band.The version of 'LAWDY MISS CLAWDY' is no more than just the first verse repeated 4 times over + 1 line-yet Elvis may have wanted to perform it this way. We note note that here Elvis calls on back up singer Sean Neilson to sing a couple of songs (DANNY BOY + WALK WITH ME) as he takes a rest which isn't surprising after hearing Elvis's voice 'CRACK' during his vocal to 'HURT'-yet it's the WAY Elvis asks Sherril and to listen to is really satisfying for the fans and obviously here to Elvis. POLK SALAD ANNIE is still performed but from audience reaction it sounds as if it's less energetically performed. A Sweet Caroline request before BLUE SUEDE SHOES, I WAS THE ONE also requested before TRYING TO GET TO YOU. Before singing SOFTLY Elvis says interestingly that he doesn't talk loudly as he saves his voice for singing. This show also receives the first request of Elvis this season for Sherril to perform 'O SOLE MIO' before Elvis sings 'IT'S NOW OR NEVER'- however Elvis ruins this with his snide remarks as sherril sings(sounding very jelous of Sherrils talent as one of the best Irish Tenors in the world!)
At the start of the show Elvis surprises the listener by saying 'The next song is by Olivia Newton John and I'm not going to sing it -lets do FAIRYTALE" This has been a great show as Elvis states at the start that his mission is to make people happy. Certainly the audience is a 'WILD' Saturday night one and at the start of the informative intros Elvis performs a quick verse of 'RIP IT UP' before the band can follow him. The Hawaiian Wedding Song is nice and Elvis has been 'up' for the show. The intros are very interesting.
After the end of POLK SALAD ANNIE Elvis remarks 'going like a freight train','you want me to do it again?' Elvis introduces the Sweet Inspirations as having been with him for 7 years. J.D.Sumner & Stamps Quartet as one of the top Gospel Quartets in the nation and some parts of Canada!, Ron Tutt is introduced as a 'Cave Man' taking out his frustrations on the drums. Elvis says when he does his drum solo it's like gunshots going off. Larry Strickland is introduced as his 'alter ego' Elvis says he wouldn't leave the lead singer alone for anything as he sings HOW GREAT THOU ART better than anyone else in the world. Sherril Neilson gets introduced as Elvis says his life is threatened ever night by himself and some of the members of the Stamps!. Next Kathy gets a nice intro;-'The lady at the end here, she has a beautiful high voice she's from Los Angeles - Kathy Westmoreland. 'Then follows John Wilkinson as Elvis sings along to E.M.Rain, James Burton plays What D'Say whilst Elvis sings a bit with Charlie. Ron Tutt is introduced as from Dallas,Texas, Ron then proceeds to give an OUTSTANDING DRUM SOLO!. After this Elvis adds that he's seen Ron Tutt have to have Oxygen because he plays so hard!. Before Jerry Scheff plays Elvis tells someone shouting out in the audience to "SHUT UP". Elvis wails along to Jerry before introducing Tony Browns first time in Vegas from Nashville and again Elvis hums along. Elvis introduced David Briggs who as usual performs his cool & fancy solo. Elvis says Charlie Hodge looks like a Turtle before singing LOVE LETTERS very sincerely. Elvis then wails along to Joe Gercio's Orchestra playing HAIL, HAIL ROCK N'ROLL before yet again asking the young blonde lead guiartist from the band to play his totally out of place 'Rock' guitar solo of HAIL ROCK N'ROLL. After Hurt Elvis remarks that in Hollywood they all come and go... Son your on your own-which is his intro to Sherril singing DANNY BOY, then follows the beautiful Gospel song from Sherril of WALK WITH ME which is very affective here as the stamps join in on the end of it.
Finally in this show which was very interest ng during C.H.F.I.L. Elvis slightly changes the lines to it's time,time to go..' Running time 68 minutes
5.12.76 10pm show (KING OF SPADES SUIT)
THE 'SPRAINED' ANKLE SHOW?
R/T 80 minutes.('Bootleg' released as 'PRESLEY AT THE HILTON' following Ger Riff's article in T.M & T.M. #18! in 1993.)
There is possibly a photo around in the 'Musique & mythe' page 409 for this show he looks foggy, ruffled and puffy. Musically this show is one of the best this engagement and Elvis doesn't leave the stage until he's given a really satisfying performance. HOW GREAT THOU ART is my favorite from this show as best from this season. However the start of the show is very poor. Following a 'SPRAINED ANKLE ANNOUNCEMENT' and 10 more minutes of unexpected Jackie Kahane - Elvis appears to 'stagger' on stage and even quipps that he tripped over a step from his bed as he was drunk?! Well he seems to be 'on' something as he rambles as he sings and Dialogue about his Diamond rings etc before a funny SWEET CAROLINE' Pricilla and Lisa were in the audience for this Sunday night show. Parts of it are very disturbing as fans must have been asking what was wrong with Elvis? In E.M. #447 Ceba Carvalho from Portugal argues that 'Are you Lonesome Tonight' was never a vulgar song but as Elvis Really 'camps it up' joking with Charlie Elvis performs in 1976 a very vulgar version indeed!. Singing does improve from SWEET CAROLINE onwards and HOW GREAT THOU ART is most satisfying, but Why was he playing on a sprained ankle when before he wouldn't complain aloud about ailments yet this season he complains about something in his eye needing eye drops at the opening show, acid indigestion and a pinched nerve at the 7.12.76 show then a dry throat at the 9.12.76 show. Elvis must have been getting tired of Las Vegas in 76.
6.12.76 10pm show (INDIAN FEATHER SUIT)
HELP ELVIS MAKE IT THROUGH THE NIGHT R/T 70 minutes.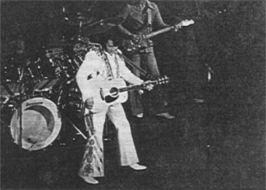 Elvis comes out sounding allright tonight but cut's the show memorably short after songs from Kathy Westmoreland and Saun Neilson again -with 'HELP ME MAKE IT THROUGH THE NIGHT' performed after the intros instead of the usual 'HURT'. One word of TIPTOE THROUGH THE TULIPS is performed before Blue Xmas and Col Parker appears on stage as instrumental 'JINGLE BELLS' is played as after the Col heard about Elvis's 5.12.76 show he thought he'd better make his presence known by appearing on stage to let Elvis know he was there. (even through the Colonels back was hurting him during this season and Todd Slaughter would get him out of bed before the next show to greet him!) Elvis however mentions during 'AMEN' that he's got a brace on his ankle and complains about the sound. Then just before performing C.H.F.I.L. Elvis sounds weak and withdrawn as he says he's twisted his ankle and hacving a lot of pain in his leg-and he can tolerate pain, 'but it's starting to interfere with my singing and I can't deal with that.',so he hopes it will be better tomorrow or the next night. The show is well so-so.
7.12.76 10pm show (INDIAN FEATHER SUIT); R/T 80 minutes.
(released as 'RUN ON' CD fair sound only, also somewhat edited dialogue too!)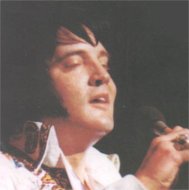 Elvis has worn the same suit two nights running now and clear shots are available in 'Musique & mythe' page 411 also on page 36 of T.M & H.M. Elvis doesn't exactly look his best here. -A TRAVELLING PINCHED NERVE! For this show Elvis seemed to be in pain again with his 'ankle problem'. After C.C.RIDER Elvis says that he'd like to apologise for being a bit late but he has a pinched nerve in his leg that has traveled up-and that's all he's going to tell you.-complaining a lot, as he quipped that all the money in a Swiss bank account wouldn't be enough to get him to perform 'POLK SALAD ANNIE' tonight. Elvis 'rarely' performed 'BOSOM OF ABRAHAM/YOU'D BETTER RUN' tonight, but his voice isn't the best and he seems withdrawn at times. There's a lot of excess talking before FEVER from Elvis before he settles on playing his guitar and before THAT'S ALLRIGHT MAMA' he says he would come down to do the show even if he had to do it from a wheelchair! -and thanks the people for showing up!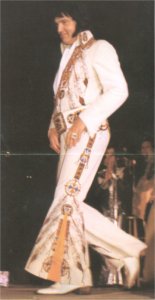 Surely Elvis was overstating the case here? There's ALMOST one word of 'ARE YOU SINCERE' before Elvis sings SOFTLY tonight Elvis as he would makes a joke out of his guitar sketches with Charlie. His voice lacks his usual power tonight and according to Todd Slaughter in his E.M. #207, March 1977 article this was his show he saw first, he had been enjoying a few spirits with his cokes during a day by the pool and thought Elvis must have too before falling and twisting his ankle on the 5th! Fortunatly this show improves from 'THE HAWAIIAN WEDDING SONG' onwards but the totally unnecessary lengthy guitar solo of the HAIL, HAIL ROCK N'ROLL repeat can be nothing more than 'padding' to this show from Elvis as the intros are already too long. Elvis says 'HURT' is his latest record as far as he knows-yet years ago wnen performing say IT'S MIDNIGHT or SUSPICIOUS MINDS Elvis would usually perform a 'NEW' song then afterwoods announce that it would be out in a couple of weeks-Yet on the 9.12.76 show before performing MY WAY. A request for 'MOODY BLUE' was heard and 'MOODY BLUE' would enter the charts released in a couple of weeks time. After this SO-SO show before closing with C.H.F.I.L. Elvis mentions that he hoped his pinched nerve would get better by tomorrow or the next night. This is the first show that in E.M #206 that Todd said he watched in 76'.
8.12.76 10pm show (BLUE RAINBOW SUIT)
FOR THE ENGLISH FANS
Here Elvis actually looks good on page 411 of 'the musique & the mythe' and the Blue Rainbow suit looks good on him.
R/T 84 minutes. This is the show that all the English fans came to Vegas to see. Prior to 'ARE YOU LONESOME TONIGHT' Elvis answer in response to fans shouting when would he be coming to England? -that 'it's being prepared now'. 'it really isn't believe it or not. 'It just takes a little while too...' in response to a Canadian Fan Elvis says;- 'Yeah,were coming to Canada too'. However after LONESOME TONIGHT Elvis gets irritated and says rather sharply, 'Please, don't start yelling song titles at me right now because I cannot and will not do them right now..I will later,but...' Then later adds 'I want to please you and everything else, but you know, I've got a line up for the show.' Then Elvis sings BLUE SUEDE SHOES and responds by singing a HEARTBREAK HOTEL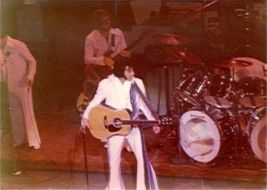 request. Sherril Neilson is introduced as 'Mr Perfect!'. Todd Slaughter & Clifford Davies were mentioned after the intros by Elvis as coming over with 400 English fans and, Liza Minelli Merv Griffin, His Father Vernon were all introduced in the audience as Elvis liked to draw attention to each one and make them stand up. Lastly introduced Was Tanya Tucker by Elvis 'There's a Country & Western singer in the audience that one of the guy's up on stage goes with-her name is Tanya Tucker'. Elvis then says 'Hi Honey' and repeats TANYA TUCKER. Well yes indeed. what kind of an introduction is that from Elvis?. What on earth did people like Tanya Tucker make of Elvis? only the year after her famous 'hit' at only aged 14 with 'DELTA DAWN' during the Pre Easter 75' season Tanya had first seen Elvis and here she was again in 76'. I'm sure Elvis would have admired her style and his much admired 'singing from the gut-out!. Interestingly Tanya had recently recorded her Album 'HERE'S SOME LOVE' in Nashville with Larry Londin (Elvis's tour 16 76') Shane Keister (tour 16 76') and Bobby Ogdin (who would replace David Briggs on Tour from March 77' onwards)' Norman Duncan of Scotland in reviewing the edited CD available of this show (inappropriately named' TORNADO FROM VEGAS') noted that maybe it would have been better if Elvis had stayed in bed and not bothered to come down for this show as his 'attitude' seems at times casual, indifferent and lackluster, very little effort seems to be coming from Elvis during tonight's show. The end result is an average show. Elvis stayed on stage for long enough until he'd sung a large number of songs and it's true that he did seem to try including MYSTERY TRAIN/TIGER MAN, but he didn't seem in the best voice, reading and starting again 'BRIDGE OVER TROUBLED WATER' a couple of times and 'HURT' is only fair-even if Elvis holds the ending, however repeating the ending doesn't improve things. Really if Elvis could read the words to 'BRIDGE' surely he could have just as easily have read 'THE LAST FAREWELL' especially for the visiting English fans-but NO this would have required too much effort from a 'Tired' Elvis in Las Vegas on 8th December 76'. What infuriates me most about this show (and quite a few others this season) is Elvis YET AGAIN featuring a guitar player to REPEAT the Hail,Hail Rock N' Roll ending in the already long overdrawn introductions. However some girls still shouted out 'Good Show' and Burning Love requests before Elvis closed with Cant Help Falling In Love. Following the 8.12.76 show in the early hours of 9.12.76 Vernon Presley was admitted to hospital with chest pains.
9.12.76 10pm show (INCA GOLD LEAF SUIT)
ELVIS-AS DRY AS THE MOHAVE DESERT!
R/T 75 minutes.For this show Elvis constantly complains that his voice is as dry as the MOHAVE DESERT and when a fan requests 'MOODY BLUE' before 'MY WAY' he says he hasn't rehearsed it yet.-Yet by the end of the month it was his 'NEW' single release in the charts.His voice does improve during the show as 'SOFTLY' is perfectly performed. Just before closing Elvis says he has to 'get out of here-but he'd be back'This actually is a poor show as Elvis can't remember all the words to a song such as I GOT A WOMAN and FALSE STARTING many songs like this and MY WAY, BLUE CHRISTMAS up to 3 times is really annoying- surely Elvis could hardly claim to be the king during this bad show.!.
AMERICA is sung for the last time ever and talking about his father now in Hospital Elvis says he'd like to sing HELP ME as he thinks of him.(which is a touching gesture). Fortunately there are a few funny moments when during the intros Elvis mentions J.D.Sumners business card details and says ED ENOCH grins like a Possum(obviously a plug for the Australian fans!). Following this show Elvis phoned his limo friend Gerald Peters at 4am to locate a white Lincoln Mark 4 for a present to Ginger Alden-yet by 14th December back at Graceland Elvis had already bought Ginger a Cadillac Seville in the meantime just as Peters turned up personally arriving with the Mark 4!.- that Elvis had actually given Ginger on early morning 11.11.76.