Menu
Concerts
Reviews
Multimedia
Legal Information
Home > Songs & Tours Reviewed > ELVIS: 1970 - I JUST CAN'T HELP BELIEVING THAT'S THE WAY IT IS. Part 2

Songs and Tours Reviewed
ELVIS: 1970 - I JUST CAN'T HELP BELIEVING THAT'S THE WAY IT IS.
by Geoffrey Mc Donnell-Australia.
As well as the suits available to Elvis from the first season of the year Elvis added still more for this Las Vegas summer festival (as they would become known) 6 more types were added as 'new'
1. LONG CAPED FRINGE SUIT worn at the 14.11.70 E/S in Los Angeles.
2. 'I GOT LUCKY SUIT' WHITE with sparse stud pattern on lapels, arms, legs with several different coloured belts but mostly RED
3. CHAIN SUITS - WHITE with 12 silver chains across the chest held by 8 leather pieces- these chains often snapped during shows.
4. Rare METAL EYE SUIT as mentioned in EM #417 by Andrew Wood seems to me to be nothing more than a reference to the suit as seen in 'UNSEEN ELVIS' and particularly ELVIS (the king lives) by John Alvarez Taylor page 105 which shows Elvis clad in the bright BLUE version which has 16 metal Eyelets (8 on each side) for the cord to tie through.! Hopefully by now a 'jumpsuit' expert (which I'm NOT) has cleared this up?
5. RED LADDER SUIT WHITE with ladder type design of reddish-brown on the lapels.
6. FRINGE SUITS: White fringes hanging from the chest covered in coloured beads- worn with several different Macrame belts.Number of beads and thickness of fringes vary i.e different in SEATTLE 12.11.70. Also in the latter part of the summer season were the bright blue and dark blue one piece suits such as the simply STUNNING picture of Elvis in Las Vegas 24th August 1970. taken with fans and as he enjoys a cool drink!. Showing that although 'rare' early on in the season many metal. Eyelet suits were in fact worn!
With the brilliant June recording sessions and material at Elvis's disposal as well as both the JULY and early August rehearsals too Although as always nervous Elvis opened on 10th August 1970 for his first opening night show Repertoire for the season was nothing short of EXCELLENT truly something for everyone old,new and the very new B.J.Thomas 'hit' 'I JUST CAN'T HELP BELIEVING' which Elvis again covered and sang it so well so making his 'own' version 'special' with that beautiful chirpy optimism that exuded from Elvis in 1970 and enabled him to reach for the stars!. Usually performed songs this season often included:
That's Allright - I Got A Woman - Tiger Man - Love Me Tender - I'VE Lost You - Sweet Caroline - Youv'e Lost That Loving Feeling - Polk Salad Annie - J.B. Goode - The Wonder Of You - Heartbreak Hotel - Blue Suede Shoes - Hound Dog - Bridge Over Troubled Water - Suspicious Minds - I Just Can't Help Believing - One Night - Please Release Me - I Walk The Line/Folsom Prison Blues - Patch It Up - Whole Lotta Shakin Goin On - Mystery Train/Tiger Man - Can't Help Falling In Love - Just Pretend - Words - Twenty Days And Twenty Nights - Little Sister/Get Back - Something - Ave Maria - Love Me - I Can't Stop Loving You - There Goes My Everything - Medley: Polk Salad Annie / Tom Jones / Englebert Humperdink - Release Me / Glen Campbell- Ok I'm Goin / Polk Salad Annie.
An incredible number of 'rarity' one liners were performed (including some complete songs):

ALONG CAME JONES-21.8.70 D/S (title only) after 'THE WONDER OF YOU' -  
AMEN-14.8.70 M/S after 'THAT'S ALLRIGHT MAMA' brief performance. - 
I WAS THE ONE-13.8.70 D/S before 'LOVE ME' - 
DON'T BE CRUEL-11.8.70 M/S before 'LOVE ME' - 
BLOWING IN THE WIND-7.9.70 M/S at the start of the introductions of  back
up girls - 
BLUEBERRY HILL - often few lines only e.g. 12.8.70 D/S,13.8.70 D/S-after
'WALK A MILE IN MY SHOES',14.8.70 M/S -after 'WHOLE LOTTA SHAKIN' GOIN ON' - 
 HOLY,HOLY-21.8.70 M/S - after Neil Diamond introduction Elvis hums a bit.  - 
STRANGER IN THE CROWD-12.8.70 M/S just before 'MAKE THE WORLD GO AWAY' - 
MARY IN THE MORNING-STILL UNKNOWN! - 
WHEN THE SNOW IS ON THE ROSES-24.8.70 D/S   after 'JOHNNY B. GOODE' - 
IN THE GHETTO-12.8.70 M/S after 'DON'T CRY DADDY' - 
MORE-20.8.70 M/S after 'HOUND DOG'. - 
YOU DON'T KNOW ME-14.8.70 M/S after 'I GOT A WOMAN' - 
O HAPPY DAY-14.8.70 M/S after the introductions - 
SAN ANTONIO ROSE-1.9.70 M/S  after 'LOVE ME TENDER' - 
SWEET INSPIRATION-20.8.70 M/S  in the middle of the introductions - 
MEMPHIS TENNESEE-20.8.70 D/S  after 'HEARTBREAK HOTEL' - 
ARE YOU LONESOME TONIGHT-12.8.70 M/S  after 'LOVE ME' - 
TWENTY DAYS AND TWENTY NIGHTS-12.8.70 D/ S after 'PATCH IT UP' - 
AVE MARIE  12.8.70  D/S,13.8.70 D/S-during the start of 'LOVE ME
TENDER',20.8.70 D/S -after the end of 'I GOT A WOMAN',21.8.70 D/S-again
after 'I GOT A WOMAN' -  LAWDY MISS CLAWDY 13.8.70 D/S-1st word only! -at the
start of 'JUST PRETEND' -  DOMONIC-13.8.70 D/S-as yet unverified! as to where
abouts. - 
FARTHER ALONG 13.8.70 D/S-before 'LOVE ME TENDER'(briefly part only) - 
SANTA CLAUS IS BACK IN TOWN-13.8.70 D/S after 'THAT'S ALLRIGHT' - 
MAKE THE WORLD GO AWAY-12.8.70 M/S before 'SWEET CAROLINE' - 
SPANISH EYES-PART 24.8.70 D/S after 'I GOT A WOMAN' - 
'WITH TRUE WHERE I LOVE'-20.8.70 D/S -an 'unusual' 1 liner just before
'HOUND DOG'. - 
DON'T CRY DADDY-12.8.70 M/S after 'LOVE ME TENDER' - 'BABY ,WHAT YOU WAN'T ME
TO DO' reported only.

The above list is where performances are 'rare' often only once performed,however quite a large number of complete performances of songs are found at the start of this season before a 'regular' line up developed.
This is just an incredible list and some 'developed' as the season moved along such as towards the end of the season the Medley featuring Tom Jones, ENGELBERT HUMPERDINCK and Glen Campbell impersonations as well as snippets of there 'hit' songs all in the middle of POLK SALAD ANNIE. Indeed by the MIAMI 12.9.70 E/S Elvis was joking about all these as well as Wayne Newton and his brother Fay before HOUND DOG, the orchestra conducted by Mr. Leonard Bernstein, Johnny Cash, big MAMA THORNTON to name some of the fellow performers Elvis was joking about in his act!. Other songs such as 'WHEN THE SNOW IS ON THE ROSES 'is very interesting as this was a German originating song from 1967 which then with English words by Larry Kusik became a best selling record by Ed Ames for RCA in 1967! The original German words being written by Ernst Bader and music by the famous James Last no less! Elvis sang this bluesy/soulful version of this melancholy but beautiful song especially for his father at the 24.8.70 D/S. Memphis Tennessee is certainly 'unusual' at the 20.8.70 D/S but not a total surprise as Elvis after all was from Memphis. The other pleasant surprise occurs when Elvis performs the 1st and best minute of the backing group SWEET INSPIRATIONS big 1967 'hit' record during the introductions at the 20.8.70 M/S 'SWEET INSPIRATION'.
'OH HAPPY DAY' was a a big hit in 1969 by the Edwin Hawkins Singers reaching #2 on the Rhythm & Blues chart in 1970, it was also recorded by Glen Campbell therefore not surprisingly Elvis decided to sing this moving GOSPEL song 'live' at the 14.8.70 M/S with the Sweet Inspirations-yet another Amazing Gospel performance from Elvis.
For this season, Elvis included much 'new' material from the recent June studio sessions, particularly sung as his COUNTRY Album would be released later, especially included here for this season was the recent B.J. Thomas 'hit' record 'I JUST CAN'T HELP BELIEVING' which although deceivingly a 'hit' for B.J. Thomas, Elvis once again like MY WAY gave his own rendition that was at least equals Kathy Westmoreland replaced Millie Kirkham on 16th August 1970 as Soprano back up singing and had an affair one can't help believing that he sang this with Kathy in mind often-just as he did again in December 1976.
The structure of Elvis's shows is very interesting, looking at the 14.8.70 M/S for example, Elvis would open for his 60-65 minute shows with THAT'S ALLRIGHT MAMA establishing straight away his first 'hit' before sliding into I GOT A WOMAN, which starting with this season received the unusual ending of 'YOU DON'T KNOW ME'(few lines)on 14th August, oddly at the same show THAT'S ALLRIGHT had received the AMEN ending for the first time, before later in the season I GOT A WOMAN would often receive an AVE MARIE ending! After these different endings to songs which caught the band and audience by surprise, Elvis would joke around a bit before his TIGER MAN segment joking about when he started back in 1956. After establishing his presence to the audience Elvis would then joke around a bit more usually mentioning his 'movie' years before LOVE ME TENDER (although Elvis was known to sing anything- as at the 14.8.70 M/S!) sometimes here Elvis would include a brief medley of 2 of Johnny Cash's 'hits' FOLSOM PRISON BLUES and I WALK THE LINE as he would kid the audience introducing himself as many other entertainers .
At this point in the show Elvis would then introduce NEW material in the form of his latest record. This season it was the predecessor to 'MY BOY' called 'I'VE LOST YOU' This was stronger meat than the steaks his audience was eating and a memorable strong ballad brilliantly performed by Elvis captivating ALL of the fans attention whilst he sings this compelling, but sad story ballad which so many people could relate too(including Elvis). Interestingly the more 'DRAMATIC' 'LIVE' version from 11.8.70 D/S was released on the vinyl LP 'THAT'S THE WAY IT IS', and in the movie of the same name from 12th August!, then yet again the very different 'studio' version from June 4th contains the different chorus lyrics and as Elvis mixes them up-maybe this is why RCA originally chose a 'live' version for release? 'I'VE LOST YOU' sounds just as strong and 'Dramatic' TODAY!- AS IN MARCH 1995 we have the 'new' USA release "HEART & SOUL - ELVIS featuring a 'STEREO' 'I'VE LOST YOU' a 'BRIDGE OVER TROUBLED WATER REMIX' (Without applause loop) amongst others- indeed a great 'new' release-with 'I'VE LOST YOU' sure to 'attract' and find 'new' Elvis fans as it did back then as it's the kind of song many people can relate too. Once again like 'MY BOY' it's the excellent use of the reed wind instrumentation that makes this song J. Layne sure plays the clarinet well during this season!In fact Skip Layne and Johnny Duke, Wayne Butler, Norman Ray are a GREAT ASSET in the overdub and live 1970 work even if it still sounds like an unaccredited OBOE playing that lonely beautifully sad intro to I'VE LOST YOU! This song really spell-bound the September audiences on his 1st tour of 1970!.- no wonder FANS were so 'WILD' when Elvis started touring again as Elvis was a 'dirty singer' and a 'dirty actor' most of the time- and by that I mean that technically He gave a LOT OF HIMSELF in each song performance getting emotionally 'involved' but to the depth that he could still perform and not usually with tears falling down crying as Vicki Carr was known to do, Elvis himself explained this years later during the 24.8.74 M/S(on the recent FTD release 'It's Midnight') he explained it by putting it this way(whilst introducing Vicci Carr) She sings FROM THE' GUT' OUT!'(like himself) and was NEVER a 'shallow' actor or performer. Without trying to read to much into it, it does seem plausible that having recently had a child born Elvis could personally relate to 'I'VE LOST YOU'-just as later in 1973 Elvis could later relate to 'MY BOY' and his Daughter an EXCELLENT show stopping song written by Howard and Blaikley.
Elvis shows the persuasive power of his voice here and this usually continued with the optimistically happy ballad 'I JUST CAN'T HELP BELIEVING''YOU'VE LOST THAT LOVING FEELING' is the powerhouse that follows leading into THE show song here the new and brilliantly suited for Elvis 'POLK SALAD ANNIE' this very often had a slow kidding around introduction where Elvis mentioned his army years and the narration before the song starts properly. Elvis had a LOT of fun with this, particularly in this season and shakes,jumps around to an almost uncontrollable spasm ending! Next up is the introductions of back up singers and the band 'on stage' with him. As usual once again this was a chance for more 'jokes'and usually J.B. GOODE with James Burton playing Guitar. After listening to August 1970 it's nice to know that more than ever once again during the band introductions during Elvis's LAST June 1977 tour,once AGAIN BOTH witty AND funny band introductions were a part of the show-Elvis never lost his sense of humour! Such comments from Elvis are just a delight to hear.After the intros where often band members had been introduced as the 12 disciples by names! Elvis would continue with one of his most recent 'hits' 'THE WONDER OF YOU' Sometimes Elvis changed the lyrics for humorous affect to 'You give me hope and constipation'(as in the 14.8.70 M/S possibly on VIDIO)instead of 'consolation' before singing several of his oldest 'hit' records such as 'BLUE SUEDE SHOES','HEARTBREAK HOTEL','ONE NIGHT','HOUND DOG'or 'ALL SHOOK UP'. After this most summer 1970 shows closed with the exciting songs of 'BRIDGE OVER TROUBLED WATER','SUSPICIOUS MINDS','CAN'T HELP FALLING IN LOVE'. Around halfway through the season this increased to sometimes include 'RELEASE ME' before ending the show.This is a show Repertoire that satisfied in 1970- and STILL SATISFIES TODAY! and because of the timelessness of the songs will continue doing so beyond 2000!.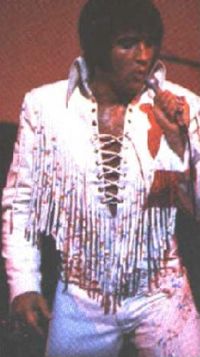 Present for the grand 10th August 1970 opening night show were Sammy Davis Jr., Cary Grant, Juliet Prowse, Sonny Liston, Jack Benny, Nancy Sinatra, Xavier Cugat, his wife Charro, and many, many more celebrities came during the month often mentioned and introduced in his shows such as singers Neil Diamond, Tom Jones and Englebert Humperdink and actor Rodger Moore. Surprisingly after all the HYPE the first opening show wasn't the best. Elvis seemed overly nervous and sang 'PATCH IT UP' instead of 'SUSPICIOUS MINDS'. The opening show IS notable however for including performances of both 'WORDS' and'SOMETHING' This shows FINAL release as a FTD CD was 'fantastic' and surely an excellent release choice adding to the other 2 shows released on CD the correctly dated 12.8.70 M/S(on the 3 CD box set in 2000) and the interesting 11.8.70 M/S (ON THE Las Vegas box set in 2001) After the pleasure of the 'LOST PERFORMANCES' video it's nice to know that Early on in the season Elvis featured performances of songs from his forthcoming country Album ELVIS - COUNTRY,. such as 'THERE GOES MY EVERYTHING',and ''MAKE THE WORLD GO AWAY'.From a 'country' and slightly experimental start Elvis settled down to a repertoire which was regular really from after filming was finished and Kathy Westmoreland started singing on 16th August 1970,the impersonations of such famous fellow performers like Johnny Cash, ENGELBERT HUMPERDINCK, Tom Jones and Glen Campbell did continue however and by the closing show the version of POLK SALAD ANNIE came to include these impersonations as part of a medley of 'POLK SALAD ANNIE/TOM JONES/RELEASE ME/OK.-I'M GOING/POLK SALAD ANNIE' - this continued right through the 1st 1970 tour as well and petered out during the November 1970 tour.
If your really interested in every song available from the shows on the audio tape collectors network then I cannot recommend enough that you purchase E.M #395 for Philip Blands excellent article,adding to this where is the 3 minute performance of 'HOUND DOG' as featured on the Bootleg 'WE'LL REMEMBER YOU' dated from?, with all the 'jokes' about Butterera-Mexico and the stuff you put on bread in the morning- This incredibly infectious and hilarious version I have not heard at the 'known' listed shows and myself would date it as performed soon after the 24.8.70 D/S as Elvis's performances of HOUND DOG around this time are starting to elaborate into this laughable version (highly recommended as an example of just HOW MUCH FUN Elvis WAS having 'on stage' in 1970!) This aside of course the film T.T.W.I.I. and the EXCELLENT video 'LOST PERFORMANCES' are ESSENTIAL Elvis from the first week of the 1970 Elvis summer festival. The album titled 'THAT'S THE WAY IT IS' although a mixture of 'live' and STUDIO work released in December 1970 is very good even if audience applause was 'tagged' onto BRIDGE OVER TROUBLED WATER. Doing an audio browsing through the summer 1970 engagement Elvis seems to be good all the way through with just the few less good shows i.e the 20.8.70 M/S isn't the best performed of shows,but again contains the 'rarities' of 'SWEET INSPIRATION' and the 3 lines of 'MORE' This has been released on CD called by a couple of titles GROTI'S 'MIDNIGHT INSPIRATIONS'- 'A NIGHT TO REMEMBER' GR-R 102 and 'STANDING ROOM ONLY' EPCD 232 however good as these are and a great compliment to the vinyl 'DINNER DATE WITH ELVIS 20.8.70 D/S% as Claude Baker of Canada said in E.M. #422 it needs a 8% speed reduction which is a lot!Without a doubt for me Elvis's funniest shows come from 23rd and 24th August and are recommended as an example of his infectious laughter! Historically one of the early bootlegs from Canada in 1970 featured 50% 23.8.70 M/S + 50% 24.8.70 D/S on this double LP Elvis comes across as loose and relaxed and by far this must have been one of the very best early 'bootlegs' and the above dated shows are well worth hearing TODAY! However of ALL the 'audience' recorded shows to be released without doubt Rick Rennies 21.8.70 M/S release of "YOU'VE LOST THAT LOVING FEELING' is great with quality sound/artwork and performances(the only negative thing being some of the irritating cut short songs and false starts)
Unfortunately whilst Elvis and all present were having this GREAT PARTY at the International life got serious on 26th August when a telephone call received mentioned a kidnapping threat to Elvis and on 28th August a caller demanded $50,000 or else Elvis would be shot by a madman with a silencer - the Los Angeles police department had to be assigned to protect Elvis threats against Elvis HAD to be taken seriously.This unfortunately started to limit contact with fans and Elvis at the International- necessary but must have contributed to the 'prisoner' feeling Elvis would suffer with for the years to come. Then when Elvis thought he was just signing an autograph he ended up with the terrible Patricia Parker Lawsuit.Here Elvis was served with her paternity suit papers in-between shows at the L.A Forum on 14.11.70 and understandably became irritated - now he had to worry about just what he was really signing when giving autographs, Elvis didn't need this kind of worry.Thankfully Pricilla and Lisa were on their way to stay with Elvis for the last week of the engagement.Which of course meant that for Elvis with his 'double standard' in his 'affair' with Kathy Westmoreland after 2 weeks had to 'cool' off a bit with Pricilla around,in 1970 Elvis got away with having his cake and eating it too,but by 1972 onwards it caught up with him and he was paying a very heavy price for his Gregarious lifestyle.
Interestingly T.T.W.I.I. really is made up of parts of rehearsals and just 3 shows(visually). T.T.W.I.I IS - - 15% rehearsals (July-August)/10% 11.8.70 D/S/25% 12.8.70 D/S and MOSTLY 50% 13.8.70 D/S. Note well NONE appears to come from Phoenix 9.9.70 as the MYSTERY TRAIN/TIGER MAN played over the opening credits comes from the OPENING 10.8.70 show! This has been a thoroughly topical area for discussion in 94/95 and it's nice to see dates matching the visual performances. The dialogue preceding Elvis's performance of 'WALK A MILE IN MY SHOES' at 12.8.70 M/S comes from the 1st half of verse 4 and the last half of verse 5 of the Hank Williams song 'MEN WITH BROKEN HEARTS' which Elvis may have heard on a Jim Reeves LP.
Clearly this show is just as 'rare' as the brilliant 14.8.70 M/S we all know about and shows that with 'many' performances of Elvis's songs to choose from Dennis Sanders wisely chose quite a lot from the 13.8.70 D/S. Although T.T.W.I.I. isn't as good a FILM as 'ON TOUR' from 1972 if one simply compiles songs together in the same way as the excellent LOST PERFORMANCES video release then the PERFORMANCES DO stand up to repetitive viewing as would of course the complete show format. Sure after T.T.W.I.I., Elvis certainly at times came across to audiences equally brilliant, but never quite as fresh, never so handsome a man that EVERY woman wanted to kiss and every man shake his hand.Elvis in 1970 was an altogether mind blowing phenomenom!How he moved on stage as well was charming - whether it be the physical workout of POLK SALAD ANNIE or SUSPICIOUS MINDS the dance steps / moves during SWEET CAROLINE or more recently WALK A MILE IN MY SHOES are just as charming to watch.As in most seasons Elvis's voice was hampered by the flu briefly at times but in 1970 Elvis recovered quickly and never missed a show 1970 was a special time musically and Elvis in front of the masses once again was using current material to be a part of an excellent start to the decade-musically and it's not surprising that so many songs of quality became hits in 1970 and that in 1995 SWEET CAROLINE and BRIDGE OVER TROUBLED WATER or YOU'VE LOST THAT LOVING FEELING are considered classic songs today having like Elvis in 1970 stood the test of time very well indeed.
Elvis had the 'BEST' musicians and orchestra that money could buy and that HE wanted in summer 1970 the line up just speaks for itself, no wonder that 1970 sounds so good! This is thanks to the following: Guitar-James Burton - Guitar-Charlie Hodge - Rhythm Guitar-John Wilkinson - Bass Guitar-Jerry Scheff - Piano-Glen D. Hardin (arranged MANY songs for Elvis this season) - Drums-Ronnie Tutt. Back up vocalists-The Sweet Inspirations-Myrna Smith, Sylvia Shamwell, Estelle Brown and Ann Williams. High voice singing Milli Kirkham(10-15.8.70M/S.) Kathy Westmoreland (16.8.70D/S-7.9.70 M/CL/S.) The Imperials: Armond Morales, Terry Blackwood, Jimmie Murrray, Rodger Wiles and Joe Moscheo. N.B Despite Rumours the Imperials are NOT the Sweet Inspirations husbands!. The International Orchestra, Musical Conductor Joe Guercio of the 32 piece Orchestra.
For Elvis's closing season days in September he was just as brilliant as in August including the one off performance of a couple of lines of SAN ANTONIO ROSE before 'I'VE LOST YOU' at the 1.9.70 M/S. then continuing on in great form joking around again with I WALK THE LINE after I GOT A WOMAN at the 5.9.70 M/S a Saturday night to remember!
The closing 7.9.70 M/S is again very worthwhile listening as although he seems to 'cut it short' compared to other season shows it's very interesting once again he intros himself as Johnny Cash features the now fully developed PSA/RELEASE ME/OK. I'M GOING/PSA medley and introduces many guests including his father(his Grandmother was introduced at the 21.8.70 M/S),along with Neil Diamond and HOLY,HOLY-1 line!.False starts to songs occur before Shirley Bassey and Pricilla kidding around about birth control!. At the start of the intros during the 7.9.70 M/S Elvis mentions a few 'jokes' about the Sweet Inspirations going on to say that Bob Dylan slept in it-then Elvis mumbled an improvised 4 lines of Bob Dylan's song 'BLOWING IN THE WIND' singing something sounding like: 'The answer is blowering......,their gonna make one out of him....their going out of him....,The answer..(Elvis then blows loudly into the microphone),then Elvis goes onto introduce the Sweet Inspirations properly.,later of course in 1973 Dylan made in his unique style his version of CAN'T HELP FALLING IN LOVE' released on an album - .Reportedly in the normally reliable book 'ALL SHOOK UP' there is a 3am 8.9.70 show to accommodate the overflow crowd. That night Elvis attended the opening of Nancy Sinatra's show at the international after his previous nights closing season party with her and Tom Jones as invited guests.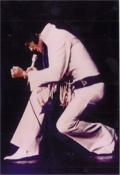 Wednesday 9th September was to see Elvis perform in the Veterans Memorial Coliseum in Phoenix at the 8.30 pm show. This seems a fairly similar show to Las Vegas including the impersonations and snippets of 'RELEASE ME' during POLK SALAD ANNIE. After I GOT A WOMAN Elvis jokes with a Glen Campbell imitation with 1 line of the song 'BY THE TIME I GET TO PHOENIX', however although Elvis would jokingly mimic Glen Campbell during this 1 liner and during POLK SALAD ANNIE so far I've NEVER HEARD Elvis playing the bagpipes during 'AMAZING GRACE!!!'This short tour was of only 8 shows in 6 cities all across the country with both Afternoon and Evening shows in Miami and Tampa, Florida on the Saturday and Sunday.Therefore the sound system and traveling around arrangements were all new again for this tour - also 'new' was of course the real 'LIVE' AUDIENCE excitement as ALL audiences were just wild about seeing Elvis in their home towns again. Songs performed on this tour with the exception of some interesting one liners was the same as Las Vegas only a couple of days ago!.Following on from T.T.W.I.I. filming in Las Vegas parts of the Phoenix show was filmed-although we haven't seen it yet! as it wasn't included in the finished film. ST LOUIS was the next nights show and this seems a much better show throughout compared to the Phoenix one.Elvis comes across very well with excellent versions of 'THAT'S ALLRIGHT','I'VE LOST YOU','IN THE GHETTO' and 'BRIDGE OVER TROUBLED WATER'.Also Elvis featured a BLUE SUEDE SHOES/WHOLE LOTTA SHAKIN GOIN ON/BLUE SUEDE SHOES medley.
Elvis was 'ON TOUR' again amongst the masses - he was amused to see so many fans around the hotel he stayed at., Typically Elvis was able to laugh at himself and said in Oklahoma in November 'People will come from Miles around just to see a freak!', then in Mobile in September Elvis had laughed his head off when he phoned around wanting to change hotels because of an air-conditioning breakdown - and they said that there were no rooms available because Elvis Presley was in town!.However their was a serious side- the BOMB threats holding up the show in Pheonix,plenty of Policemen needed in Detroit to 'control' the crowds, and that with the 'on-going' Patricia Parker Lawsuit Elvis dare not sign autographs for fear of being tricked into another lawsuit.In this tour the crowds excitement was matched by Elvis's abundant energy as he could go onto the next nights show here with complete enthusiasm - almost seeming to spurred on by those 'wildly' cheering audiences!.
On to big city of DETROIT for Elvis's Friday night show on 11th September which featured a strong and crowd pleasing version of 'YOU'VE LOST THAT LOVING FEELING' also just before Heartbreak Hotel 2 lines of Tom Jones 'hit' 'DETROIT CITY' are sung much to the delight of fans.On Saturday 12th the two shows at the Miami Beach Convention Center were at 3 and 9pm. Highlight of the matinee show was a very long version of 'POLK SALAD ANNIE' The evening show was also very good too containing many powerful performances and a convincing 'BRIDGE OVER TROUBLED WATER'-this show would no doubt make a great 'Bootleg' CD release as sound is good and it's a great show!..After AMEN Elvis does his Johnny Cash bit with 1 line of 'I WALK THE LINE' and the slightly unusual rock medley features 'DON'T BE CRUEL' as well as 1 line of 'ALL SHOOK UP' After The Wonder of You there is a mention of the title only of 'AVE MARIE' .A top show and well sung.It was onto Tampa next for 2 shows on Sunday 13th September of which the Evening show was the best as during his performance of 'IN THE GHETTO' Elvis got the lyrics mixed up singing 'Runny little boy with a Hungry Nose!' laughing through the song!.This performance just has to be heard-great.
The final tour show in Mobile was good also but the acoustics were not very good affecting the overall sound. However it's still a very interesting show,.again there is interesting 'variations' with the rock medley and even 1 line of 'FUNNY HOW TIME SLIPS AWAY' before 'LOVE ME TENDER' before the full songs performance later in the show As now usual on this tour their is the part performance of 'I WALK THE LINE' after AMEN and the PSA/RELEASE ME/OK I'M GOIN'/PSA medley. A portion of the recent Carpenters 'hit' 'CLOSE TO YOU' is sung in this show but its VERY BRIEF and extremely hard to verify-a FORT BAXTER type quality release would solve this problem!(a lot of mix up information has come from the NEWSPAPER REVIEW MENTIONING THIS!).After the show finished their was a great 'party' at the Admiral Simms Hotel where they are staying.
Track listing for the 14.9.70 Mobile,Alabama show:
THAT'S ALLRIGHT - I GOT A WOMAN/AMEN - 1 LINER- I WALK THE LINE - * - LOVE ME TENDER - I'VE LOST YOU - YOUV'E LOST THAT LOVING FEELING - POLK SALAD ANNIE - INTRODUCTIONS - J.B.GOODE - DIALOGUE-intro of Jane Morgan - THE WONDER OF YOU - INTHE GHETTO - #CLOSE TO YOU 1 LINER - HEARTBREAK HOTEL - MEDLEY- BLUE SUEDE SHOES/WHOLE LOTTA SHAKIN' GOIN ON/ALL SHOOK UP/ BLUE SUDE SHOES - DON'T BE CRUEL - HOUND DOG - BRIDGE OVER TROUBLED WATER - SUSPICIOUS MINDS - FUNNY HOW TIME SLIPS AWAY - CAN'T HELP FALLING IN LOVE....R/T 54 MINUTES.
* 'Well hello there' a brief 'off mike' one line of 'FUNNY HOW TIME SLIPS AWAY' performed before Elvis sings 'LOVE ME TENDER'. # This incredibly difficult to find one line of the Carpenters song 'CLOSE TO YOU' is performed after Elvis had announced the next song 'HEARTBREAK HOTEL' Elvis then goes on to say - - 'I was just a baby - they were trying to pin Diapers on me Hmm!', Next up Elvis sings what Graham Eveson listed in E.M#398 as 'More,More,More'-presumably some kind of exclamation after having the Diapers pinned on him!?, anyhow after this clowning around Elvis then says 'Give me a chord' and goes straight into singing - -'I long to be close', - which is all I've heard in this show from the line 'I LONG TO BE CLOSE TO YOU' from the recent Carpenters 'hit' record' CLOSE TO YOU'- and to make matters more complicated on top of this Elvis doesn't phrase these words as the Carpenters did,however FINALLY this does appear to be a part of this long sought after song! After this very brief one line Elvis continues saying - - 'I started young when we were starting', 'Well,Well, ,well,well,well,well' before he goes onto say he could do any of 400 songs and eventually sings 'HEARTBREAK HOTEL'. Interestingly a similar Dialogue occurred about Diapers during the Well,Well,Well's at the Rapid City 21.6.77 show which shows that very often over the years Elvis would say similar things at different shows!-although I must say I haven't heard that particular dialogue much at all!.Also in this MOST interesting show Elvis gets his lines mixed up amusingly again during 'IN THE GHETTO' and as Kathy Westmoreland was staying and travelling CLOSE TO ELVIS during this tour he gave a little personal aside after introducing her in the show saying 'Her Daddy was a General'.
Recommended and a real compliment here is the Excellent Mr. Joe Tunzi book 'BRINGING HIM BACK' which with pictures from DETROIT gracing the cover and inside CERTAINLY DOES bring Elvis back-the Detroit shots are Excellent! Also in the book are quite a few Houston Astrodome shots,really outstanding Los Angeles shots from November 1970 and a few Oklahoma 16.11.70 shots. "STANDING ROOM ONLY" is another Tunzi triumph for 1970 shots as well! As the shots show in Detroit Elvis seems in 100% TOTAL CONTROL and in DEVASTATING good form and health!- such as the brilliant cover photograph on page 40 of 'ELVIS '70, BRINGING HIM BACK verifies-this obviously determined Elvis is on top of the world!. Soon again in September in high spirits Elvis returned after his successful tour to graceland to rest before a brief recording session in RCA studios in Nashville. This session was to complete the material Elvis wanted in his album Elvis - COUNTRY to be released in January 1971.4 songs were recorded 'SNOWBIRD','WHERE DID THEY GO LORD','WHOLE LOT-TA SHAKIN' GOIN' ON','and 'RAGS TO RICHES'. Snowbird was recorded by Anne Murrey amongst many others and Elvis records a good version even if a bit too smooth.'WHERE DID THEY GO LORD' is a powerful ballad of lost love and NOT a religious song given a good performance by Elvis. A ' Whole Lotta Shakin' Goin On' and 'Rags to Riches' are Excellent yet- the unreleased extended version of 'Whole Lottta Shakin' Goin On' is much better as is alternates of 'RAGS to Riches' you may have heard again on the excellent 'Bootleg''Rough cut Diamonds' indeed to released version of 'RAGS TO RICHES' was spliced with the word KISS of the unreleased versions Elvis had sung Cuss! Interestingly the original single release of this was in mono and then not gaining album space became one of the very good 'lost singles'
After this brief, but worthwhile recording session Elvis and Pricilla seemingly unable to stay away from Las Vegas were ringside at one of Connie Stevens midnight shows at the Sands Hotel. After the Astrodome Badge experience Elvis's Badge collection increased with Elvis being named Special Deputy Sheriff of Bel Air,California. Back in Memphis Elvis's Gospel music interest was supplemented by his attendance at the Gospel Quartet Convention on October 15th 1970- the Imperials, performing there introduced Elvis from the stage. Thus after this as Elvis flew back to Los Angeles on the west coast to prepare for his short second November 1970 tour he decided to change his repertoire to include 'HOW GREAT THOU ART' Kathy Westmoreland may have also in fluenced Elvis here as they shared the same religious interests. Kathy Westmoreland was in Elvis's life from 16.8.70-16.8.77 - as she joined Elvis 'on stage' after THAT'S THE WAY IT IS had been filmed and was preparing to join Elvis's tour #30 on 16.8.77, they had an affair which started in Las Vegas in August 1970 and continued!. So at this time Kathy was with Elvis again on this first tour of 1970 and again at Elvis's home in Palm springs shortly After the tour was over, the affair continued again until San Francisco when Elvis called an abrupt halt to the ongoing affair as 'minnie mouse' was assigned back to her own room again as Elvis had 'other' womanizing to do! - such seems his 'nature'.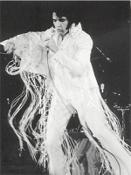 For the September tour Elvis had favored the WHITE jumpsuits with FRINGES or CHAINS but preceding the November tour Elvis already had a 'new' look with a Black Cape with a cane having a lions head as it's handle made of Gold covered in precious stones. Then on stage during the November tour Elvis wore the usual WHITE JUMPSUITS but also ones with the 'ladder' RED COLLAR ,short fringes in Seattle,but LONG FRINGES in Los Angeles at the Saturday night 14.11.70 E/S.In 'BRINGING HIM BACK' Excellent pictures of Elvis at the Los Angeles 14.11.70 A/S appear with Elvis looking great in his white jumpsuit with sash belt with tassles.of which on pages 73 & 75 great 'action' shots show Elvis the MASTER at work in 'SUSPICIOUS MINDS' .if you like seeing Elvis LYING ON THE STAGE then look at page 95! The short November West Coast Tour featured 9 shows over 8 days and played to generally BIGGER audiences than the previous tour such as nearly 19,000 fans for each show performed on 14.11.70 in Los Angeles. whereas Miami only fitted in 12,000 a time at the Convention Center on 12.9.70 First show on this tour showed how the songs had been changed to include 'PROUD MARY' - 'HOW GREAT THOU ART' - 'YOU DON'T HAVE TO SAY YOU LOVE ME'-which usually preceded 'YOUV'E LOST THAT LOVING FEELING' - 'SWEET CAROLINE' - 'ONE NIGHT''LOVE ME' and in the 14.11.70 A/S 'TRYING TO GET TO YOU' and 'BLUE CHRISTMAS' in Oklahoma City. Highly noticeable for this tour was that much of the asides during songs with the Glen Campbell,Tom Jones and ENGELBERT HUMPERDINCK impressions was gone, Johnny Cash fades out too after the brief 'I WALK THE LINE' in the Oklahoma show. A very strange 1 liner occurs in the 14.11.70 A/S just before 'TRYING TO GET TO YOU' where Elvis sings 'I WILL TRICK YOU'- which he does! During the 14.11.70 E/S during POLK SALAD ANNIE Elvis does sing 'OK' but their are hardly any one liners during PSA on this tour.
Fans who have been led to believe that Elvis only "spoke out" in concert in August 1974,or a few 1977 shows are mistaken as VERY EARLY ON in his "live" touring comeback Elvis was "fired up" as a direct result of the type of pressures that surround show buisness.Between shows on the 14.11.70 at the Los Angeles Forum Elvis was served with the first papers pertaining to the "Patricia Parker case" and then proceeded to give long monologues during the 14.11.70 E/S and (very unusually) immodestly pointed out to the audience not once but several times that he had "outsold the Beatles,Tom Jones,allof them". This undermined the performance defusing the usual explosive excitement present during his shows in 1970. Variety slammed him for this behavior on Wednesday 25th November saying Elvis should concentrate on 'where it's at' and not where he's been- this clearly shows just how vulnerable Elvis was immediately before shows to "problems" and that clearly his 14.11.70 E/S would have been much better if he'd been served with papers after the tour had ended,however that's life!
One of the most interesting shows after the first OAKLAND 10.11.70 show(a bit so-so) is the widely 'Bootlegged' Portland 11.11.70 show which as well as being a great show ,shows Elvis's great humor as before 'BRIDGE OVER TROUBLED WATER' Elvis has an hilarious 4 false starts Elvis also includes at this show a part performance of 'BLUEBERRY HILL'. After the PORTLAND,Oregan show-"THE THRILL CONTINUES" as it was onto Seattle on 12.11.70 where as with most shows on this tour Elvis performs 'YOUV'E LOST THAT LOVING FEELING' and 'HOW GREAT THOU ART' very movingly Quite possibly Elvis seems at his best for his large audiences at the Los Angeles Forum of Inglewood after listening to Elvis's consecutive performances of 'YOU DON'T HAVE TO SAY YOU LOVE ME' and 'YOUV'E LOST THAT LOVING FEELING' I'm knocked off center going into the powerful POLK SALAD ANNIE.
Fortunately on the BVC there is available a reasonable complete footage of this L.A 14.11.70 A/S and very good it is too! this must count as one of the first nearly complete 1970 concerts available here for fans to see. After A/S and E/S's in L.A. it was of to San Diego for a show on 15th November, later on even if it was just past midnight as happened during the Hampton Roads 31.7.76 concert (but not always) Elvis would feature singing 'HOW GREAT THOU ART' on Sundays, therefore it's appropriate that Elvis sang this in San Diego on a Sunday-as an acknowledgement of this religious day of the week.
Oklahoma city was the next stop where Elvis performed before 11,000 fans at the Fair Grounds Arena on 16.11.70. This was boot released as 'Go Cat, Go' - unfortunately these 2 'boots' from 12th and 16th November DON'T have very good sound at all. Elvis performed a good show in rich voice but at 44 minutes it seems rather short, this time after a false start he decided to perform BLUE CHRISTMAS before a complete version of BRIDGE OVER TROUBLED WATER .The final show of the tour was next on 17th November in Denver,then afterwoods was an EXTREMELY 'WILD' party - after the show at the Playboy Hotel where they were all staying.
Track listing for Elvis's closing tour show - Denver 17.11.70 That's All Right - I Got A Woman/Amen - Love Me Tender - You Don't Have To Say You Love Me - You've Lost That Lovin' Feelin' - Polk Salad Annie - Introductions/J.B. Goode/Joe Flores Orchestra/Col Parker/V.Presley - How Great Thou Art - The Wonder Of You - Heartbreak Hotel - Blue Suede Shoes - Hound Dog - Bridge Over Troubled Water - Suspicious Minds - Funny How Time Slips Away - Can't Help Falling In Love - Closing Vamp/Announcement.
For these early tours again in 1970 Elvis didn't move onto the next city until the next day staying overnight after the show there with his band and entourage (of 30) travelling on 5 chartered planes and sleeping until midday. before the next move to the next city- which usually (except when there was an afternoon show) gave him several hours to rest before his evening show.
Elvis looked great on both tours in late 1970Sbut the most amazing thing was the concert reviews and PRESS reaction! In the Denver Post Glenn Giffin thought that the 'basic Presley formula was evident at the Coliseum'Smeaning that Elvis sang mostly songs that were 'cover' versions of other stars 'big' hits such as Righteous Brothers 'you've lost that loving feeling' or Tony-Joe White's 'POLK SALAD ANNIE' or Simon & Garfunkels 'Bridge over Troubled Water'..Now Elvis performed them very well but the Press here DID have a pointSHEARTBREAK HOTEL,BLUE SUEDE SHOES and HOUND DOG were given a more fast run-through treatement.However the addition of Presley's Gospel 1966 'hit' 'HOW GREAT THOU ART' raised the level of his November performances alone!Never the less for every PRAISING review like The Mobile Registers "ELVIS gives great show for sell-out audience" there would be another show such as his Seattle 12.11.70 show that reviewer Janine Gressel would state "Presley's show NO Blockbuster" or from Phoenix 9.9.70 show where the reviewer thought 'PRESLEY FANS WERE UNLUCKY' So even with Presley being SO GREAT,SO GOOD the real critical eye could easily score VALID POINTS about his show repertoire-which particularly in the September tour had in POLK SALAD ANNIE poked 'fun' at artists such as Tom Jones, ENGELBERT HUMPERDINCK and Glen Campbell.Elvis looked 'fantastic' on his 1970 tours but I feel that Elvis gave fans a much better/longer show in November 1971 tour!?. Well Charlie Pride has leased and owned his own planes-including his own Corvair 580,but only Elvis persisted with the expense of his own customized Corsair! which unlike 1970 Elvis used the nighttime to fly onto the next city's destination after a show,thus giving him more rest before leaving to do the next show.However Elvis had plenty of 'nervous' energy in 1970 so rest time wasn't a problem
After all the excitement of these 2 brilliant tours(during which any sound problems were forgotten with his PRESENCE!) Elvis returned to Memphis for a quiet time before the unforgettable 'EVENT' of 1970 started happening on Saturday 19th December 1970.
Elvis was getting into collecting police badges that Jerry Schilling and Dick Grob had gotten Elvis interested in and the most elusive and prestigious one to get hold of was a federal Narcotics Badge.Therefore the story starts of 'THE KING MEETS THE PRESIDENT' which if you have happened to see this very good 30 minute documentary shown in late 94 in the U.K. is one of the 'without walls ' specials which tells the story of how on Monday 21st December Elvis not only met the president of the United States in the Oval office but Richard Nixon personally gave Elvis his 'own' Narcotics Bureau Badge.Interestingly during their conversation Elvis vowed to communicate with 'hippies' to fight the growing drug manace and also warned of the anti-American threat he believed was posed by the Beatles! Of course now is all well documented history that we have all heard about many,many times before,however it's interesting to hear revealed that typical of 'Politics' the Presidents key staff at hearing that Elvis wanted to meet the President,were thinking as to how they could turn this proposed meeting to their ulterior Political motives and a boost to the publics opinion of the President!. Politics aside however its good that such a meeting took place and Richard Nixon said much later that he found Elvis Presley a very sincere young man who thought he could best influence people through his music.This is undoubtedly true- as during 'live' concerts Elvis gave during his lifetime and nowadays you'll find the vast majority of Elvis Presley fans are a sober and good natured bunch compared to many other popular music fans. Although Elvis had left Graceland after a financial row with his father and 'unannounced' decided to 'STEAL AWAY' to Washington when he returned 'mission accomplished' to Gracelend on 22nd December 1970 he enjoyed christmas before acting as best man on 28th December at the wedding of his bodyguard Sonny West to Judy Morgan,then he returned to Washington on 30th and 31st December for a tour of the F.B.I. Facilities at their headquarters in the capital. Interestingly as well as stating that Elvis 'did give the impression of being a sincere young man who is conscious of the many problems facing the country' the FBI's memorandum also stated that Elvis 'is certainly not the type of individual whom J.Edgar Hoover would wish to meet'!.
Returning to Memphis on New Years eve the year had turned full circle ending up where it had begun- back in T.J's Club where Ronnie Milsap was entertaining for the evening , for Elvis & Pricilla I'm sure if Elvis was reflecting on the year past of 1970 he would remember 1970 as 'A VERY GOOD YEAR' as indeed 'I REALLY DON'T WANT TO KNOW/THERE GOES MY EVERYTHING would eventually climb up the Billboard 'Hot 11' chart from it's December release to #21 staying for 9 weeks,of course Elvis didn't really want to know about the Blood tests he was asked to give in relation to the PATRICIA PARKER case on 31.12.70,but apart from this unfortunate problem(that would later be over as Elvis was Absolved of ALL guilt on 26.1.72 and of fathering her child) there seems to be no mistakes worth memory in 1970 as Elvis and the Colonel in 1970 were JUST BRILLIANT and with that kind of a start to Elvis's 'live' performances again the world was their Oyster and ANYTHING was possible heading into 1971,as with Elvis in 1970- I just Can't Help Believing That's The Way It Is!.
I would like to Extend my sincere thanks to the following for their outstanding 'Monthly' and 'Extra' articles that have helped with this article: D. G. Hall, Andrew Wood, Phillip Bland, Anne Nixon, Otto Meszaros and Rick Rennie, oh! and criticism from E. Mueller.