Menu
Concerts
Reviews
Multimedia
Legal Information
Home > Special Themes > Red West Targets Glen For $20 Demo Sessions
Special Themes
Red West Targets Glen For $20 Demo Sessions by Mike Morgan
I'd come across an interesting topic, which still has a couple questions needing an answer. We know Glen worked as a background musician with many artists as he was starting his career. I discussed with both EP Enterprises and Richard Davis (one of Elvis' original "Memphis Mafia") and there's been a confirmation yet conflict on two particular items.
We know Glen had a recording session with Elvis and is listed as a participant on the Viva Las Vegas soundtrack and also on the "B" side of the 45 containing What'd I Say, back in '63. One thing I did confirm is that Glen also played and sang demos for Elvis of the following three songs: "Slowly But Surely", "Stay Away Joe" and "All I Need Is the Rain". On the final cuts it was Elvis & his music, nothing to do with Glen. I wonder what became of those demos and how Glen was paid. Richard Davis thinks the acetates are probably with Graceland. EP Enterprises states having no recollection as to the whereabouts only stating that they do "diminish and wear out in time" or that Glen himself has these.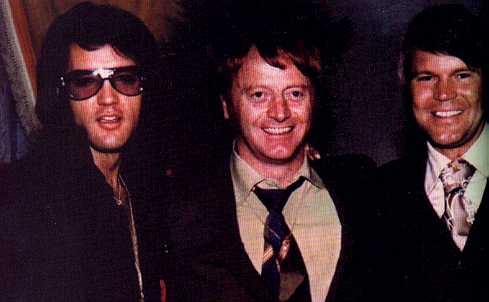 EP Enterprises also stands to the story that Red West targeted Glen for $20 per demo session in hopes of picking up and actually changing the music pace of Elvis' career. They base it upon an extensive book by Ernst Jorgensen called Elvis Presley-A Life in Music. (The book also lists Glen playing on many other demos with Charlie Hodge and Red West - but nothing available as a purchase.)
Richard mentioned that while he was working for EP, Glen never worked on any of Elvis' recording sessions as a background musician. As for the demo recordings, he mentioned Glen did a lot of demos for Elvis and that Elvis would listen to them in consideration of recording them. To his knowledge, Glen was never hired by Red West but that Glen apparently went into the recording studio on his own and recorded the demos which were sent to RCA and then to Elvis' publishing company for consideration to be released as singles or soundtracks for movies.
Richard did provide one other piece of information that I'd like to leave you with. He mentions Elvis and Glen did become friends later on in life and one night Glen and Tom Jones came to Elvis' suite at the International Hotel while Elvis was performing. Glen, Tom Jones and Elvis did jam that night for a couple of hours, but no recordings were made to his knowledge. He also stated that "Glen is indeed a great artist and that Elvis is one of the greatest that have ever lived".
Interesting to find out whereabouts of the three demo recordings or clarification if Red West actually did target Glen for $20 per session demos, in hopes of wanting to change the pace of Elvis' own early career music path.
Mike Morgan