Menu
Concerts
Reviews
Multimedia
Legal Information
Opening Night 1975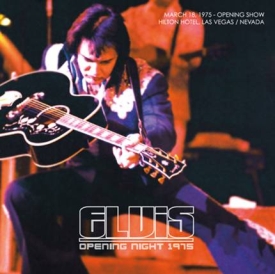 Recorded live at The Hilton.
March 18, 1975 Opening Show. Las Vegas, NV.

Tracklisting

Also Sprach Zarathustra / See See Rider / I Got A Woman-Amen / And I Love You So / Let Me Be There (With Reprise) / It's Midnight / Big Boss Man / Green Green Grass Of Home / Burning Love / Love Me / Fairytale / Band Introductions / Lead Guitar Solo (James Burton) / Drum Solo (Ronnie Tutt) / Bass Solo (Duke Bardwell) / Piano Solo (Glen D. Hardin) / Electric Piano Solo (David Briggs) / Orchestra Solo (Joe Guercio Orchestra / My Boy / I'll Remember You / Promised Land / Your Loves Been A Long Time Coming (Excerpt) / Until It's Time For You To Go / Introduction Of Glen Campbell / When It's My Time (By Bill Baize) / If You Love Me Let Me Know / Can't Help Falling In Love / Closing Vamp.
Recording:
Audience
Label:
AudiRec AR 19750318-2 (Released 2015)
Short Sound samples: [Green Green Grass of Home] [Promised Land]