Menu
Concerts
Reviews
Multimedia
Legal Information
A Triple Threat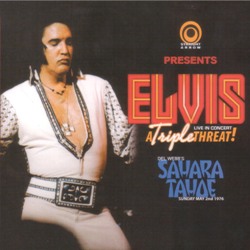 Recorded live at The Sahara Hotel.
May 2, 1976. Dinner Show (10:00 pm) Lake Tahoe, NV.
Tracklisting
CD1:
Introduction: Also Sprach Zarathustra / C. C. Rider / I Got A Woman (with break) - Amen / Love Me / If You Love Me (Let Me Know) / You Gave Me A Mountain / Elvis talks / All Shook Up / Teddy Bear - Elvis Dialogue - Don't Be Cruel / Tryin' To Get To You / My Way / Burning Love
CD2:
Band Introductions / Early Morning Rain (by John Wilkinson, instrumental) / What'd I Say (by James Burton) / Johnny B. Goode (by James Burton) / Drum Solo (by Ronnie Tutt) / Bass Solo (by Jerry Scheff) / Piano Solo (by Tony Brown) / Electric Piano Solo (by David Briggs) / Love Letters (+ false start) / School Day (by Joe Guercio Orchestra) / Hurt / Hurt (second rendition) / Hurt (reprise of last verse and ending) / Hound Dog / An American Trilogy / Softly As I Leave You / Can't Help Falling In Love / Closing Vamp.
Recording:
Audience
Label:
SA/SP 2011-03-02 (Released 2011)
Covers: [front] [back] [disc 1] [disc 2]