Menu
Concerts
Reviews
Multimedia
Legal Information
Elvis Rocks Rapid City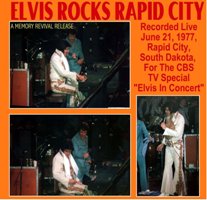 Recorded live at the Mount Rushmore
June 21, 1977 Evening Show. Rapid City, SD.
Tracklisting
Recording:
Audience
Highlights:
That's all Right, Are You Lonesome Tonight?, If You Love Me, You Gave Me a Mountain, Its Now Or Never, Tryin' To Get To You, Hawaiian Wedding Song, My Way, Early Morning Rain, I Really Don't Want To Know, Hurt & Unchained Melody. Good show!!
Sound:
Good
Covers:
[front]
[back]