Menu
Concerts
Reviews
Multimedia
Legal Information
If You Think I'm Nervous Vol.1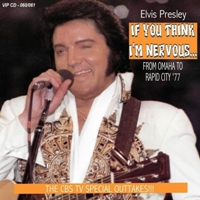 Recorded live at the Omaha Civic Center
June 19, 1977 Evening Show. Omaha, NE.
Tracklisting
Recording:
Audience
Highlights:
That's all Right, Are You Lonesome Tonight?, Fairytale, And I Love You So, How Great Thou Art, I Really Don't Want To Know, Hurt & Its Now Or Never. Not a good show.
Notes:
See "
As I Leave You
" and "
Candid Elvis On Camera
" in our CD section.
Sound:

Contents:

Covers:
[front]
[back]