Menu
Concerts
Reviews
Multimedia
Legal Information
Never Been To Maine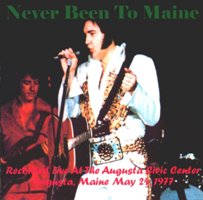 Recorded live at the Civic Center
May 24, 1977 Evening Show. Augusta, ME.
Tracklisting
Recording:
Audience
Highlights:
Never Been To Spain (excerpt), If You Love Me (with Felton Jarvis on stage), Its Now or Never, My Way, Heartbreak Hotel & Hurt
Notes:
See
"Once And For All"
in our CD section.
Sound:
Good
Covers:
[front]
[back]