Menu
Concerts
Reviews
Multimedia
Legal Information
Saginaw Heat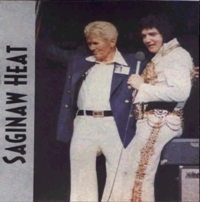 Recorded live at the Saginaw Center
May 3, 1977 Evening Show. Saginaw, MI.
Tracklisting
Recording:
Audience
Highlights:
That's All Right (Opener), trouble (one verse), Happy Birthday To Shiela, Big Boss Man (excerpt), Tryin' To Get To You, My Way, Help Me, Why Me Lord, Polk Salad Annie & Mystery Train-Tiger Man. Whole show!!
Notes:
See "
Springtime In Saginaw
" in our CD section.
Sound:

Contents:

Covers:
[front]
[back]
Other Releases