Menu
Concerts
Reviews
Multimedia
Legal Information
Rippin It Up In St.Paul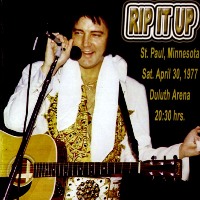 Recorded live at the Civic Center
April 30, 1977 Evening Show. St. Paul, MN.
Tracklisting
Recording:
Audience
Highlights:
Rip it Up (excerpt), If You Love Me, You Gave Me A Mountain, Little Sister, My Way, The Wonder Of You, Blue Suede Shoes & Hawaiian Wedding Song. Good show!!
Notes:
See "
Rip It Up
" in our CD section.
Sound:
Good
Covers:
[front]
[back]
Other Releases