Menu
Concerts
Reviews
Multimedia
Legal Information
The Complete Kalamazoo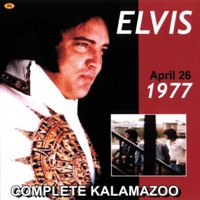 Recorded live at the Wings Stadium
April 26, 1977 Evening Show. Kalamazoo, MI.
Tracklisting
Recording:
Audience
Highlights:
Fairytale (excerpt), If You Love Me, Big Boss Man, Heartbreak Hotel, And I Love You So & My Way. Good show!!
Notes:
See "
Memories From Kalamazoo
" and "
Shaking Up The Great Lakes
" in our CD section. This show is complete contrary to the import release.
Sound:

Contents:

Covers:
[front]
[back]