Menu
Concerts
Reviews
Multimedia
Legal Information
When The Crowds Going High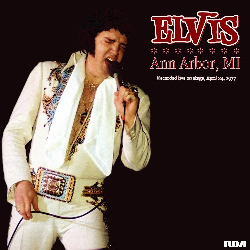 Recorded live at the Crisler Arena
April 24, 1977 Evening Show. Ann Arbor, MI.
Tracklisting
Recording:
Audience
Highlights:
If You Love Me, Tryin' To Get To You, Its Now Or Never, Blue Hawaii (excerpt), Little Sister, Help Me, My Way, Polk Salad Annie, Hurt (reprise), Unchained Melody & Little Darlin'. Good show!!
Notes:
See "
From Fans To Fans
" , "
A Profile Vol.1
" and "
Shaking Up The Great Lakes
" in our CD section. This show is complete contrary to the import release.
Sound:

Contents:

Covers:
[front]
[back]