Menu
Concerts
Reviews
Multimedia
Legal Information
Rockin' Pine Bluff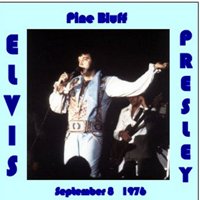 Recorded live at the Convention Center
September 8, 1976 Evening Show. Pine Bluff, AR.
Tracklisting
Recording:
Audience
Highlights:
Fairytale, All Shook Up, And I Love You So, One Night, America the Beautiful (reprise), Polk Salad Annie, Battle Of New Orleans (Jerry Scheff), Hurt (reprise), Funny How Time Slips away, Why Me Lord, That's All Right, Mystery Train-Tiger Man, Blue Suede Shoes & How Great Thou Art. Great show!!
Sound:

Contents:

Covers:
[front]
[back]