Menu
Concerts
Reviews
Multimedia
Legal Information
When It's My Time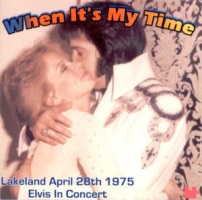 Recorded live at The Lakeland Civic Center
April 28, 1975 Evening Show. Lakeland, FL.
Tracklisting
Recording:
Audience
Highlights:
You Don't Have To Say You Love Me, Big Boss Man, Its Midnight, Fairytale, When It's My Time (The Stamps), Burning Love, My Boy, Help Me Make It Through The Night, Let Me Be There (reprise) & Hawaiian Wedding Song
Notes:
See "
We'll Make You Happy
" in our CD section.
Sound:

Contents:

Covers:
[front]
[back]