Menu
Concerts
Reviews
Multimedia
Legal Information
Elvis Rocks The Sunshine St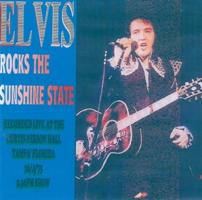 Recorded live at The Curtis Hixson Hall
April 26, 1975 Afternoon Show. Tampa, FL.
Tracklisting
Recording:
Audience
Highlights:
If You Love Me, Its Midnight, Burning Love, My Boy, T-R-O-U-B-L-E, I'll Remember You, Let Me Be There (reprise), That's All Right & Heartbreak Hotel
Notes:
See "
The King Rocks Tampa
" in our CD section.
Sound:

Contents:

Covers:
[front]
[back]