Menu
Concerts
Reviews
Multimedia
Legal Information
Rip It Up In Vegas (CD 1)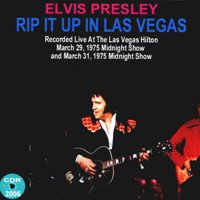 Recorded live at The Hilton
March 29, 1975 Midnight Show.
Tracklisting
Recording:
Audience
Highlights:
Rip It Up (excerpt), Promised Land (excerpt), And I Love You So, Big Boss Man, Its Midnight, Burning Love, Good Rocking Tonight (excerpt), I Can Help (excerpt), My Boy, I'll Remember You, Let Me Be There (reprise), The First Time Ever I Saw Your Face & Tiger Man (on its own). Fantastic show!!!
Sound:

Contents:

Covers:
[front]
[back]
Other Releases