Menu
Concerts
Reviews
Multimedia
Legal Information
Las Vegas - The Promised Land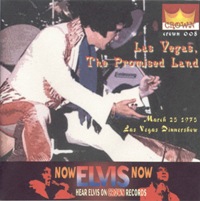 Recorded live at The Hilton
March 25, 1975 Dinner Show.
Tracklisting
Recording:
Audience
Highlights:
I Can Help (excerpt), If You Love Me, And I Love You So, Big Boss Man, Its Midnight, Promised Land, Fairytale, Hail! Hail! Rock N Roll, My Boy, I'll Remember You, Let Me Be There & Heartbreak Hotel. Whole Show!!
Notes:
See "
Springtime in Nevada
" in our CD section.
Sound:

Contents:

Covers:
[front]
[back]
Other Releases