Menu
Concerts
Reviews
Multimedia
Legal Information
A Saturday Night In Vegas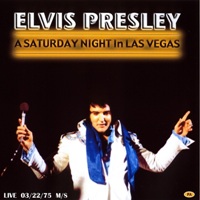 Recorded live at The Hilton
March 22, 1975 Midnight Show.
Tracklisting
Recording:
Audience
Highlights:
Roses Are Red (excerpt), And I Love You So, Big Boss Man, Its Midnight, Promised Land, The Green Green Grass Of Home, Fairytale, My Boy, I'll Remember You, Let Me Be There (reprise), Hound Dog (reprise), I'll Be There (excerpt) & You're The Reason I'm Living. Whole show!!
Notes:
See "
A Profile Vol.2
" and "
Elvis Back With A Bang
" in our CD section. More complete than import release !
Sound:

Contents:

Covers:
[front]
[back]