Menu
Concerts
Reviews
Multimedia
Legal Information
The Eagle Has Landed In Omaha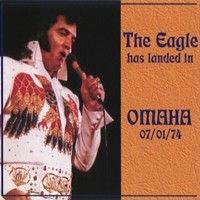 Recorded live at the Omaha Civic Auditorium
July 1, 1974 Evening Show. Omaha, NE.
Tracklisting
Recording:
Audience
Highlights:
Amen (one verse on its own), Tryin' To Get To You, Fever, Polk Salad Annie, Why Me Lord (reprise), You Don't Have To Say You Love Me, Help Me, An American Trilogy (excerpt), Bridge Over Troubled Water & Big Boss Man. Great show!!
Sound:

Contents:

Covers:
[front]
[back]
Other Releases