Menu
Concerts
Reviews
Multimedia
Legal Information
Curtains Closed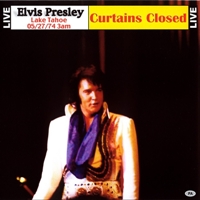 Recorded live at The Sahara Hotel
May 27, 1974 Closing Show. Lake Tahoe, CA
Tracklisting
Recording:
Audience
Highlights:
Tryin' To Get To You, You Don't Have To Say You Love Me, Hound Dog (2 reprises), Polk Salad Annie, Why Me Lord (reprise), I apologize (excerpt), Help Me, Bridge Over Troubled Water (reprise), Let Me Be there, The Wonder Of You, Big Boss Man & The First Time Ever I Saw Your Face. Whole show!!
Notes:
See "
A Profile Vol.2
", "
Last Tango In Tahoe"
and "
Sahara Tahoe Hotel"
in our CD section.More complete than import release !
Also released as "Trying To Get To You" and "Lake Tahoe May 27, 1974".
Sound:

Contents:

Covers:
[front]
[back]