Menu
Concerts
Reviews
Multimedia
Legal Information
The Tahoe Years Vol. 4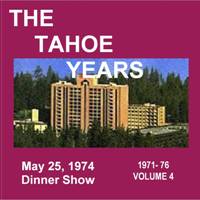 Recorded live at The Sahara Hotel
May 23, 1974 Dinner Show. Lake Tahoe, CA
Tracklisting
Recording:
Audience
Highlights:
Tryin' To Get To You, You Don't Have To Say You Love Me, Johnny B Goode, Polk Salad Annie, Why Me Lord, Help Me, An American Trilogy, Big Boss Man & Its Now Or Never. Good show!!
Notes:
See "
.And the King For Desert
" in our CD section. CDR wrongly dated "May 25. 1974, DS".
Sound:

Contents:

Covers:
[front]
[back]