Menu
Concerts
Reviews
Multimedia
Legal Information
Crying Time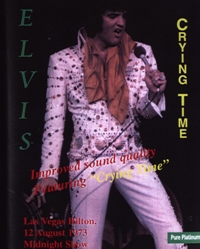 Recorded live at the Hilton Hotel
August 12, 1973 Midnight Show.
Tracklisting
Recording:
Audience
Highlights:
Steamroller Blues, Bridge Over Troubled Water, Cryin' Time, My Boy, Mystery Train-Tiger Man, Help Me Make It Through The Night, Heartbreak Hotel, I Just Cant Help Believin' (excerpt) & What Now My Love. Whole Show!!
Notes:
See "
Crying Time In Vegas
" in our CD section.
Sound:

Contents:

Covers:
[front]
No back cover, DVD Style cover.