Menu
Concerts
Reviews
Multimedia
Legal Information
Caught In A Trap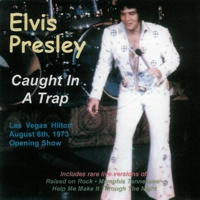 Recorded live at the Hilton Hotel
August 6, 1973 Opening Show.
Tracklisting
Recording:
Audience
Highlights:
Trouble-Raised On Rock, What Now My Love, Memphis Tennessee, My Boy, An American Trilogy, Bridge Over Troubled Water, How Great Thou Art & Help Me Make It Through The Night.
Notes:
See "
Fire In Vegas
" and "
Raised On Vegas
" in our CD section.
Sound:

Contents:

Covers:
[front]
[back]
Other Releases