Menu
Concerts
Reviews
Multimedia
Legal Information
The Concert Years Vol. 104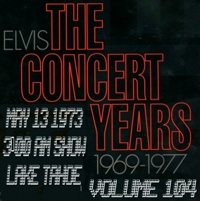 Recorded live at the Sahara Hotel
May 13, 1973 3 AM Show. Lake Tahoe, NV.
Tracklisting
Recording:
Audience
Highlights:
Help Me Make It Through The Night, My Way, Bridge Over Troubled Water (reprise), Funny How Time Slips Away, Its Over, Release Me (part), Faded Love & 2001 Theme at end of show. Whole Show!!
Notes:
See "
Elvis Live In Lake Tahoe
", "
The Perfect Gift
", "
The Man In White Vol.4
" and "
Takin'Tahoe Tonight
" (FTD) in our CD section.
Sound:

Contents:

Covers:
[front]
[back]
Other Releases