Menu
Concerts
Reviews
Multimedia
Legal Information
Getting Lei'd In Hawaii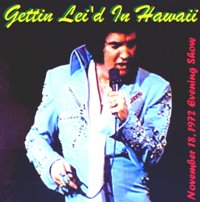 Recorded live at The Honolulu International Convention Center Arena
November 18, 1972 Evening Show. Honolulu, HI.
Tracklisting
Recording:
Audience
Highlights:
Blue Christmas (excerpt), Heartbreak Hotel, Just Pretend, Little Sister-Get Back, How Great Thou Art & Fever. Whole show!
Notes:
See "
Live At The H.I.C.
" in our CD section.
Sound:

Contents:

Covers:
[front]
[back]