Menu
Concerts
Reviews
Multimedia
Legal Information
Noisy In Nevada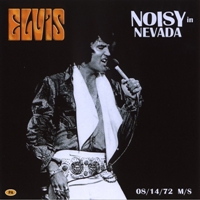 Recorded live at The Hilton Hotel
August 16, 1972 Dinner Show.
Tracklisting
Recording:
Audience
Highlights:
Johnny B Goode, Little Sister-Get Back, I'll Remember You, Suspicious Minds & My Way
Notes:
See "
Top Acts In Vegas Vol.3
" and "
Stasera Resta Con Me
" in our CD section. More complete than import releases, wrongly dated August 14, 1972 MS.
Sound:

Contents:

Covers:
[front]
[back]