Menu
Concerts
Reviews
Multimedia
Legal Information
Concerts Reviewed - 1976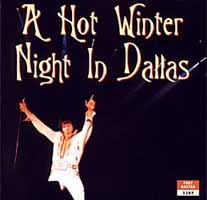 A Hot Winter Night In Dallas, 28 December 1976, Dallas, TX.
by Stefan Kock
It's 2 days after Christmas 1976. It would be the last Christmas he ever held and it turned out to be a sober one. In the 60's and early 70's he would give big Christmas parties, but not anymore in 1976. Only his family and a few of his best friends were there.
Almost 10.000 (9.800 to be exact) are waiting at the Memorial Auditorium in December on the 28th December 1976 in Dallas. They are all there just because of one men: Elvis Presley. Many of them have followed the newspaper-reports about his summer and fall tours. Between June and September Elvis had given many mediocre performances. He was way too overweight, his voice was often slurring and the level of energy was very low. During the October and November tours that had changed. He had lost some weight, performed a tighter show with a good set-list and was putting more energy into the shows. Also his mood was a lot better during the fall. It seemed like he was enjoying himself again. But how was it going to be tonight..............
When the speaker announces that it's time for the concert, people almost imidiatly begin to whisper to each other. Everybody gets seated the right way and many people are getting their binocculairs. All the eyes are focussed at the big stage. all kind of questions are going trough the audience: how is he going to look, how's the voice, what jumpsuit is he wearing?
Slowly the lights are going out and within seconds the band and orchestra begin playing a shivering 2001 Theme. Steady it builds up to the finale.....Then Ronnie opens a really rocking Opening Vamp. The band is playing like it's going to be their last performance. At the beginning there is silence, but when de audience sees the first glimpse of Elvis they burst out in a standing ovation. Elvis comes on stage with a bright smile on his face, looking around the auditorium. He looks healthy, has lost some more weight and seems to be in an extremely good mood. He walks to the middle of the stage, bows, and shakes some hands. Then he does the same at both ends of the stage. When he finally has got his guitar from Charlie, he walks towards the microphone and while grabbing it sings the first sentence of tonight's concert: "YEAH SEE, See See Rider"....The audience is amazed. he sounds better than the last year and a half and his voice is very, very powerful and full of energy. He really came to sing tonight! He emphasizes some words, stretching them out. He delivers a great version of this rock song. After he has finished See See Rider he continues the show with the Well Well intro of I Got A Woman while he jokes a bit with the audience: "If I died tonight, it would take a year to take the smile of my face".....
A strong, rocking I Got A Woman is next. After Amen he, again, jokes with the audience: "You're a fantastic audience.....hey folks, this is an concert, not an orgy, please!!".....James cues Elvis to begin Love Me. Tonight he delivers a good, relaxed and focussed version. His voice is very warm. A treat to hear this song sung this way. Great! Again he looks into the audience, giving them an opportunity to take photo's. Fairytale is next on the list and this rendition of "the story of his live" is good as always with great guitar work from James Burton. It's always a pleasure to listen to this song. It's the first highlight of the evening. You Gave Me A Mountain has a feedback at the beginning of the song, so Elvis stops it in order to restart the song. Everything must be perfect. A powerful version follows. Sweat drops from his face, his eyes are closed while he sings the song. Like in the CBS special from June 1977 in Dallas the next song is Jailhouse Rock. Tonight he sings it at the right speed. During the summer tours it always was a little too fast, something we can also see in 1977. Not so in this concert where he delivers one of the best late seventies versions of the title song of his third movie.
Now it's time for Sherrill Nielsen to show the audience what he can with his voice. Elvis asks him to do the Italian version of It's Now Or Never. It's one of the first times Sherrill does it and Elvis likes it a lot. After Elvis has shown Sherrill the real meaning of the word singing, a great and vocally very strong, great backed by the band, version of It's Now Or Never, he asks Sherrill to sing the first verse of O Sole Mio again, not only to his own delight. A 50's song that almost always got the respect it deserved comes next: Trying To Get To You. Elvis surprisingly brings a great rendition of this SUN song. It's almost like '74 again!! His voice stands like a house and he is hitting the high notes. A quick Blue Suede Shoes is the next song. Although not extremely good, this version is great. Tonight he isn't suffering from breath problems, even in this oldie he sounds strong and is enjoying himself and most important, the crowd. After Blue Suede Elvis steps away from the set-list:" No Teddy Bear...Forget that"......he says he has a request for My Way and asks Charlie for the lyrics. From now, this song would get a somewhat prominent place into the line-up. Tonight's rendition is very soft and warm. After the line: I lived a live that's full...he ad-libt with an emotional voice: "Almost"........and brings the song to a perfect finale. It's the second highlight of the show and he receives a lot of applause. Nobody could have thought that "the end" WAS "near". Then it is, prior to the introductions, again time to rock.
Polk Salad Annie is brought brilliantly. A very good rendition and great work from the band and the orchestra. The crowd goes wild by this song. The Band Introductions are nice to hear. Elvis surprises the audience with a complete version of Early Morning Rain and a few lines of Hey Bo Didly during Ronnie Tutt's drum solo. Love Letters sounds breathtaking. "I'd like to do Hurt".....As opposite to the often mediocre versions from June till September, Elvis brings a fantastic version of his latest single. "Talk to me James" says Elvis to James Burton during the spoken part. The audience reaction is fantastic also, so Elvis decides to do the last verse again and he does it better!!! It's very possible that Elvis lies on his back during the reprise. Pictures from the next day (Birmingham), the day after (Atlanta) and the fabulous new years eve show (Pitsburgh) confirms that Elvis did the reprise on his back at those concerts. After the applause fade away, Elvis tells the audience that they did a song the night before and that he would like to do that song. The song is called Unchained Melody. In Dallas he would only sing it for the second time. At one point he decides to play the piano himself. During this early version it's clear that the song has to grow. Elvis is a little insecure and so is his piano playing. Nevertheless this is a great song an most important is greatly Sung!! The audience loves it and gives Elvis a standing ovation after the song. Then he walks for the last time to the middle of the stage en looks around him. He cues Glenn D to start the final song of the concert: Can't Help Falling In Love. During the closing vamp Elvis shakes some hands and waves to the audience before he is escorted off stage. Elvis Has Left The Building, again!!
The December '76 tour would be the last time that Elvis lifted himself up. His mood, his voice and enthouiasm were great and the shows are nearly the best of his career. He saved the best for the last. On New Years Eve he gave a absolutely stunning performance in Pitsburg. That show was one of the best ever. He sang for more than an hour. Songs like Bigg Boss Mann, Fever, Little Sister, Unchained Melody and the ultra rare Rags To Riches never sounded better. During the next tour in Feb. 1977 elvis had lost all of the magic of this short tour. Musically the shows were reduced and he had gained a lot of weight. Still these shows were pretty good. At least his sense of humor never left him. Still, they were a sign of what to come.....1977 would be a very hard year for Elvis and we all know where it ended!!!! But we still have and more important WILL have those great memories of that short December tour of 1976. The King could still rock and in Dallas, Texas they know ALL about it!!!
Stefan Kock