Menu
Concerts
Reviews
Multimedia
Legal Information
Concerts Reviewed - 1976
June 28, 1976. Philadelphia, PA
by Jim
June 28th of 1976 in the Philadelphia area was a sunny, hot, and humid day. That is fairly normal for an early summer day in the Philadelphia area. Yet it was a day which would end up being anything but "normal." Elvis was coming to town and I had tickets! Oh, I had seen Elvis a number of times in concert previously, but each concert was an event. I was very excited about seeing Elvis once again.
I arrived at the Spectrum and waited in a long line which had already formed waiting for the doors to open. Even waiting in live offered opportunities to talk with other Elvis fans. Finally, the doors opened and people went to their seats. Around 8:35 or so according to the watch I was wearing, the show began. The show started with the Joe Guercio Orchestra playing a medley of a song called "TSOP" (The Sound of Philadelphia) and the theme from a popular TV show called, "S.W.A.T." It was a really good opening number.
Next came J.D. Sumner and the Stamps Quartet. They sang two or maybe three Gospel numbers as I remember, which the sell out crowd appreciated. I personally love Gospel music so the set by the Stamps was special.
Following the Stamps came The Sweet Inspirations. They were wonderful as always. Their set consisted of three songs each thrilled the crowd. I was sitting around some people who were attending their first Elvis concert. By now they were saying, "Where is Elvis,?" "When is Elvis coming out?" I calmly reassured them that Elvis was the second half of the show.
Next came comedian Jackie Kahane. A lot of his material I had heard at other shows, but he was still funny. Like the people sitting next to me, many in the crowd were getting a bit restless. They wanted Elvis. I always felt sorry for Jackie Kahane. He was a funny man, but it's difficult to recognize his talents when all you want is to hear Elvis. Anyway, when Jackie finished the house lights came up and it was announced that there would be an intermission. Groans were aplenty from the crowd.
Many people headed to the rest rooms, one of the souvenir stands, or to enjoy a famous Philadelphia pretzel and soft drink. After about 15 minutes the lights went on and off followed by an announcement for everyone to return to their seats as the second half of the show was about to begin. We then watched as the orchestra personnel took their seats along with the backup singers, and members of the TCB band took their places in front. Less than 5 minutes later with no other warning the lights went out for good and the Philadelphia Spectrum was now shrouded in darkness. This could mean only one thing; Elvis was in the house! I turned to the people sitting next to me and said, "Now, this is what you've waited for."
The crowd was now really excited as squeals and shrieks of anticipation filled the air. It had been nearly an hour and fifteen minutes since the show began and at last, finally, could it be, Elvis was about to appear? The anticipation had grown to such a pitch that the woman sitting next to me began to grab my arm and shake it saying, "I can't believe it, I can't believe it." Slowly the strains of "2001: A Space Odyssey" began to fill the Spectrum. Screams of approval rang out. If you have ever been to an Elvis concert you know what I mean when I say that the theme seems so long and you feel like you're about to come unglued! Finally the last "AAAAHHHHH, AAAHHHH, AAAAHHHHH!" Ronnie Tutt begins pounding the drums and spotlights begin circling all around the building. Then the full band kicks in gear and soon the horns from the orchestra begin blasting. Then the spotlight hit's the back of the stage, a curtain swings open and Joe Esposito escorts Elvis to the top of the stairs. There he was, wearing his white prehistoric bird suit with the blue puff sleeves. This is a beautiful suit when you see it live! The spot lights dance off of the sequins providing flashes of light. The crowd loudly roared and many down front rushed the stage. Like every other Elvis concert I attended it was very difficult to hear the band for the cheering of crowd receiving Elvis. Elvis came on stage at the right side of the stage as you are looking at it. He walked past his backup singers nodding to them and smiling from ear to ear. He then walked back and forth from side to side greeting the crowd. I think he could have just done that for an hour and everyone would have been satisfied. All of the Philadelphia shows I attended were always enthusiastic, pro-Elvis crowds. Tonight's crowd was one of them.
Elvis then picked up what looked like a teddy bear and some roses which had been tossed up on stage, handed them to Charlie Hodge, who in turn helped Elvis put on his guitar. Elvis then walked up and grabbed the microphone with a single motion and began loudly with energy, "OH SEE, SEE RIDER..." Again another roar from the crowd. Unfortunately as soon as Elvis started singing, feedback from the microphone began. Elvis continued and without missing a beat said, "OH SEE SEE RIDER, O see what you done, I said see, watch the feedback, Oh see what you have done.." I thought that was so cool as he smiled from ear to ear. The feedback continued through the song, and near the end of the song he looked at his sound engineers without a smile and in a firmer voice said, "Watch the feedback!" The conclusion of See See Rider featured some quick leg movements as Ronnie Tutt and Elvis kept in time with each other. A long and loud ovation followed with Elvis saying "Thank you very much. You sound like a good audience."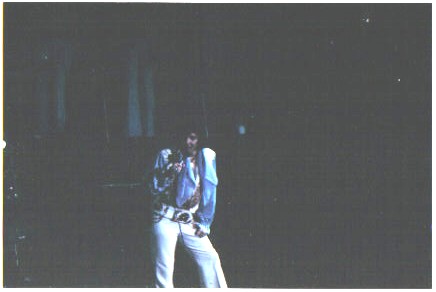 Then it was Elvis and the "Well, well, well" thing he did with James Burton echoing Elvis on his guitar. The feedback continued a little bit and seemed to be a distraction to Elvis. But he pushed on and did a really good version of "I Got a Woman." He showed plenty of motion during the singing of this one. He then broke into the chorus of "Amen" and invited the audience to participate which we were all glad to do. As "Amen" came to a close Elvis said he had to do his "wake up" routine. One of the things I remember him saying over the screaming was how he "felt like puppet" indicating that every time he moved the drummer pounded the drums! Next came J.D's dive bomber routine which Elvis had him do a second time. Wow, that guy had a deep voice! Elvis then finished this medley with a shocking display as he kept punching his guitar into the air and then threw it to a waiting Charlie Hodge. As the applause began to subside, Elvis welcomed the crowd and said, "It's a pleasure to back here." He then began kissing and talking with a few girls down in front who were making the security guards who lined the stage earn their money.
Next was a great 50's song, "Love Me." On this night Elvis did a really nice version. It was slow and Elvis gave it a good treatment as I remember. He did pass out a number of scarves during this song, mainly to the crowd behind the stage. After this Elvis stopped and jokingly said to those whom he had kissed that "Last night I caught the creeping crud from somebody." Everyone laughed as Elvis winked to the girls whom he had just kissed. Only three songs in and all of us in the sell out crowd were having a great time!
The next song was and remains one of my favorite, "If You Love Me Let Me Know." Elvis did a really nice version of this song. During the song off to the front of the stage on the left there was some commotion going on. At the end of the song Elvis walked over to the edge of the stage only to see a couple of beleaguered security guards getting up off of the floor. It seems they got trampled on by some female fans. Elvis says, "What's going on over here?" He calls a guard over and off mike says something to him. I was close enough to see the security guard shake his head in agreement.
After speaking to a guard, Elvis nodded and the band went right into "You Gave Me a Mountain." Elvis did a fabulous job. Gosh, he sang this one it seemed from the heart. No fooling around, even the crowd was relatively quiet as Elvis delivered this one. When he finished there was a loud ovation with many of us on our feet. You had to see him do this one, Wow! He told us we were a good audience after this one!
Next came a medley of some of Elvis 1950's hits. In order he sang "All Shook Up," and a medley of "Teddy Bear / Don't Be Cruel. Elvis sang them well. You could hear all of the words and he seemed to be enjoying them. Sure, there were scarves being handed out and some audience interaction, but Elvis was obviously having fun and so was the audience.
Without any introduction, Elvis did a song I hoped he would do, "And I Love You So." A light blue spot light covered Elvis as he sang this one. He stood in one place about 5 feet in front of John Wilkinson and delivered a great version of this. I still get chills thinking of this performance. Kathy Westmoreland really shined on this one with Elvis, and the harmony between Elvis and Sherrill Neilson made for an awesome presentation of this song!
Next was a spirited and rocking version of "Jailhouse Rock." And yes, Elvis had his legs, hips and shoulders going good on this one. This was a good treatment of this 50s classic.
After "Jailhouse Rock" Elvis treated us to a really neat version of "Fever." This was a song which was a fan favorite, at least at the concerts I attended. Elvis had some neat leg movements on this and even played with Ronnie Tutt yelling "whoa, stop" a few times at the end. For most of the song all of us in the crowd clapped along with the band. One funny part as I recall was when Elvis sang the part "I light up when you call my name" he said in a falsetto voice "Elvis!," which got several screams from girls down in front. Long and loud applause followed with Elvis thanking us several times and saying, "Thank you! Ah, your beautiful."
Next, Elvis said that since they were in Philadelphia and it was "our nation's bicentennial year we'd like to do "America the Beautiful" for you." Philadelphia is a very patriotic city and many of us were standing throughout the song. Elvis finished this song with a great high note ending and going full falsetto at the very end. Awesome! Everyone was on their feet following this one.
Next came the Band Introductions with Elvis getting something to drink from Charlie and asking us, "Is it hot out there?" We all screamed back, "Yes." Elvis took a white towel and wrapped around his head like a bandana. Just doing this received screams from many in the crowd. He took the towel off part way through introducing the Stamps and wore it around his neck for a while. As Elvis introduced the band members he gave them a chance to feature their incredible talents. Elvis did "Early Morning Rain" spotlighting John Wilkerson on this one. I have always respected John Wilkerson as a musician and I love "Early Morning Rain." My only regret was that Elvis only did a short version of this song on this night.
Next came the lead guitar with James Burton. As James played Elvis sang along to "What'd I Say" and "Johnny B. Goode." They were nice songs to feature the skills of arguably one of the greatest guitar players in rock 'n' roll history, James Burton. Elvis caught all of us in the audience by surprise when he asked James to play the guitar in back of his head! And James did not miss a note as he played a spirited Johnny B. Goode with Elvis singing along.
Next came the solo's of Ronnie Tutt on drums, Jerry Scheff on bass guitar, Tony Brown on piano, and David Briggs on the electric clavinet. Nothing really special here as I recall. Except that Elvis had some incredibly talented people working with him.
Following David Brigg's solo on the electric clavinet, Elvis said, "The first time I met David it was his first recording session. And we did a song called "Love Letters," that I'd like to do for ya." I was so excited because I have always loved Elvis' version of Love Letters, especially the 1971 version. The album "Love Letters" has always been one of my favorite albums as well. And gosh, Elvis did a very beautiful job on that one! Elvis standing out in front of where Charlie Hodge is with a pink spotlight on him singing "Love Letters." It was really cool! The crowd was also very pleased as Elvis treated us to this rarely performed song.
Next Elvis introduced Charlie Hodge, Joe Guercio and the orchestra. This set ended with Elvis and the orchestra, along with the band, performing a nice albeit short version of "Hail, Hail Rock 'n' Roll."
Elvis said that he would like to do his newest record for us. Little did we know that the highlight of the show was about to come our way. Elvis did a marvelous performance on "Hurt." As the standing ovation continued Elvis said, "Do you want to hear it again?" Of course, we all roared "YES!" He then did a complete encore of the song. As he reached the end of the song he held the "huuuuuuuurrrrrrrrttttttttt" so long and it was so loud, the speakers were actually making a vibrating noise. Elvis finished the song by going full falsetto at the end. Before he could finish the song, we were all on our feet cheering. Elvis must have said "Thank You" five or six times and offered a few "Whoa's" after this. He seemed pleased with our response and said we were a "fantastic audience."
Then he went into a short, but energetic version of "Hound Dog." The end of the song featured many scarves and a bit of leg, hip, and shoulder movements. We all loved it. At the conclusion of the song a girl in front of the stage held up a large sign which caught Elvis attention. The sign said as Elvis read it, "Remember Cincinnati, one kiss or I'll just die." He said, "Well, I can't let you die!" And then he bent down and kissed the girl. He kissed a few more and then asked for the house lights to be turned on.
As Elvis walked around the stage looking at the crowd and said "Whoa! It's a big place, man!" He then stopped alongside the Stamps and Inspirations looking up at the third level of the very large building. Elvis said, "Are there people up there?" People all screamed "Yes!" Elvis then said, "How can you see up there", addressing the fans in the third level of the Spectrum. This received immediate and loud response. Then he said something hilarious, "If I go bald you'll be the first to see it." Everyone roared!
Then it was immediately into "Funny How Time Slips Away." This song was a very nice version with Elvis playing with the low note at the end. He also asked J.D. Sumner to reprise the ending and the low note, which this time, was very low! At one point in the song, Elvis walked toward the back of the stage to the crowd and suddenly, a woman jumps on the stage from the front and begins running towards Elvis. Out of nowhere, two men were on the stage and got to the woman before Elvis ever knew what was going on! He never missed a note of the song!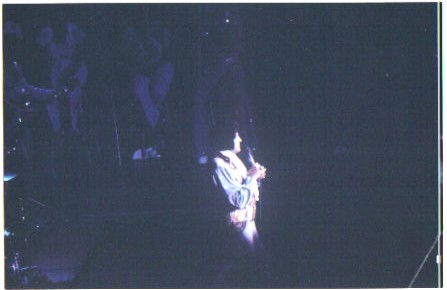 Elvis then thanked the audience for coming out to see the show. After telling some rather loud and enthusiastic fans to "Wait a minute!," Elvis mentioned that the audience had been good to them and that he always enjoyed coming to town. He then said that anytime we wanted him to return he would "be glad to come up here." And of course, we roared, and then, the opening notes of "Can't Help Falling in Love." Anyone who has ever attended an Elvis concert knows that this song is always met with a bitter-sweet response. The sweet part is loud applause because it is one of Elvis' greatest love songs. The bitter part is that you know this is the final song and the show is about to end. Elvis sang a nice version, slower than what I'd heard in the earlier '70s shows. There seemed to be a real sincerity as he sang it, passing out scarves to adoring fans in the process. Then, almost suddenly, the song was over. Ronnie Tutt began the drum solo which would lead into the "Closing Vamp." Nearly everyone from what I could tell were on their feet in applause and appreciation. Elvis walked slowly back-and-forth from one side of the stage to the other. He acknowledged the crowd many times and gave out one final scarf. He then turned and walked to the back of the stage where he was greeted by Joe Esposito and a couple of other men I could not identify. Then those words rang through the rafters of the Spectrum, "Elvis has left the building." The show was over. I looked at the clock on the wall of the Spectrum and it read 10:52. Elvis gave us what we were looking for. I sat down on the seat for a few minutes as the rest of the appreciative crowd headed towards the exits. On a hot summer night in 1976, Elvis had given us much more than our monies worth. Once again, Elvis did not disappoint the crowd in Philadelphia!
Jim