Menu
Concerts
Reviews
Multimedia
Legal Information
Home > Concerts Reviewed > 1976 > TOUR CLOSING - Atlanta, GA, June 6, 1976 2.30pm
Concerts Reviewed - 1976
TOUR CLOSING - Atlanta, GA, June 6, 1976 2.30pm
by Evan
This audience recording opens with the 2001 theme. The audience so far is very vocal. The sound quality is very good (perhaps 7/10). As soon as Ronnie Tutt starts the opening riff, the crowd are right into it. One young girl sounds like she is having a hissy, as Elvis would say! The riff is of average length, but the crowd erupts with Elvis first words of See See Rider. What a shock to hear Elvis sing. If you think the August 1, 1976 Hampton Roads show is bad, you aint heard nothing. Elvis hardly has a voice, and is singing slower than the music. But somehow, the crowd is still going off, especially during the finale of the song. "I didn't know I was alive" it sounds like Elvis says. There is more mumbling from him about sound problems (which are obviously coming from Elvis' throat). "E-L-V-I-S" a girl screams. "What, honey"? Elvis mumbles. "Iz thiz zee same crowd we has last night"? Elvis slurs. The crowd are just loving it. I Got a Woman seems to have a lot of bumps & grinds judging by the timing of the girls screams and the drum beats, but Elvis just can't cut the mustard tonight. Perhaps the New York papers were right back in 1972 when they headlined "Like a Prince from Another Planet". Amen is drawn out, and just as it ends, Elvis announces, "One more step higher", so Ronnie performs a roundhouse drum roll and keeps the song going for another verse.
"I'm just trying to wake up folks" Elvis tells his fans amidst screams, drum rolls, bumps and grinds. "You should try that after about ten cups of coffee and see what happens! Go get it J.D." J.D. performs his dive bomb act, only to be told he can do better than that, "he's just goofing off", Elvis says. All the while fans are yelling from every direction telling him to turn around. Out of no where Elvis asks, "Can I borrow some tooth picks from you?" J.D. performs a second dive bomb, and Elvis says, "Now that's better. See J.D., you didn't have enough sleep last night, or you had too much".
Elvis ends this medley, and then begins fooling with the fans. He is handed a picture of his plane, and Elvis asks, "Were you here last night, kid"? Then he is given a ring, which Elvis says is beautiful. By this time Elvis is sounding quite a bit better. He stops the show for a moment to put his new ring on, but the screams and demands still keep coming. "You know what we're gonna do? We're gonna all get binoculars and look back at you! I'm gonna get Jerry Scheff's eye glasses and use them! Hahahaha".
Elvis launches into Love Me, but sounds awful again. Actually, he sounds like a tape that is being powered by failing batteries. Ronnie is hitting the drums fairly hard, and James seems to be covering Elvis' voice somewhat with more guitar licks than usual, but the crowd love it.
"Whose this belong to?" Elvis asks as he picks up some underwear, "You're gonna freeze honey. I'm gonna keep it coz you don't want it. Now this next song ladies and gentlemen was done by Olivia Newton-John. You see, Estelle, you never know what I'm gonna say coz I don't know what I'm gonna say myself. Take it on" If You Love Me (Let Me Know) starts off very slowly, and Elvis continues the pace. Just an awful performance. Afterwards, Elvis plays with the girls at the front of the stage and announces, "You people down the back there, you wouldn't believe what these people down here are saying to me"! All the while, James Burton plays part of the theme from the band introductions.
You Gave Me a Mountain is a typical version, however Elvis manages to reach the notes everyone knows he can sing.. "So tired of working for nothin', just tired" Elvis sings with an accent that suggests he is describing his own situation. He does not complete the lyrics after the word 'tired'.
"I'd like to do a medley of my...Hey I gotta confess something to you. We came in from Texas, and the climate here is different, and a lot of us caught a cold. J.D. & Kathy, and the other guy, dunno what he's got! Hahaha. We're gonna do a medley". All Shook Up is the typical fifty one second job, and is followed by the Teddy Bear-Don't Be Cruel medley. After looking at photos of Elvis from this show in the White Bicentennial suit, one wonders what is actually wrong as he does not look too bad, or overweight.
"Here's a song we did a couple of years ago we're gonna do for you, it's called Help Me" During this dialogue, Elvis' voice sounds just like he did on December 13, 1975 10pm show when he introduced Softly As I Leave You. After the introduction of Help Me, the crowd give their loudest screams and applause for any song this afternoon. Two interesting and different characteristics are evident in this version. The first is the total support by the Stamps on every lyric up until the line, "Come down from your golden throne". Second, there is a constant violin throughout. "Never thought I NEEDED help before" is well sung, with the word 'needed' being stressed. The crowd goes bananas at the end of this fine performance. It's like the crowd are so thankful that despite their ailing King, Elvis can still be "Elvis" underneath his sickness, weight, and general self alienation.
Jailhouse Rock is up next. The introduction is four bars long, and has some interesting drum beats added. The pace of this version is not far off the original, but Elvis loses the first few words and giggles. Despite this, Elvis, the band, and the whole audience are involved in this performance. The audience applause is cut with the start of Fever. A young boy can be heard yelling, "Orion". Elvis asks, "What?", and the boy repeats it. "Never know how much I loved you" is pronounced similarly to the studio version. "Fever when you call my name - Elvis" is sung with little effort, but obviously Elvis is hamming it up with the girls, but he loses his concentration and stuffs the line, "Now you've listened to my story. No, I've already done that, Now you've. Now you've listened to my story". What a catastrophe.
"I'd like to do our version of America, The Beautiful". This anthem brings screams and applause like American Trilogy did the year before, and what a well performed and thoughtful version it is. The response to this song is greater than that of Help Me.
"You're fantastic. I gotta tell you something, and I said it last night. The people in Atlanta and down here (referring to the girls at the edge of the stage) are some of the best audiences we've ever had. I mean that" The crowd goes bonkers again, and Elvis starts the band introductions. Each band member receives a great response from the audience. Ed Enoch is introduced as "the kid with the dark circles under his eyes".
My tape is missing the solos , but continues with Love Letters which is performed after David Brigg's introduction, but is nothing but a typical version. At least now Elvis has woken up quite a bit.
Elvis sings parts of School Days before saying, We have a new record we'd like to sing for ya" Hurt follows, and is no different to other versions of this time, except has a fairly strong, well sung ending.
"Wanna here it again"? Elvis asks. "Yes" the crowd screams back, and they are treated to another full version, and the ending to this is magnificent. The crowd roar their approval, and Elvis seems very happy as well. A surprise Burning Love is up next, but Elvis mixes up the "Girl Girl Girl" with the "Oooh Oooh Oooh lines. During this song, Elvis is sounding very tired. He usually did Hound Dog at this point, and seemed to use this song as time for a breather. Obviously after Hurt, Burning Love was not a good choice as it required more effort than what Elvis could, or was willing to give. Yet again, the crowd love it.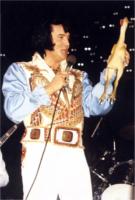 "Hahaha, someone threw a rubber duck, urrr, a rubber chicken up here on the stage".
Big Boss Man is next and this has a really strange arrangment. It is played at the same pace as the studio version, and the intro is played by James Burton. In fact, it kind of reminds me of a mixture between Susie Q and Sesame Street. It's the same riff! What a weird version. It's like a live studio version, nothing like the typical '70s versions.
Elvis has the house lights turned on. Elvis mentions catching the creeping crud, and then answers a request for Shake a Hand. Not as good as the Asheville versions from July 1975, but Elvis encourages the band to get into the groove with a 'Come on"! This version clocks in at approximately one and a half minutes. Elvis apologizes for not knowing the song too well, and then begins Funny How Time Slips Away. There is a lot of audience interaction in this version, and I am sure the fans couldn't care less what Elvis sang.
Mystery-Train/Tiger Man emerges from the applause, and is not a bad version, but I get the feeling it is just thrown in to extend the time of the show, which is just clocking in at sixty minutes. At least Lamar encourages Elvis with the strobe light during Tiger man - much to the fans' delight.
"Ladies & Gentleman, I'd like to say something if I could. You're a fantastic audience, and this is the last show of this tour. And anytime you want us back in Atlanta just let us know and we'll come back". Elvis is sounding as tired now as he did when the show first started. Can't Help Falling in Love is a nothing version, and really acts as a last minute chance for fans to rush the stage, and for Elvis to "make the rounds" one final time. As with every other micro second of this concert, the fans are screaming their brains out. No wonder Elvis didn't question his own bad habits. What could he be doing wrong when he has thousands of adoring fans screaming at him every night?
What an odd show. Elvis knows he is not performing well hence the remark about catching a cold, but when he musters the energy, he completely turns this failing show around and grabs the crowds', and the listener's attention making you forgive and forget the poor performances he has just completed. When I first heard See See Rider I thought I would soon turn the stereo off. But once Jailhouse Rock started, I became more involved in this concert as does Elvis at this point. The highlights of this concert are Jailhouse Rock (because of the atmosphere generated), Help Me, America The Beautiful, the second version of Hurt, and Big Boss Man (what a completely different arrangement this is). The start and close of this show are poor, but the body of the concert is "happening"!
Evan