Menu
Concerts
Reviews
Multimedia
Legal Information
Concerts Reviewed - 1976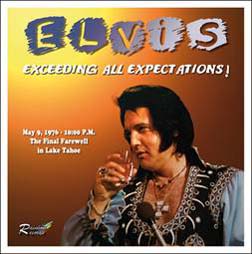 "Exceeding All Expectations - May 9, 1976 Closing Show"
A Classic Bootleg review by Javilu
"...Then you'll be forever young and beautiful to me"
1976 marked the last time Elvis performed in Las Vegas and Lake Tahoe.
On both engagements the shows were a Pandora's box: from excellent, professional performances to lackluster, mediocre shows that probably left fans scratching their heads trying to figure out what was wrong with their idol.
Perhaps because of the smaller size of the High Sierra Theatre -the Dell Webb's Sahara Tahoe Hotel and Casino showroom-, Elvis sounds relaxed in this setting, almost like in an informal jam session surrounded by friends and relatives.
Also, the fact that the showroom capacity was up to 1400, ensures that audience recordings will usually bare the closeness that is often missing from big stadiums tapes.
This doesn't mean that Elvis' health and mental problems that marred him throughout the year didn't show on stage, but he sounds genuinely happy on most of the Tahoe shows in a contagious way.
We also have to admit that his voice was in good shape, especially when compared to the summer shows that would follow in the middle of the year where his voice sounds thin and Elvis struggles to avoid running out of breath.
Rainbow Records' "Exceeding All Expectations!", released in 2009, is a 2 disc set that should appeal to not only fans of audience recordings, but Elvis fans in general for different reasons.
For starters, it is Elvis last show ever in Lake Tahoe, the longest concert of his career lasting for around 2 hours and it includes several rare performances, which will be listed later.
Although the cover artwork could have been better, the booklet is top notch, filled with interesting notes by "Mister History" and great pictures of related memorabilia.
It also includes an article from the Oakland Tribune, a trivia page and some short nice notes from Judy, a fan who attended the concerts.
This concert took place on May 9, 1976 and was first released on CD in 1993 on a bootleg from the MAC label called "And Then The Lights Went Down".
The staff at Rainbow Records managed to improve the sound of the original release.
Even though it's far from being "soundboard-like" quality, it is enjoyable throughout and more complete than the original release. This was probably achieved by using an alternate source to fill the gaps.
James Burton's guitar starts loud in the mix and it's easy to tell the recording has been cleaned up and dehissed without making it sound muffled.
Of course limitations from the sources prevent the audio to have better fidelity than it has.
The usual beginning with "See See Rider" has Elvis mumbling some of the words.
After a few complaints about his microphone, Elvis sounds like he just woke up before launching the "Well-Well" routine that leads into "I Got A Woman".
The rendition is a little sloppy and it's easy to tell Elvis is not fully awake yet, especially when he sings out of tempo on the first "Amen".
Elvis calls JD Sumner "Joe Average" after his first "dive bomb", quotes the "He's just tall, that's all" lyric from "Big Boss Man" and has him do it again.
Before the show Elvis and the Colonel gave roses to the women in the audience and after mentioning this, Elvis reads a fan's letter and talks about water pistol fights.
During "Love Me" Elvis sings "I'll be blue and sad" instead of "sad and blue" and still sounds asleep when he sings a one liner of "When The Saints Go Marchin' In" that is quickly followed by "If You Love Me (Let Me Know)".
Finally, Elvis starts to sound awake during "You Gave Me A Mountain" where he sings "Tired of working for jewelry" and "She took my big crazy boy".
"All Shook Up" kicks off the oldies medley with James Burton giving Elvis the initial A chord several times and as usual it is followed by "Teddy Bear/Don't Be Cruel".
"Blue Suede Shoes" is next and Elvis forgets the lyrics to the second verse, mumbling along.
The first rare performance of the evening is "Return To sender", which is greeted by the crowd with enthusiasm. Elvis starts the song from the chorus but manages to pull off a good performance out of it, taking into account the unrehearsed nature of the song.
Some wonderful piano fills by Tony Brown can be heard in "Heartbreak Hotel", one of the highlights of the concert.
After a funny imitation of the hawaiian intro of "Hawaiian Wedding Song" Elvis tells a story of what happened during the filming sequence of the song with co-actress Joan Blackman.
He also mentions that he got married so many times with Ann Margret during the filming of the "Viva Las Vegas" movie that they "realized 2 years later they were not married!".
The "Blue Hawaii" album closer is followed by a nice version of "America", that features a powerful ending.
"Polk Salad Annie" ends Disc 1 on a high note.
The producers decided to start Disc 2 with the "Band Introductions" which was a good idea for that's a change of pace in the concert.
So Disc One lasts for only 48 minutes while Disc 2 runs for more than 70.
Opening Disc 2, Elvis still slurs his words through the introductions but delivers a nice but short - one verse version of "Early Morning Rain".
James Burton is introduced jokingly as one of the best guitar players in Lake Tahoe and he shows off with "What'd I Say" and "Johnny B. Goode".
Ronnie Tutt's drum solo is as good as usual and is followed by Jerry Scheff's bass solo.
Tony Brown is introduced as the newest member of the group and performs his usual piano solo that is followed by "Lady Madonna", The Beatles song as performed by David Briggs on his electric piano.
The studio version of this song by David Briggs is included at the end of the concert as a bonus track.
Elvis again mumbles his words when introducing "Love Letters" but it is well sung, if too slow in tempo.
After the Joe Guercio Orchestra introduction, Elvis sings one line of "Wooden Heart" followed by a short but sweet "Young And Beautiful", another rare performance.
The audience is then treated by Elvis playing acoustic guitar.
Nice but short versions of "That's All Right" and "Blue Christmas" are performed.
A one liner of "Blue Moon of Kentucky" gives way to 2 nice versions of "Hurt", performed at a tempo that's closer to the studio version than future, rushed renditions of the song.
The usual throwaway version of "Hound Dog" is followed by Elvis thinking of what to do for he wants to stay a while longer being this the last show of the season; so he sings the "Mickey Mouse Club March" and "Happy Birthday Y'all" with a lot of audience interaction.
Then he asks Kathy Westmoreland to sing "My Heavenly Father" and she delivers.
In the middle of the song the fidelity drops a few notches, perhaps because of a change of source or moving the tape recorder's position.
Someone from the audience requests "Guadalajara" and then " For The Heart".
Elvis apologises for the band not knowing it and sings a long "Love Me tender" instead.
Then it's time to showcase Shawn Nielsen's talents and Elvis indulges himself by having him sing "Danny Boy" and "Funny How Time Slips Away".
The latter was interesting to hear for it's uncommon for Elvis not to sing it himself.
With his batteries charged again, Elvis performs a decent "Burning Love" and a beautiful "Help Me" that would be slowed in tempo so much it would drag in later versions.
This one luckily is performed in 1974 tempo and it's an enjoyable rendition.
"The First Time Ever I Saw Your Face" receives a fantastic performance and is one of the highlights of the concert.
It's only surpassed by the Birmingham version from late December in the year.
Elvis decides to rock a bit more with "Jailhouse Rock" and "One Night" before delivering another highlight of this long concert: "How Great Thou Art", which sounds like taken from a different source.
After the overwhelming response to the performance, Elvis decides to do a reprise of the song.
"Can't Help Falling In Love" brings the concert to an end.
Was it a great concert? It depends on what you define by great.
If by great you mean long and with rare performances, no doubt this was a great concert.
Although Elvis was not at his best during this Tahoe season, arguably the concerts are better and more relaxed than those of the summer tours, but the slurring and mumbling on several performances prevents us to call it a "great concert".
But if you're into unusual shows greatly presented, make sure you find a copy of "Exceeding All Expectations" and other bootlegs from the same season as "Live At The Lakeside" and "Then Sings My Soul", the latter also by Rainbow Records.
If you don't place your hopes too high, you'll probably enjoy Elvis' farewell from Tahoe.
Sadly, things would get worse with time.
(c) Javilu - September 9, 2010
**Adobe Flash Player needs to be installed. Click
here
to install