Menu
Concerts
Reviews
Multimedia
Legal Information
Concerts Reviewed - 1975
MY SOUL'S IN YOUR HANDS - Asheville, July 22, 1975
by Evan
Elvis' first performance of three at the Civic Centre in Asheville was on July 22, 1975. He wore the Indian suit, and the attendance for the show was 7437. The show ran for 86 minutes, and like the two shows performed on the 23rd and 24th, this show contained several rarities, and great performances. The sound quality of the audience recording is good at times, probably a 6 out of 10 rating would be justified, but is somewhat dull in places and is not as good as the other shows.
2001 leads into SEE SEE RIDER, the audience reception is very exciting. Elvis' opening lines are energetic, but not like the following night. The second line "Well I'm going..." is a lot stronger than the first line. The screams from the fans excel during the part where Elvis instructs Ronnie to hit the drums a number of times. The applause at the end is very enthusiastic. Unfortunately the sound is poor when Elvis speaks, but he makes comments about "ten thousand flash bulbs". The usual "well well well" routine occurs before I GOT A WOMAN. This version has a very committed Elvis running the musical scale with his voice, obviously enjoying this staple live track from his 1956 debut album. AMEN is also enthusiastically performed with Elvis giving it the "hallelujah, yeah momma" treatment. In fact, Elvis extends this version past the 2 minute mark, concentrating on the Sweet Inspirations, telling them whilst singing in harmony "I can't hear you". Towards the end, Elvis then turns his attention to JD's bass vocals before abruptly stopping the song causing mass hysteria. "Look at him" the girls scream. The "strip tease" part is frantic, with Elvis suddenly stopping, making his fans laugh, "My leg just stopped" he announces. JD performs his "dive bomb" to much applause, and is not asked to do it again. The ending of I Got a Woman is drum filled indicating Elvis' showing off with his guitar before throwing it backwards to Charlie.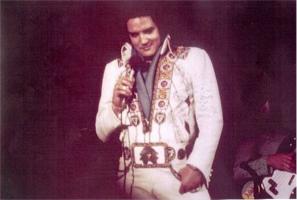 "Thank you, thank you very much. You're a good audience". There is a bit of dialogue which is inaudible but has the is crowd laughing. Elvis mentions something about bringing "...it down to the stage, I don't care". BIG BOSS MAN bops along fuelled by Jerry Scheff's bass. Elvis performs this very well, especially the part, "..I'm gonna get me a boss man.". The last line of this song is reprised before Elvis hands his guitar to a man in the audience. Amongst the screams, Elvis asks "Why Me, Lord?" This inspires him to sing WHY ME, LORD?, including all of the verses which JD Sumner sang. This sounds very different, and actually it is a shame he did not do it again. Elvis notes that JD usually does this, but JD forced him to this time. The sound becomes a little better at this point, and Elvis can be heard saying, "Lamar, come here. Lamar! Come here". The fans are laughing, then Elvis demands, "Joe, come here. Joe, come down here." Unfortunately the sound is not good enough to here what Elvis is saying, but the Colonel and Charlie get a mention, and that someone is lit up "like a Christmas tree".
LOVE ME follows, and is a typical muck around version with some interesting vocals at times, which really signals slight attempts to inject a little bravado and interest into this otherwise sloppy performance. In my opinion, by 1972, Love Me was being performed too fast. In this version, Elvis even comments, "The song will be over in a minute". At one point the band thinks Elvis has finished singing, but he cuts the back up singers off and continues with another verse. Not surprisingly, the crowd yells their approval.
IF YOU LOVE ME.follows. This version is a fairly typical version, not unlike the June 1975 versions, but it is certainly not a spectacular performance. "We have an album out, and in the album, wait a minute, what's it called? No the album! Elvis Today? Yeah 'Elvis Right Now', with sweat and blood and scratches all over my hands. There's a song I'd like to do, called Shake a Hand". SHAKE A HAND receives six false starts as Elvis and the band find the right key to start. To make up for this, Elvis performs a powerhouse version, hitting some very high notes.
The medley section of the show starts with ALL SHOOK UP, and hardly has time to stop before TEDDY BEAR is launched. It becomes apparent this crowd loves the old songs. This medley concludes with DON'T BE CRUEL which is vocally more exciting than the two previous songs. There is a long drum beat before Elvis concludes the last verse which again builds the crowd up.
"You AIIIIIIIINNNNNNNNNTTTTTTTT" causes the audience to go ballistic. "You don't know what I'm gonna do. May be Heart Fart, but not Hound Dog" Elvis teases his fans. Elvis belts out HOUND DOG much to the crowd's delight, and he calculates their hysteria with his big crescendo, only to let them down with a "You aint no friend of mine".
"This is a song we did a couple of years ago called." THE WONDER OF YOU. Like the '50s songs, The Wonder of You proves to be a crowd pleaser. Unfortunately the audience recording is by now is plagued with annoying static and as such it is very hard to understand any talking by Elvis, but it is apparent that he has a great rapport with his fans as there is much joking, screaming, and talking. Elvis mentions the Creeping Crud, and then James Burton starts MEMPHIS TENNESSEE which lasts one minute forty three seconds. FUNNY HOW TIME SLIPS AWAY is very similar to any 1972 version, and as with most songs in this concert, is filled with young girls screaming out Elvis' name, including two sitting next to, or who recorded this show! "Funny" has the typical muck around ending, plus reprise. Even more interesting is a guy telling some girls to go back to their seats.
"POLK SALAD ANNIE" is all Elvis says to introduce this regular feature. During PSA, the band seemed somewhat more energetic, but unfortunately Jerry's instrumental is edited, and as such the whole atmosphere of the song is lost. However, Jerry's playing during the "Sock a little" ending reminds me of the November concert in 1999 in Sydney - loud and vicious!
The band introductions sound more like an orgy as Elvis competes with screaming men and women, but suddenly Elvis asks JD to introduce the band. JD starts with the Sweets, then goes straight through to John Wilkinson and James Burton. James plays JOHNNY B.GOODE, and Ronnie is introduced as "hard working.." - Elvis style! Voice is introduced after Charlie Hodge, then Kathy Westmoreland, then the Stamps Quartet, followed by Joe Guercio and his orchestra. Jerry and Glen D are mentioned in their usual positions. At the end of SCHOOL DAYS Elvis appears onstage and launches into T-R-O-U-B-L-E without any apologies, excuses, or introduction of the latest single. Like the other two versions performed in Asheville over the next two nights, this is a pumping version, not one word missed, and not one line fluffed. The "walk it, ride it" ending is done, but is very brief.
Elvis makes the crowd laugh with his comments about leaving the stage to go to the john, then thanks JD for his emceeing of the introductions. IT'S NOW OR NEVER is introduced in a similar fashion as Santa Claus is Back in Town from the 8pm sit down show from June 27, 1968. Elvis says, "Ladies and gentleman, my top record, of all the ones I have sold. When I first saw you...". There is an uncanny familiarity to Elvis' tone when he says this. In my mind, I could hear him saying "...my favorite Christmas songs of the ones I've recorded". This concert certainly gets better towards the end. It's Now or Never is performed with much feeling, but one wonders if Elvis is trying to make up for his quick trip to the dunny more so than his love of this song. Whatever, it's a great performance and is well received.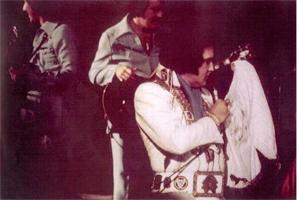 Glen D suddenly cues Elvis without hesitation, and Elvis reaches back to his April tour of that year to perform YOU DON'T HAVE TO SAY YOU LOVE ME. I've always loved both the studio and live versions, and this one in particular is very dramatic. HOW GREAT THOU ART is given the "this features the Stamps" introduction, and this too follows in the manner of the two previous songs with much vocal acrobats, and like the two versions following this night, Elvis must have come close to raising the roof, or at least parting the fans' hair in the first few rows! "Do you wanna hear the last part of it again?", of course the fans go nuts, and this time Elvis out does himself on the line "Oh Myyyyy Godddddddddd, How Greeeeaaaaaaaaaaaaat Thou Art". Elvis announces BURNING LOVE which completely changes the rhythm of the current atmosphere, however it is great to hear Jerry's bass thumping along. Unlike other versions from this period, this is an almost perfect version however Elvis misses out the instrumental.Although strange this may be, I have had the feeling that he is anxious to get off the stage, almost like he is rushing. Elvis compliments the audience participation, and asks them that despite being on stage for over an hour he wants to continue to perform. There is some mention about the period of time he is allowed to perform, but justifies his staying on stage longer by simply saying everyone is having fun, and that's the whole reason why everyone is there. LET ME BE THERE is very similar to the March 20, 1974 version. HEARTBREAK HOTEL is unfortunately edited, but appears to be a fun version. LITTLE DARLIN is started before the audience can fully excel their applause, and this version is typical in that Elvis fools around a lot with the silly lyrics, but the crowd laps it up. MYSTERY TRAIN-TIGER MAN is a very good version with many stutters from Elvis. Tiger Man is given the pelvis treatment, and the fans scream their approval, but unfortunately this medley is short lived before Elvis ends the song.
Elvis mentions how much he appreciates JD Sumner ever since he (Elvis) was 16 years old and used to listen to the Blackwood Brothers.. "in appreciation for what JD has done for me in the last few years", unfortunately the sound is inaudible, but one woman says "Oh my God", and Elvis continues "..its got TCB in diamonds, and it's worth $40, 000..." Apparently Elvis handed JD a ring.
CAN'T HELP FALLING IN LOVE suddenly begins, and ends as a standard performance. The crowd sounds very pleased with their Tuesday night out, but unfortunately the closing riff is edited.
In my estimation this is a good show. However the listening pleasure is diminished by the poor sound and infrequent edits. Of the three shows performed in Asheville, this is the worst, but by saying that I do not suggest it was a bad show - on the contrary. As I stated before, after the introductions Elvis seems anxious to leave the stage.
It was during this time that Felton Jarvis arranged for Millie Kirkham to be flown in for these shows in case Kathy cancelled due to Elvis' comments two days before in Norfolk. However, all Millie did was watch the show. I am curious why she was not introduced, perhaps Elvis did not know she was there, or maybe she really wasn't there. If this is the only sheville show you can find - you must get it. These shows are essential to any Elvis collection. Perhaps we may receive a boxset from Fort Baxter in the future, featuring soundboards of all three Asheville shows. One can only hope.
Evan