Menu
Concerts
Reviews
Multimedia
Legal Information
Concerts Reviewed - 1975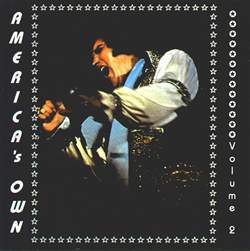 Elvis Presley - America's Own, Vol 2
by Rick Crofts
Today we take a closer look at the concert commonly known as -Elvis Presley - America's Own, Vol 2-
For this concert we find Elvis out on Long Island, NY, performing on his summer tour of 1975. This time it's the evening show, after a matinee performance on July the 19th in Uniondale, NY, at the Nassau Veterans Memorial Coliseum. It's more commonly known as simply the Nassau Coliseum. This concert is presented in an audience recording, but probably one of the best you will ever hear for an Elvis concert in the 70's with the tape recorders available at the time. The sound quality is very high, and Elvis' vocals are very clear when he is singing, and most of his talking is also very clear, making it a very enjoyable listening experience. Hopefully one day a soundboard recording pops up, though this concert is very listenable in it's current state.
This summer tour, with the exception of the final five city tour of 1976, can easily be considered the last great stand Elvis made. He was healthier, happier, and less distracted by his personal life on the stage than he had been in 1973, and 1974 specifically. The angry Elvis that took the stage in mid to late 1974 is gone. The long angry rants are gone. Long talks about karate, and being clearly out of it on the stage has gone. Back is an Elvis filled with happiness to be on the stage performing, and touring. He's having a very good time with the songs, the band, and the audience. Elvis pulls out many rare songs, songs he had never performed live before, and mixed up his set list quite a bit on this summer tour. Doing whatever it took to please his audience, including often taking off the cuff song requests from the fans, and launching into the song, keeping the band on it's toes. He was singing with power, and inspiration. He was blowing the roof off of the venue nightly with powerful versions of songs like 'An American Trilogy', 'Bridge Over Troubled Water', and 'How Great Thou Art' He was rocking the place with current songs from recent recording sessions like 'T.R.O.U.B.L.E.' and still knocking the crowd dead with Polk Salad Annie, and other rockers like 'Big Boss Man', and the 'Tigerman/Mystery Train' medley. His interaction with the fans was very nice, and he was showing a real love of their affection, and showing a lot of good natured humor while having exchanges with them. His good mood translated into great performances from both him, and the band and singers on stage with him. Resulting in a very memorable tour. So, now, with that said, on to the show!
The show starts off in the throws of the entrance music, missing the 2001 build up, and just before Elvis arrives on the stage,. Right away the band sounds energized, and on the ball. Since the shows leading up to this one were fronted by an Elvis who was showing enthusiasm, and was back to having fun on the stage, and testing the band nightly with great performances, this probably had something to do with it. The band at times reflected Elvis' mood and demeanor with their playing, This night it was a positive response.
Elvis launches into a solid, and strong 'CC Rider' much to the delight of the crowd. No warming up needed tonight, and no "I just got up" comments from Elvis are to follow. He's tearing it up, and having a good time doing it. The night is going to be a fun one!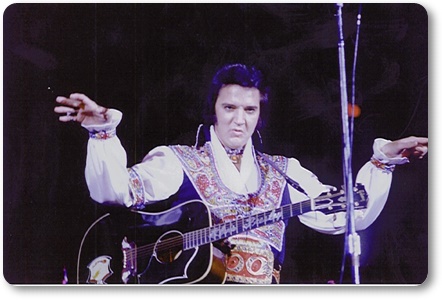 Next Elvis gets the usual case of the 'well, well's', but clearly not in the mood to just kill time, and sleep walk through the show, he cuts it short and proceeds into a good version of 'I Got A Woman' The usual medley into 'Amen' is followed by probably one of, if not the best version of 'Amen' he did in the 70's concert tours. He's very into the song tonight, singing 'hallelujah' multiple times, and singing "one more time" a couple of times, and egging the crowd on to sing with him, He sounds like he's having a very good time with the song. Ronnie is playing very hard for his paycheck this night too. Intense, and committed drumming with every beat. Only one dive bomb tonight, another indicator that Elvis is not in the mood to waste time on the stage! One dive bomb is always a sign of a good show to follow, and that Elvis is looking to come through with a good effort on the stage this night.
Next Elvis says a quick hello to the crowd and then instead of the usual 'Love Me' goes into 'Big Boss Man', a nice treat. A person near the tape recorder can be heard saying "Oh, I like this song" We have a nice rocking version here, not full of the silliness in other versions of Elvis hooping and hollering back and forth with the back up singers. This is a more committed version. I don't prefer the arrangement here versus the original studio master, but for a live version in the 70's it passes muster.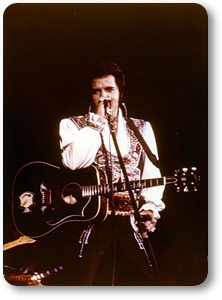 After 'Big Boss Man' is the usual welcoming to the show from Elvis, and then on to 'Love Me' Nothing special to report. Elvis isn't on scarf throwing auto pilot, but it's also not a concert highlight by any means. Though the writers Leiber and Stoller said that the song was a goof song, and was never meant to be taken seriously, it turned out to be one of Elvis' favorite songs that he ever recorded in the 50's, and was a staple of his live act in the 70's. So far Elvis hasn't complained about any sound issues, and from the audience recording the sound in the building is perfect, but it always sounds different to the artist on the stage hearing the show through the monitors in front of them. Near the end of the song Elvis yells out "This son of a bitch is dead man, (pause) like JD" No further complaints from Elvis about sound come in this show, though an occasional feedback comes now and again, nothing of note. So, his comment about the son of a bitch being dead may not have been a sound issue, maybe a fan gave something to Elvis, and he was just goofing on it.
Next is a very routine version of 'If You Love Me, (Let Me Know)' Nothing really to report here, other than Elvis is in a really good mood this night, and can be heard laughing in part of the song, while still giving a solid, serious effort. It needs to be remembered that this song was a major hit in the 70's for Olivia Newton John, and though it hasn't aged well, the fans at the shows probably got a big kick out of hearing Elvis do a big chart topper, even if it wasn't his own. The song doesn't stand the test of time for sure, and sadly shows up in his concert set list regularly throughout the 70's, it should be noted that there is a large applause after the song.
Next up is 'Love Me Tender' with the joke of "I'd like to sing a little Love Me Tender, no, I said I'd like to, I'm not going to" but what comes next is pretty cool. Elvis sings the first 45 seconds or so - a Capella. It's actually very pretty with Elvis taking it seriously until the very end, finishing up the solo rendition by singing the line "for my darling I love you, 'cause you take the pill" then the band kicks in and the routine 70's version is presented. Charlie is working for his money at this point filling Elvis' neck with scarves because the crowd starts screaming, and the people near the recorder are laughing at points during the song, indicating that Elvis is giving the girls down in the front souvenirs, and playing with them as he sings the song.
'All Shook Up' is next on the list, the crowd is clapping in time with the song for a parts of it, and enjoying Elvis rocking a 50's hit. It's a rushed version, but not trashed with no regard as bad as most of the other 50's hits. The crowd loves it, and was probably a highlight for a lot of them that were there that remembered when it was a chart topper.
'Teddy Bear / Don't Be Cruel' is next. Up to this point in the show there has been a noise coming from the stage from one of the instruments. It's in time with the music, but sounds oddly out of place, and no one seems to notice it. It sounds like a mouth harp. It makes a constant 'tong, tong, tong' sound with every other beat, and is a bit annoying. This continues throughout the show. It's louder sometimes than other times. It doesn't take away from the show, but it's annoyingly present. The song is a rush job, given no quality considerations by Elvis.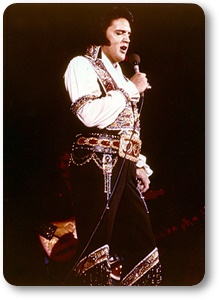 Elvis tells the girls down in front to take it easy a few times, and that one girl is "losing all of her flowers" then with no warning launches into 'Hound Dog' getting the biggest cheers from the crowd to this point. The usual 70's version follows, though the crowd approves. I think Elvis did the song with a Hawaiian lei from a fan on his neck. At the end of the song he tells a fan "You didn't think I was going to bring it back did you?" Making a fan very happy for sure, and giving her a story to remember for years to come! The afternoon show he did the same day has photo's showing him wearing one, though I haven't seen any from this one, the evening performance. It's a fair bet that the same fan from the afternoon show had tickets for the evening show, and gave him a lei in both shows. I've heard stories similar to this kind of thing from fans who followed him on tour in the 70's. Purely a guess on my part, but it could have happened.
'The Wonder Of You' is next up on the show, and is given a quality treatment from the King. The crowd is getting a treat tonight from an inspired Elvis trying hard to give his fans a night to remember. Elvis leaves the constipation line out of this show, and does a serious, solid rendition of the song for the fans. A nice performance of this song that, though he did several times in this summer tour, had become a bit of a rarity.
'Polk Salad Annie' is up next. Elvis gives no time for the spoken intro that he had dropped years before, and goes right into the singing portion of the song. Another solid number here for the fans in attendance. What a sight this had to be! The band rocking, the orchestra going, the backup singers singing, and clapping along, all the while encouraging Elvis with hoots and hollers - Elvis up there rocking, the suit glistening in the spotlight. This had to be a memorable number for the thousands watching. The King was rocking, and was still on top! A fun performance is delivered here.
Elvis slows down the show a little here with the intros. He gives a very respectful, sincere intro to JD, showing him some respect. Reflecting on his youth, he remembers out loud during the intro that as a 16 year old boy in Memphis, he would watch JD sing bass at shows locally, and never thought he would ever get to perform with him.
Next up is Kathy, Elvis is in a good mood, and being playful, but makes a very unprofessional move here. He's surely not meaning to be hurtful, or degrading, or trying to embarrass Kathy, but he does. Kathy is a well respected classical singer, and a very respectable person. Elvis just joking around makes some loose comments about her that hurt her feelings, and were publicly embarrassing to her. It would come back to haunt him. Later on the tour when confronted with the consequences of his remarks over several shows, he would correct himself, apologize, and not do it again. This incident is the only sour note of the entire show.
More intros, then 'Johnny B Goode'. On to the drum solo, one of the longest I can remember Tutt doing. Scheff is up next with his blues solo, then on to the piano solo with Elvis singing "hey, hey" all along the way as the piano is played. This is simple, and not really a song per say, but it's pretty cool to listen to - Elvis is really enjoying himself, and it's showing. Then finally the orchestra introduction with 'Hail Hail Rock-n-Roll'.
With no delay once the intros are mercifully over the band launches right into 'T.R.O.U.B.L.E.' A rocking, version, and a new song at the time from his most recent, and last proper recording session. A lot of times when Elvis did this song the band ran away and left him, he often flubbed the lyrics, and Charlie was too loud -trying- to harmonize with Elvis and sounded awful, consequently ruining the song. This version is different. Charlie can only mildly be heard, and Elvis is able to keep up with the band, and hold his own with no problems. There's only one small spot in the song where Elvis either was trying to goof with the lyrics, or slipped up, but there's a very minor speed bump in the middle of the song, almost unnoticeable. A very good version of the song.
Next up is 'Why Me, Lord?' Elvis shushes the crowd while JD is singing, but then proceeds to try to break JD up with silliness. I know it was probably funny for the crowd seeing the comedy bit during the show live, but on tape, it ruins the performance. The chorus when Elvis leads the singers is beautiful every time, but the goofing when JD sings is a waste of a good song.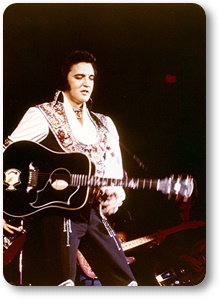 Next up is 'How Great Thou Art' Though many consider Elvis' live versions of this song to be over the top, and bombastic, Elvis really displays his vocal power here, and commitment to the song. He really gives the crowd something to remember with a hair raising version of the song showcased for the fans. This shows the true passion for music that Elvis had. He loved gospel songs, loved loud singing, and loved to sing with all of his backup singers at once. This performance mixes all of those together, and highlights this passion perfectly. In the middle of the song Elvis gives a loud "WOO" clearly loving what he's doing, and enjoying it. There's a reprise at the end showing that he doesn't want the song to end quite yet. The reprise gets off to a slow start trying to get everyone on the same page, but once they get it going it ends beautifully. It's a song he clearly loved to do live, and really enjoyed singing. The bombastic style doesn't bother me too much, he's showing off his vocal skills here, and it sounds fine. I've heard other versions where the bombastic approach did backfire, and didn't sound so good, it works here. The crowd reaction shows that they really enjoyed it too, which is what really matters in the moment.
Then Elvis takes a break by doing 'Let Me Be There' not a bad performance, but the same applies for this song as above with 'If You Love Me, (Let Me Know)'
Next up is one of the true highlights of Elvis live in the 1970's that was thankfully caught on tape. Completely out of the blue, and unexpected by the crowd, and everyone in attendance, Elvis says: "I want to play a little piano, this is something I've wanted to do for a long time, but didn't have the guts to do it." Tonight he throws caution to the wind, and has the guts! What follows is the only known live version of him performing 'You'll Never Walk Alone' A full, solid, passionate rendition, cutting the crowd to bits. As Elvis sings not a sound can be heard in the arena - the crowd clearly stunned, and listening to a great one off performance from the King in all of his glory. It's presented here from youtube taken from an 8mm camera source. This embodies what a live concert experience with Elvis was like. You never knew what song he was going to pull out, and you could at any moment get a once in a lifetime performance of a song. The fans this night were really treated to something very special.
After that memorable moment comes 'Funny How Time Slips Away' with Elvis goofing with the crowd about local towns just before the song mentioning Ronkonkoma, NY, a few times, and getting laughs from the crowd. Once going into the song he changes the lyrics singing "How'm I doing, so far I'm fine" this song is always a fun song for the crowd, and Elvis always gets a cheer when he sings "I gotta go now" this night is no exception. The end drags out with the low "away" lyric, even doing a reprise, but otherwise a fun version.
'Little Darlin' is next, and the crowd is really happy with loud cheers as the song starts. Elvis gives the song a fun ride, and the crowd loves it, a song he was really having fun with. Though he often said on stage about the song that it was silly, he clearly had a lot of fun performing it. The crowd really enjoys his performance.
'I'm Leaving' is performed next. Not one of my favorite songs, but Elvis really loved the song, and always gave it a respectable effort. This version is no different.
The 'Tigerman/Mystery Train' medley would have fit nicely right here to give the show a proper rocking end for the summer of '75, but instead we get Elvis calling for a closing of the show and going into 'Can't Help Falling In Love' but not before the King gives a nice, and genuine goodbye to his fans saying the following:
"I'd like to tell you that uh, (to a fan down front) -thank you very much, it's a pleasure to be back here- (off mic) -What are we doing Charlie?- I'd like to tell you that you've been a fantastic audience up here in uh, in Nassau, and any time you want us to come back up here just ask us, and we'll come back just as soon as we can.... as soon as we can fit it into our schedule we'll come back up here, really, really. You've really been a fantastic audience, and you've been really good to us, and we've enjoyed it, and we hope you have to. So, until next time, be careful going home, and may God bless you"
The closing number is the usual, minus Elvis hitting the big note at the end. It doesn't seem to bother the crowd in the least. Elvis doesn't even really finish the song, leaving it up to the Stamps to pull end the show to a close. I can only assume Elvis was playing favors to the crowd down in the front, and lost interest in the song. Everyone was cheering loudly, so it was going over well. The fans are very pleased after seeing a spectacular show filled with rarely performed numbers, a once in a lifetime song, and a committed, inspired Elvis giving it his all. Now, here was Elvis, saying goodbye to his fans for what would be the last time in this venue. Sadly, he was never to return to Uniondale NY for a show. This was his closing act here, and a fine one at that.
The final seconds of the tape end with Elvis leaving the stage, and Al Dvorin telling the crowd that Elvis has left the building, and to have a good night. A wonderful concert experience for all in attendance. One to remember, and one to look back on fondly. A perfect example caught on tape of Elvis in the midst of his glorious summer tour of 1975. A true gem of a show, on a great tour, showing the King at work.
(c) Rick Crofts - February 2011 - Too Much Monkey Business Forum