Menu
Concerts
Reviews
Multimedia
Legal Information
Concerts Reviewed - 1975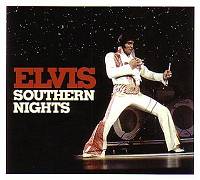 Southern Nights - April - May, 1975
by Jim
What follows is just one man's opinion. An Elvis fan simply offering personal opinions on the songs. I am not going to get into comments about packaging, pictures, or anything else. I personally like all that FTD does with their packing of the CD's, and besides, I purchase all of the FTD releases for the music.
One word which comes to mind after listening to this CD: AWESOME!! This is (IMHO) one of FTD's best releases. Mr. Jorgensen and company have released a real gem. Personally I like Elvis in 1975. Many of his shows were balanced and quite entertaining. This CD covers the two spring tours of 1975 by Elvis. While the songs cover a number of concerts, there are no "breaks" between songs. This gives the appearance of a continuous show and makes it an enjoyable listening experience. It is clear throughout this CD that Elvis is having fun, and ready to sing some songs which he had not featured for a while. His voice to crisp, clear, focused and even powerful. At times, there seems to be a bit too much piano that can be heard, but that is really minor. One of the things which comes across with this CD is how good the TCB Band and backup singers truly were. Many of these songs appear to be "on the spot" suggestions. And yet each one is done nearly without flaw. A real testimony to the professional way Elvis and his band were in 1975, and how committed Elvis was to pleasing his audiences. This is one of FTD's best releases and has quickly worked its way into my Top 5 favorites. I know I will play this often and would recommend to everyone to purchase a copy of this one. Below is a brief analysis of the songs.
That's All Right = a real treat. This appears to be done at the request of someone from the audience. Elvis does a great job on this 50's classic. He also does the last line twice. A really nice job. I'm not sure if Elvis is playing guitar on this one or not.
It's Now or Never = Elvis then does a really nice version of this 1960 classic. This is before the "O Sole Mio" which he would feature in late 1976 and 1977. Elvis' voice is strong and really sounding good.
Help Me = Next up is IMHO, one of the highlights of the CD. "Help Me" is a really good song and one which Elvis performs well. It is clear that Elvis liked this song and on this particular night he wants to sing it. He is focused and delivers a solid performance. The harmonizing with S. Neilson is well done.
Steamroller Blues = Incredible. I always thought that Elvis and the band did this song better AFTER the "Aloha From Hawaii" special. This version is "cooking." Once again, at least on my CD player, the bass is really sounding good.
SURPRISE #1 comes at the end of Steamroller Blues where we are treated to Elvis singing "M-I-C-K-E-Y M-O-U-S-E." I have no idea why Elvis would sing this, but it is a neat moment nevertheless.
Heartbreak Hotel = Elvis says that they were going to do "Burning Love" but decides to do heartbreak instead. He then playfully asks Charlie Hodge "if it's OK" for Elvis to change the song! After a couple of false starts with Elvis laughing, he delivers. I really liked the bass which I could hear on my CD player.
Release Me = Another highlight of the CD, IMHO. Elvis asks the band, "Do we know Please Release Me." He then says, "Let's wing it," and begins a great version. Elvis' voice is crisp and focused. As I closed my eyes it was almost 1970 all over again. A fantastic version.
Polk Salad Annie = This is really cool. Elvis actually begins "Burning Love" and can't get through the first line as he "forgets" all of the words. After saying "somebody stole all my words," he gets one of the Sweet Inspirations to agree to tell him the words. It's really pretty funny to listen to. The band starts "Burning Love" again, and Elvis stops and says, I don't want to do that. Let's do Polk Salad Annie. And immediately Jerry Scheff is on the bass. A truly nice version of this song. I especially like how clearly you can hear the bass part during the end of the song. It's obvious that Elvis is "busy" while the band is really jamming at the end.
I'll Remember You = A song from the "TV show from Hawaii, Aloha," is how Elvis introduces this one. The best 1975 version of this that I have heard. Even, though he is obviously greeting some fans during the first line, Elvis remains focused throughout. A simply beautiful version of this gem. No fooling around. Elvis' voice is really nice on this.
Little Darlin' = Maybe it's just me, but I don't know why Elvis ever did this song. It's a fun song which gives Elvis a chance to play with audience and backup singers I guess. This version is better than most, IMHO. This song ends with Elvis greeting the Huntsville audience for being a fantastic audience. This is a nice addition as you can sense the sincerity in Elvis' voice as he greets the crowd.
Bridge Over Troubled Water = I had a little trouble with the sound as it seems to fade in one spot or another during this song. However, Elvis delivers a solid and even powerful performance. Just listen to it, nothing more needs to be said.
SURPRISE #2 = Elvis does a short version of "The Eyes of Texas." This is because he is in Texas on that particular night. It's too bad that he didn't do a complete version of this as it actually sounds good! Once again, he is having fun and the audience is happy with him.
Trying To Get To You = is up next and seems to be a request from the audience. Elvis says they "haven't done it in a long time," but delivers a solid version. He sounds like he is really having a good time with this one.
You Gave Me a Mountain = This one had not been done frequently in the Spring of 1975 and is a real treat. Elvis does a nice focused version of this Marty Robbins song. His voice is really rich sounding and strong.
Help Me Make It Through The Night = A really nice version although it would have been nice if it was longer.
Fairytale = Elvis announces this song a coming from his new album. He delivers a great performance of this song for his hometown fans in Memphis. The band and the Sweet Inspirations really sound great on this performance. I always liked the way Elvis did Fairytale.
Jambalaya = A short, on-the-spot, version of this Hank Williams song. Yet Elvis and the band do a nice job. It's too bad it ended when it did as this would have been a fun song for Elvis to perform fully and often.
Big Boss Man = A nice job of this one. Again a bit heavy on the piano for my liking It seems that Elvis always liked this one and always did a good job. A real treat is hearing J.D. Sumner and his incredible voice on his low parts.
It's Midnight = One of my all time favorite songs. Elvis delivers a very passionate version here. I really like the way you can hear Kathy Westmoreland on her "high voice" parts. A beautiful song done magnificently.
Promised Land = A sometimes overlooked gem. This live version is better than some of the other RCA/BMG releases of this. Elvis' voice doesn't seem as "up front" on this one as it is on others. However this is a tremendous performance. James Burton's solo parts are always a welcomed treat and he comes through on this one.
Trouble/T-R-O-U-B-L-E = Elvis introduces his "new record" and says "it goes like this...da, da, da,da,da, If your looking for trouble..." and then goes into Trouble from the movie King Creole. The band kicks right in immediately and he does the entire first verse of this '50s classic. Personally I would have liked to hear Elvis perform this one more often! He then goes immediately into T-R-O-U-B-L-E. This is a really good version with Elvis stumbling during this first part. Other than that this performance is solid.
Hawaiian Wedding Song = It seems that someone from the audience asks for "Blue Hawaii." Elvis says they don't know that one but they can do "the Hawaiian Wedding Song from Blue Hawaii and I'm glad you asked for it since it was up next anyway" A really nice performance here. Listen for Elvis playing and having a bit of fun with the words at the end of the first verse.
Blue Suede Shoes = Always nice to hear and was obviously one which Elvis simply requested. This song moves well for 1975 and again Elvis and the band deliver the goods. I especially like the part in the middle where Elvis and Ronnie Tutt play a bit.
For The Good Times = What a wonderful treat! A beautiful, focused, and solid version of this song. I played this one over and over few times. The sincerity in his voice is incredible! And a real nice ending as Elvis adds one additional "for the good times." Awesome!!
I Can't Stop Loving You = What a treat to hear this one in '75. Elvis again delivers a solid performance with a really good ending. The sound is really balanced on this one as you can hear the horns nicely and Ronnie Tutt on his drums. The people in Huntsville were really treated to a nice version of this.
I'm Leavin' = The CD comes to a close with this gem from 1971. Elvis introduces this song saying that it's a song "we all like to sing." He then asks the song engineers to turn up the sound on the tenors and falsetto singers. This song is very well done as Elvis and his male singers harmonize beautifully. The CD closes with Elvis wishing everyone well and to be careful going home.
Like I said above, everyone who is an Elvis fan will probably enjoy this release and is urged to purchase a copy. I will play this one many, many times. FTD and Mr. Jorgensen are to be congratulated for this release. Thank You very much FTD!
Jim