Menu
Concerts
Reviews
Multimedia
Legal Information
Concerts Reviewed - 1974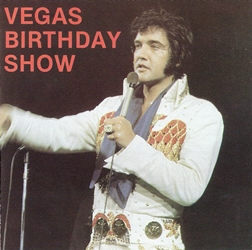 Vegas Birthday Show - August 23, 1974 Midnight Show"
A Classic Bootleg review by Javilu
"...And when you smile the world is brighter..."
A lot has been written about the infamous Elvis performances in Vegas during the summer of 1974.
The season started in August 19, with Elvis trying to revamp his show by making several changes to the usual setlist, only to go back to the same songs after an unenthusiastic response from the audience.
Show after show, Elvis started losing control and his behavior became erratic and unpredictable, especially during the closing concert when an out of control Elvis would rant about most everything from karate to his disdain for the press writing stories about his drug abuse.
Even though the bulk of concerts from this season can be considered a let down, there were several solid shows with solid performances.
Of the 27 shows Elvis performed from the opening on August 19 -released officially by the Follow That Dream label as "Nevada Nights" after being available for years on bootleg- to September 2 -only available in bootleg form, in soundboard format by the Fort Baxter Label as "Desert Storm"- there are 8 concerts released on silver discs while others only circulate as CD-Rs among collectors.
The most interesting concert from this season is by far the opening show, because of the different setlist.
From then on, some songs would stay as part of the show while others like "Down in the Alley" and "Good Time Charlie's Got the Blues" would be dropped.
The best sounding soundboard from this season was released by the Venus bootleg label as "Black Angels In Vegas" and lately some enjoyable audience recordings were released with "Karate Fever" by Straight Arrow being the best in sound quality and presentation.
The August 23 midnight performance was released in 1993 by the Stage Entertainment label as "Vegas Birthday Show".
In those days before internet downloads, bootleg producers rarely cared about presentation, so we get a very basic artwork with a tired looking Elvis wearing his "American Eagle" jumpsuit on the cover and no booklet.
The recording lasts for an hour and there are no long monologues to be found as later in the season.
The sound quality could be qualified as average for an audience recording, with Elvis and the band clearly audible but definitely below "Karate Fever" standards.
Elvis' commitment for giving a good show is noticeable and there are some decent performances to be found on this CD.
Things would definitely change for the worse a week later and even worse by the end of September.
The recording starts with "See See Rider" showcasing an Elvis concentrated and awake.
A little joking during the usual "Well, Well" segment leads to an energetic "I Got A Woman/Amen", with Elvis getting lost during "Amen" and the J.D. Sumner dive bomb routine going on longer than usual for 1974 standards.
"My name is Wayne Newton" is the way Elvis introduces himself before sharing with the audience the story of how the black angels in the showroom became black.
A very short "Love Me" that lasts less than a minute and a half is followed by a spirited version of Olivia Newton John's "If You Love Me Let Know", also new to this season.
"It's Midnight" is introduced as "our new record coming out in about two weeks" and sadly Elvis goes out of tempo a minute into the song.
"Big Boss Man" was chosen to be the opening song for opening night. Elvis returned to the usual "See See Rider" but kept "Big Boss Man" on his shows and sings a fine version here.
The average one minute, high speed rendition of "All Shook Up" is nothing special while on the contrary, "The Wonder Of You" is performed with no fooling around and Elvis committed to give a good performance, one of the highlights of the show.
Next is "I'm Leavin'", usually performed exquisitely by Elvis and on this concert it is no exception.
Sadly the recording is marred at times by someone in the audience chatting close to the tape recorder.
"Softly As I Leave You" starts with Elvis reciting the (fake) story of the man dying as introduction while "Voice" member S. Nielsen does the lead singing.
Someone sneezes close to the recorder while Elvis is launching into "Hound Dog". Even though Elvis doesn't put a lot of effort in the performance, it is saved by some great drumming by Ronnie Tutt.
"You Gave Me a Mountain" leads to a powerful "Polk Salad Annie" before Elvis catches his breath back introducing the band members.
The introductions last for 10 minutes, even though there are no solos performed.
"Our conductor is from Tupelo, Mississippi" and "Bill Baize should be singing bass" are some of the ingenious jokes Elvis cracks while getting into talkative mode.
"If You Talk In Your Sleep" was a song that allowed Elvis to show some of his karate skills and would be dropped from the setlist by the end of the season. A fine version is performed this evening.
After the usual "Teddy Bear / Don't Be Cruel" throwaway, Elvis sings a nice "Happy Birthday" followed by another highlight of the concert, a very tender "Hawaiian Wedding Song".
Another Olivia Newton John cover, "Let Me Be There" is performed enthusiastically by Elvis and includes a reprise of the song.
A short monologue follows, where we find Elvis mentioning the diamond in his ring and telling the audience they bought it for him before closing the show with "Can't Help Falling In Love".
Comparing with what was to come later in the season, Elvis is not very talkative throughout the show and performs well, even if it feels a little like a "routine" show at times.
I would recommend this CD to those collectors who simply want to have every concert released or collect all decent sounding audience recordings.
All others should be satisfied with the soundboards available from the season and the "Karate Fever" CD.
The following summer would be even worse for Elvis, but we'll leave that for later.
For now, let's be thankful so many great fans decided to sneak those little tape recorders into the venues to immortalize concerts we can all enjoy so many years later.
(c) Javilu - January 16, 2011
**Adobe Flash Player needs to be installed. Click
here
to install