Menu
Concerts
Reviews
Multimedia
Legal Information
Concerts Reviewed - 1974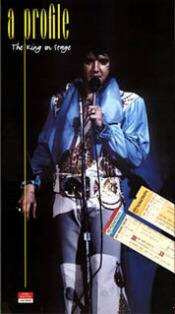 A Profile, The King On Stage I, CD II
by Stefan Kock
It was now 6 months ago that Elvis Presley had held an official recording session. Because of the large amount of live shows Elvis did it was impossible for him to go to a recording studio and cut some songs. He had already done a Vegas engagement, 2 tours and a gig at Lake Tahoe when on the 15th of June 1974 he started his 11th tour since 1970. On the night of the 29th he gave a killer show, which will be reviewed here.
After the usual intro of Also Sprat Zarathustra Elvis comes on stage during the thunderous opening vamp. Quite nervously he looks around the auditorium, walks from one end of the stage to the other, shaking some hands and waving to the audience. Immediately it is clear that he is in a good mood. His singing is strong and very relaxed. He opens with a sublime version of See See Rider. The audience is yelling and clapping. After the song he looks into the audience with more confidence because of the great response of the thousands who are watching the show. "Good evening, good evening. It's evening? Isn't it? Well, I'll love you to honey" Elvis is in an very playful mood this evening "Let me do one more song honey, that's all I ask.. Elvis makes some jokes with the audience and at one point begins to laugh without be able to get straight again. "Thank you. It's been nice laughing with ya......I've done so many songs start of with well well, I don't know which one I'm gonna do", suddenly he starts singing When My Blue Moon Turns To Gold Again but ends it after the first line. He follows it with a out of the blue version of Blue Christmas ( You'll be doing alright with your Christmas in JULY ). After I Got A Woman and Love Me, both good versions, Elvis announces the first real highlight of the show, again showing his good sense of humour. What follows is a very good version of Trying To Get To You. All Shook Up is short as always, but when at the end of the song some people put a big pluche gorilla onstage Elvis again uses his great sense of humour and shows the brilliant capability to anticipate on stage. "Don't you move you big son of a bith.....stay back here and sing.....I told the Colonel to stay of the stage..." The next song, Love Me Tender, begins very beautifully with great playing from the TCB band. It's an straight forward version. Fever is up next and it's loose as always. After the line I light up when you call my name, Elvis shouts in a very high voice EELLVVIISS...
After the song he tells the audience that they are a good audience " To pay money to put over this kind of stuff you got to be good..." Polk Salad Annie is a typical '74 version, but it rocks anyway. "I would like J.D Sumner and the Stamps to leave the stage..." Why Me Lord is very strong and it is great received by the audience. The next song was his last no 1 hit, back in '69, Suspicious Minds. Tonight it is a little bit unfocused, but still great to hear. In Vegas he would begin to drop this song, only to be sung occasionally now and then during the last years. During the band introductions he again makes some jokes.....J.D Sumner and the Ames brothers....Kathy Westmoreland - "why won't you were you're see trough blouse tonight dear?....Glen Campbell (Hardin).... Elvis goes on with the show with a great version of I Can't Stop Loving You, followed by a beautiful Help Me. Bridge Over Trouble Water is next and is very impressive. The last song on this tape is a great Let Me Be There. At the time it was a favourite of Elvis and it shows in his performance.
The tape of this show is incomplete. After let Me Be There at least Big Boss Man and Can't Help In Love followed. This tour showed an emotionally and vocally strong Elvis doing the thing he liked most: performing live! The tour ended with a great long show in Salt Lake City. During the period between this tour and his upcoming Vegas engagement he decided that the song line up needed to be rearranged. But at the opening show from august 19 the reaction of the audience was a little mediocre, so it was short lived! This tour showed The King On His Best!!
Stefan Kock - October 2nd 2001