Menu
Concerts
Reviews
Multimedia
Legal Information
Home > Concerts Reviewed > 1974 > Guaranteed to Blow Your Mind, March 18, 1974
Concerts Reviewed - 1974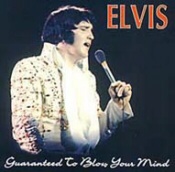 Guaranteed to Blow Your Mind, March 18, 1974
by Scott
The CD begins with a Vegas style version of Love Me Tender played at an up tempo speed. This is the only show I've ever heard recorded that began this way. Finally an explanation is given. The Elvis show is not starting yet. This CD has a recording of the opening band "Voice." They do two songs before the actual song with Don Sumner doing an introduction of the members during it. The song is pretty impressive and offers something very unique as far as Elvis shows on CD goes. In fact that second song, "Going Back To Memphis" is so good I found myself wishing that Elvis had covered it. There is a great guitar lead during this and the overall mix is real good on these two songs. I can see why Elvis wanted these guys as his opening act, though I wish there was a CD out there that also had comedian Jackie Kahane as well. I've been told that there isn't one.
The announcer tells the audience that now would be a good time to stretch and we hear a sound check being done by the technicians. Then the announcer begins to push the items being sold at the auditorium, probably at the insistence of Colonel Tom Parker. He talks about the items, which are priced very nicely by today's standards. He makes the people selling them hold the items up and complains when one doesn't, joking that the man must be deaf. The sound check continues behind him with the musicians now onstage picking their axes for the impatient crowd. This offers a very unique look at the pre-show presentation.
After what seems like an eternity of guitar strums and riffs along with piano keys and drums sounding off with no particular beat to them whatsoever the show finally begins as the theme to Stanley Kubrick's "2001 A Space Odyssey" begins. It's followed, of course, by the opening theme to all of Elvis's shows and screams from fans once he walks onto the stage. It's no surprise that the show begins with "C. C. Rider." The mix sounds good, very good in fact with everyone in the mix well. This one could have been a show released by RCA so far. Elvis thanks the happy crowd and goes into his "Well, well, well, well," routine with the guitarist matching the vocals with guitar licks. This one doesn't last as long as it does on other shows however, with Elvis quickly going into the song "I Got A Woman." The mix is still good and the drums come through very well, even the cymbals. Elvis seems to be into this show so far, with his voice and laughter heard throughout the song, and the voice rising and falling. It's infectious to the rest of the musicians and singers and offers one of the best live recordings of this song that's ever been released. They go into the song, "Amen" of course, like on other shows of the later 70's. This one however is shorter than most with JD's bass part coming early and Elvis making him do it again, starting the band back into the chorus and stopping for JD once again. The voice goes so low it really trembles your speakers.
Once the song ends Elvis thanks the crowd and tells crowd it's a pleasure to be in their city, purposely getting the name wrong as a joke; this joke was later done by Spinal Tap when they played across America on their re-union tour. "Love Me" is next on the list and performed well with the screaming women getting scarves, though he doesn't seem to pass out as many on this show as he did on the CBS special. "Trying To Get To You" is next, and done very well with Elvis joking around on the lyrics in the beginning, saying y' all instead of you. Once it gets going though he takes it very seriously and puts the same oomph into it that he did on the original. This is a great song and so far I'm very impressed with Elvis's effort, the mix and the overall performance of all musicians involved.
"All Shook Up" is next, at a very fast tempo I might add and the mix is so good you can even hear the tambourine being played by the sweet inspirations. Great version, although it's way too short. Next up is "Steamroller Blues." This is the first song on the CD to really impress, although the tuba comes through just a tad too strong, but not overly so that I could complain really. The piano comes through great too. Man it's hard to believe that RCA did nothing with this recording! The horns sound so good on this. This is as good as any recording that was ever released officially.
"Teddy Bear" is next with the audience screaming, so there must have been some scarves involved. The song quickly goes into "Don't Be Cruel." I just love the mix on this. I can see now why they named this CD 'guaranteed to blow your mind.' Although you can tell the band and Elvis want to get this medley over with, it's still a pretty good version of it. "Love Me Tender" is next with more screams from the crowd. Elvis laughs just after the first verse about something, but it doesn't last. It must have been something that happened with women fighting over scarves. He tells someone, "Wait a minute" at one point and then lets some woman know that he's holding the last scarf for that song.
The next song is a nice switch from the regular song list of the late 70's. "Long Tall Sally." Elvis once again jokes with the lyrics putting JD's name into it with 'bald headed Sally. Then they go into "Whole Lot Of Shaking Going On," with Charlie Hodge coming through better on the chorus, then; "Your Mama Can't Dance And Your Daddy Don't Rock And Roll," followed by "Flip Flop Fly," "Jailhouse Rock," and "Hound Dog." I've heard this medley before but it seems like the band is more into this show than the official one I heard released, which I believe was on the Live In Memphis CD. Next up is "Fever." The women scream before Elvis even does anything according to him. He tells them to wait. Once he does begin the dancing the screams really come through. Elvis really plays with this song, having fun, even mocking the women at one point screaming his own name. He changes the lyrics and has a great time with it. I'm even more baffled now that this CD was never released officially. After it's over Elvis says, "That's a fun song." Then, the band immediately goes into another fun song, "Polk Salad Annie."
The mix on this is just as good as you could ever get with the horns and backup girls blending perfectly. This was always one of Elvis's best show songs in my opinion. This version has a great musical part where everyone in the band plays along instead of the usual one-person solo being featured. The ending to this song is really climactic bringing all the musicians to a feverish pitch lasting longer than any other version I've ever heard on this particular number.
Elvis laughs at how tired he is and then says, "Let me just rest for a second." 'The Stamps' then take over the show singing the song, "Why Me Lord" with JD taking the lead and Elvis singing along on the chorus. This is an awesome version of this song, though I think it sounds better when a baritone takes the lead rather than some very low bass singer. But JD does offer the uniqueness of his voice to this number. "Suspicious Minds" is next on the list and performed very well. It seems a little faster than usual to me, but I could be wrong. It's mixed well as usual, since the whole CD seems to be in my opinion. Elvis changes the lyrics a little to, "I'll dry the sweat.I mean tears from your eyes." Over all I think this number is done here just as well as it was done in Vegas in the early 70's.
Elvis thanks the audience and begins to introduce the band. The Sweet Inspirations, then just before introducing JD and the stamps he says, "JD, that was pretty good for a guy with a cold." The next intro is for Kathy Westmoreland. James Burton is next and John Wilkinson. Ronnie Tutt is mentioned next, with Elvis adding his middle name in, "Ronnie Ellis Tutt." He goes on with others; Duke Bardwell, Glen Hardin (saying that he's the craziest member of the crew) Charlie Hodge (no insults this time) and the new group that's been added, "Voice." Then he introduces Joe and the orchestra. There is a point where Elvis thanks the Joan Marshall Hotel, where everyone in the band was staying at the time, and it's received with moans from the other members on stage. Elvis says, "No I really would. Really." I have no idea what that was about. I can only imagine that something must have happened back at the hotel that some people of Elvis's entourage weren't happy about. "I Can't Stop Loving You" is next, with Elvis starting it off asking, "You know what I can't do." At one point, during the song, he asks out loud, "What are you all doing?" Beats me what that was about. Eventually the intensity of the song is too much for Elvis to be distracted anymore and he gets more into it, delivering a good version of it.
And now it's time for another of Elvis's best song genres, a gospel song. "Help Me" is next, and though this is not one of those gospel songs that really offer the King of Rock a chance to show his true vocal range, it's performed well and with a lot of class. This is a good point in the show where you can hear Ronnie tapping on the rim of the snare, proving what a great mix this show went through. Elvis jumps high with his voice at the end, not being able to hold back anymore and the song is received well by the crowd. Elvis tells them how glad he is that they liked it and then the big show stopper begins-"American Trilogy." This is flat out one of the best versions of this song I've ever heard, and that includes the version done in Hawaii in 73. Elvis is into it and so is the rest of the band. The song builds and fades well, finally blowing the crowd away with its end. The only thing not mixed well in this CD is the crowd. You don't hear them as well as you do in other shows I've heard. Maybe that's the reason RCA decided to ignore this show. I don't know. But I can hear the Colonel saying, "You can' t hear them screaming for my boy!"
"Let Me Be There" has never really been one of my favorite songs on Elvis's catalogue, but I guess the lyrics were something that appealed to him. JD comes through a little too loud on this particular mix, and James Burton offers some really nice guitar licks throughout. The orchestra is not something that's really needed on this kind of song in my opinion and because of them and the backup singers this song is a little overdone in my opinion. I would have liked to hear this done a little less pretentiously. Though, as I said earlier, it's never been one of my favorites. Elvis decides to start the chorus again after the song ends, forcing the band to go back into it once again.
Elvis asks the technicians to raise the house lights so he can see the crowd at this point and then begins the song, "Ain't It Funny How Time Slips Away." This song is performed well with a soft feel and the sound of women screaming as Elvis passes out scarves (I'm just assuming this of course). Elvis laughs a bit during this tune, and it's never really explained why. Afterwards Elvis thanks the crowd again and tells them, "Until the next time we're in Richmond we bid you an affectionate Adios." This puts an end to the rumor that the only time Elvis said 'Adios' was at his last show in Indianapolis, Indiana. Oddly, someone named Pete gets a mention in this last song of the show. Elvis sings, "Some things y'know, Pete are meant to be." I have no idea who Pete is. But it's only seconds later that the show is over and Elvis is walking off the stage to the sound of his closing theme and the screaming crowd.
My overall opinion of this CD is that it is really awesome. If you want a bootleg CD that has a really awesome mix this is the one to get. I highly suggest this CD be in the collection of any Elvis fan out there.
Elvisly yours,
Scott