Menu
Concerts
Reviews
Multimedia
Legal Information
Concerts Reviewed - 1972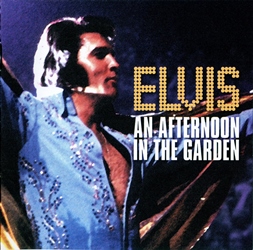 An Afternoon in the Garden- Madison Square Garden, Sat., June 10, 1972.
by Isaac Laughhunn
This CD has three things going for it that As Recorded at Madison Square Garden does not have, but could have in the future. 1: This is the complete show. 2. The sound is better quality. 3. The booklet provides alot more information. These traits could all be fixed by RCA re-releasing at Madison Square Garden featuring the complete show, having a more in-depth booklet, and clearing up the sound, as they have done with Aloha From Hawaii. If you'll notice, I did not say "An Afternoon in the Garden" is the better show of the two, because it is not, in my opinion.
The CD starts out with the always exciting theme from 2001: a Space Odyssey, and then goes into "That's All Right", not much different at all from the Madison Square Garden version. A very good "Proud Mary" follows, alot of energy is put into this song. The next song, "Never Been To Spain", has a flaw, as is the case with some of the others. When Elvis sings "Well, I've never been to England", he kind of mumbles "England", realizing he has done this, he then says "Ho!", and the audience of course goes wild. The rest of this version is just fine.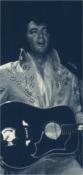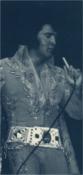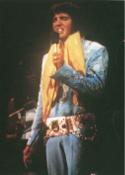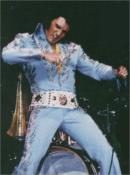 "You Don't Have To Say You Love Me" is really good. "Until it's Time For You To Go" is pretty good, but Elvis seems to stop abruptly after saying some lines such as "now I can bend", and seems to have trouble holding some notes without cracking, such as when he says "Dooon't Aaaaask" the first time, he cracks. Elvis also, apparently an imitation of the drumming, he all of a sudden says "cha-ta-ta-ta", which doesn't really fit in the song, I don't think. The first time he says the line "Love me, love me, love me now", he says "lo-lo-love me". To me, this was a hard "concert" song to do, because you have to really pace yourself, and cannot really inject energy into a song like this without it sounding funny.
"You've Lost that Lovin' Feelin'" is next, and is a really good version and no "hot damn" in the song as in the other version. "Polk Salad Annie" is not as good as the Madison Square Garden version; when Elvis says the line, "they'd go down by the truck patch," he doesn't say "truck patch", he says, "cho cho" or something like that. "Pick her a mess of polk salad", he cracks when he says the word "polk". At the end of the song, Elvis says, "well, that woke me up anyway!" "Love Me" follows, Elvis seems to be using this as a breath catching song more than anything else, during it all of a sudden, Elvis is heard saying "what the hell was that?" "All Shook Up" starts with Elvis saying to someone in the audience, "I hope that's bubble gum, dear", and then proceeds with a very fast version, not much different from the other version once it gets started. "Heartbreak Hotel" is very good, and has no flaws.
"Teddy Bear/Don't Be Cruel" is very good, and is generally better than the Madison Square Garden version, because he puts more emphasis on the words, except at the end, when he says "baby, it's just you I'm thinking of", he cracks again. "Love Me Tender" is good, not much different from the other one. A short but high-energy version of "Blue Suede Shoes" is next, and is better than the "Aloha From Hawaii" version a few months later, he repeats "don't you", so he says "don't you, don't you step on my Blue Suede Shoes", and it ends with quite a drum roll. "Reconsider Baby" Elvis seems to be really enjoying himself, but parts of it seem to be in a higher key than Elvis should be singing in, and it just sounds funny in the opening line.
"Hound Dog" is alot like the other version, with the ol' "You don't know what I'm doing yet" teasing the crowd before the song starts. "I'll Remember You" is good, but to me, not as good as the Aloha From Hawaii version. "Suspicious Minds" is really good, as usual, Elvis says "no, not much" after the line "I've never lied to you". "For the Good Times" is good, very focused, and sounds like the crowd appreciates it. "An American Trilogy" is probably the single track that stands out from this CD that is better than the Madison Square Garden, and the main thing unique about this version is that Elvis adds a loud "Looord" right after "Glory, Glory Hallelujah". "Funny How Time Slips Away" is typical, and Elvis says "in time, it's gonna be Ok" instead of the original "in time, you're gonna pay".
"I Can't Stop Loving You" is very good, but when Elvis says "they say that time heals a broken heart", he cracks again when he says "time". "Can't Help Falling in Love" is almost the same as the Madison Square version, but Elvis mumbles "little girl" and "colonel" between some of the lines.
This is better packaged and in better sound quality than Elvis as Recorded at Madison Square Garden, so I would recommend it higher than the Madison Square Garden CD, but not because it is the better performance. If RCA decides to release the full show of the evening performance remastered, I would recommend that higher, but until they do that, I would stick with "An Afternoon in the Garden".
Isaac