Menu
Concerts
Reviews
Multimedia
Legal Information
Home > Concerts Reviewed > 1972 > Hampton Roads, VA - April 9, 1972 Evening show
Concerts Reviewed - 1972
Hampton Roads, VA - April 9, 1972 Evening show
by Carlitox Herrera
The concert starts like most Elvis concerts, with trumpets and guitars blasting during the "2001 Theme" and awaiting the magnificent entrance by Elvis wearing the Blue Nail jumpsuit. His hair looks very different, resembling the hairdo he had during the alternate Aloha from Hawaii concert.
Then after the "2001 Theme," "See See Rider" starts, a spectacular song with trumpets, bass, drums, guitars and all the instruments synchronized. Elvis' voice is fantastic and the backup artists' too. In my opinion, this the best version of "See See Rider" since Elvis started singing it. Also, this version is faster than some other versions during this tour.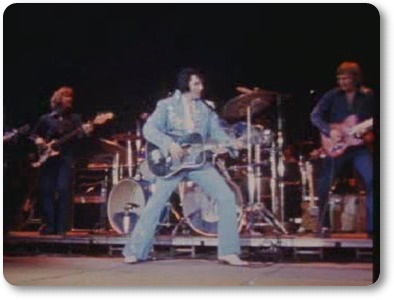 When "See See Rider" is over, and everyone was expecting "Proud Mary," Elvis starts with "I Got a Woman" and ends with "Amen;" it is a good fast version even though in some parts Elvis sings out of tune but it's almost imperceptible.
"Never Been to Spain" is next; a version that has not been released on DVD, but it is also not the best version, like the one sung in San Antonio, for example.
Elvis drinks some water and starts with "You Gave Me a Mountain." The instruments sound great, but I think this version is not as good as the one in Hawaii (1973), because when Elvis sings "A mountain you know (OOOOOOOOOOOOH!!) I may never climb", that "OH!" that he sings two or three times is too strong compared with other versions.
"Thank you" says The King. "Until It's Time for You to Go" is not the best version of the song, with too many screams from the audience, and Elvis laughing during some parts and adding words. It seems like he may be giving out scarves. This version finishes with an "oh oh oh, oh oh oh" from the backup vocalists and the King too.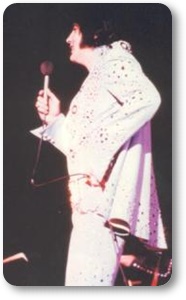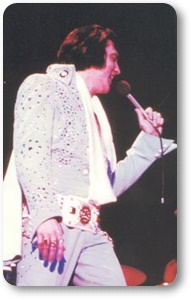 "Thank you. Beautiful! Thank you. Play it James" Charlie Hodge takes the cape off the king and "Polk Salad Annie" starts with a very good sounding guitar. Elvis, holding onto his belt and facing the audience, begins an excellent version of this song. Elvis dances while singing this song as usual, it's obvious that the lyrics are in his blood. Elvis enjoys doing this song, when it's the bass player's turn he does a pretty good job, actually a tremendous job. Elvis finally ends the song moving his body and head wildly, and does not finish it like he usually does; the chorus finishes it for him.
"Love Me" is the next song and a good version but not the best because there was a lot of laughter because Elvis picked up a bra from the stage. This part was very funny because Elvis put it on his head and the chorus started to laugh just like the crowd (they also shouted from excitement). Elvis threw the bra to Kathy Westmoreland - who knows why, but it was funny. It was a very funny version of this song. Elvis finished it well without going off key.
"Thank you, ohh..." "All Shook Up" begins spectacularly with women screaming in the audience. In the first part of the song which says ""Mm mm oh, oh, yeah, yeah!" Elvis pointed to someone in the audience and said "Smile," without losing a beat of the song. But Elvis was a little out of breath due to the movements at the end of "Polk Salad Annie," but it still came out perfectly.
"Thank you. Teddy Bear." With three false starts on the song he finally begins well, without mistakes. After "Teddy Bear" comes "Don't be Cruel." In my opinion, this is my favorite version of the ones he did on this Tour, although they were all very good versions.
"Are you Lonesome Tonight?" is the next song, PERFECT version by the King, without any mistakes or interruptions. It was one of the best versions the King has ever done I would imagine.
"I Can't Stop Loving You": Elvis begins singing loudly and slowly singing more softly, as the song goes. It seems the piano player Hardin makes a mistake or says something because Charlie laughs and Elvis looks, turns around and throws water. The song came out well, too bad that there were some interruptions where the King joked. He ended with "Yesterday" as usual, but instead of saying Yesterday, Elvis said "Yester... Yester... ooo dayyy, oohhh aahh" shouting, while pulling up his belt.
"Thank you, thank you very much. You're a great audience!" "You ain't...." that's right, "Hound Dog," like all tour long, Hound Dog sung slowly and then fast. The fast part was fantastic, as Elvis began wonderfully, but adding jokingly, "You ain't ta ta ta.!
"Thank you. Beautiful. Thank you. Bridge." I didn't care much for this version, even though some feel it's good. I prefer the one from Greensboro on April 14th. At the end of this one the King was a little off-key.
"Thank you. Beautiful. Suspicious Minds." This is a very good version of this song except that Elvis has the chorus sing and Charlie obviously as usually follows him, but the rest was a good song. Near the end they throw him a red panty and Elvis laughs.
"For the Good Times" follows, very, very good version except that Elvis as usual got the words mixed up in his head and he lets them out changing letters around which caused a lot of laughs. The end of the song was like that because the rest was very good.
Elvis introduces the members of his group, and continues with Charlie putting the cape back on Elvis while he is singing "An American Trilogy," a fantastic version of the American Trilogy, without any off-key or anything like that, PERFECT.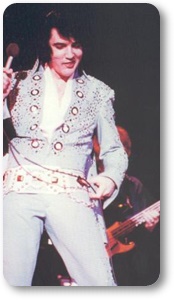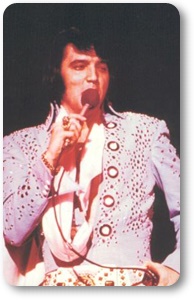 "My first movie ladies and gentlemen was 'Love Me Tender.' I hope you like it." This was as usual a good version but it could have been better because there were shouts and laughter in the background because Elvis was blowing kisses to the women in the audience.
"Big Hunk o' Love!" At this point one of the best interpreted of Elvis' songs begins, without any shadow of doubt a very good version of this song without mistakes and I believe faster tempo than other versions like the one done at Greensboro.
"How Great Thou Art" follows "A Big Hunk o' Love!" I think this is the best version of the whole Tour because the Elvis' voice together with the voices of the chorus was impressive, and there can never be a recital without one of Elvis' gospel songs. It was a spectacular rendition.
Well at this point Elvis does not sing - it's "The Stamps'" turn. They follow with "Sweet Sweet Spirit," one of the few and good versions on the Tour.
"Thank you. Beautiful. Thank you. It's beautiful. Thank you very much. It's "Lawdy Miss Clawdy." That's right, next is "Lawdy, Miss Clawdy." A very good version COMPLETE, in fact; not like in Richmond where it was incomplete. It was a fantastic version with Elvis almost saying goodbye.
The recital ends with a "Can't Help Falling in Love" spectacular, different from the others and with a different sentiment. It was a very good version for Elvis to say goodbye with at Hampton Roads in '72.
In my opinion this was a spectacular concert, with the typical jokes that Elvis always makes during his recitals on the '72 Tour. I recommend the DVD of this concert, as well as the CD; they are simply impressive!
Carlitox Herrera